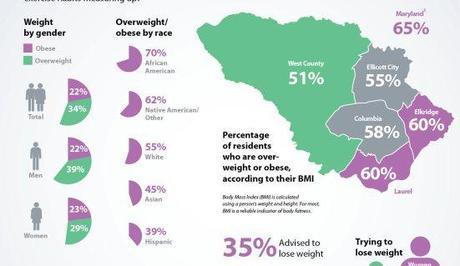 Graphic via Howard County Health Survey. http://www.howardcountyhealthsurvey.com/results/healthy-weight-nutrition-and-exercise/
A report came out yesterday that made me think about a few things during these last few days of Men's Health Week. The Center for Disease Control reports that 1 in 4 Americans are living with diabetes and don't know it. Don't know it?? Wow!!! Let's put this into real life terms. Look at a group of men one day and count out four of them. One of them could be experiencing excessive thirst, or excessive urination.  He could be randomly feeling funny in the head and staggering or slurring his words. He could be experiencing some troubling symptoms but won't say or do anything about it.
So what's this gotta do with men in Howard County? A lot. You see one of the causes of diabetes (but certainly not the only cause) is obesity. In Howard County, 39% of men are overweight and 22% are obese. So in theory there could be a few hundred men walking around Howard County with pre-diabetes and not even know it. Some of you gentlemen could be struggling with your vision, or going to the bathroom a lot, or tingling in your feet and you don't know why. If diabetes goes unchecked it can lead to more serious health problems like nerve damage, blindness, or heart and kidney problems. I would think I'd be pretty ticked off if I lost my sight because of a health problem that could have been controlled early.
My point is that you guys gotta get a check up. You've just have to face the music and go see your doctor. One of the main talking points in the men's health discussions that I've seen this week is that men don't go to the doctor for various reasons. Time to get over that fellas. Your sight and bladder and extremities and future erections depend on it (yes I said erections. Click here if you don't buy it.)
This is not a scare tactic. It's an aware tactic. Scare tactics keep people from the doctor because they don't want to face their own immortality. But an aware tactic provokes people to examine their own lifestyle and health so they can prolong their lives. Don't have time? Make the time. Check your schedule and fit in a physical. Don't have health insurance? Check out Healthy Howard's Door to HealthCare program. They can get you connected.  Have insurance but you don't think they cover screenings? Thanks to the Affordable Health Care Act, health insurance companies are required to cover diabetes testing. Your excuses are running out so get on it fellas.
#HoCoHealth