Guest Post by Jessica Sanders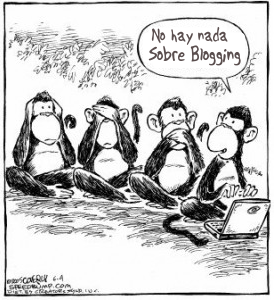 When you hear the term guest blogging a number of images may stir in your mind: a young teenager pecking at a keyboard in their poorly lit room, a passionate bookworm spouting reactions to their latest read, or a professional writer hunched over their desk desperately typing out one last word. None of these images say business person or marketing plan. Yet, your marketing plan has the most to gain from guest blogging.
"Guest blogging is a great way to get your name out there and start expanding your social media profile. In other words, if you use more experience, well-known websites that already drive a lot of traffic, people will start to get to know your name and will get a feel for the types of information you can provide."
– Amanda DiSilvestro, of Business.com, on Technshare.com

Where Does It Fit In Your Plan?
Guest blogging does a lot more than give you a platform to talk about what's on your mind. In fact, guest blogging is one of the best ways to get traffic to your website or blog. Before you can get the great content on your site read, you need to get people there. Guest blogging does that, in a number of ways.
Links: Most blogs allow their guest writers to include one to three links back to their website, blog, social networking profiles, etc. If someone likes your article they're likely to click over to your site.
Sharing: Almost every blog has a sharing option. Those who found the article to be to their liking can share it with all their friends on Facebook, Twitter etc.
Credibility: Whenever you're published somewhere, it adds to your portfolio of accomplishments. Those who read it will see that you're knowledgeable in your area of work.
Yes, You Can
Right now you might be thinking that you couldn't possible write a knowledgeable post for a credible site. You, however, are wrong. This is why guest blogging is a great opportunity, because you can choose the site that caters to your level and area of knowledge. When you find the right site, you can write anything that fits into their subject parameters.
Write what you know: Write on a topic you studied in college, or something that you recently learned from work. You are the expert here.
Write what you want to know:  Thanks to the World Wide Web, you can get any information you could possible want. If you've been interested in reading up on something, do it and then write about what you learned.
The Process
Once you've decided to begin your guest posting career, you need to know the process. The hardest part is thinking of something to write about. Otherwise, it's all about what will work for your preferences.
Search for a high-quality site. You want one that has a Google page rank of 3 or higher. This means that they have a high level of traffic, commenters and good content. You want these three things to be in place to make it worth your while.
Reach out to the editor. You'll find a contact form, but try to get an email address and name. Send them your story pitch, allowing them to decide if it will fit in with their other content.
When they've got back to you, put your post together and include your author bio with however many links they allow you to have.
After the post goes live it's important that you share it on all your social networks as well. This will help drive readers to the post and then back to your sites.
Guest posting, though it doesn't seem to make its way into the marketers list of duties, should be an integral part of the marketing process. There are various ways to drive traffic to your site, and writing guest posts does that while giving you a platform to share your knowledge. Guest posting should be at the top of your must-do list.

JessicaVisit My Website / View My Other Posts
Jessica Sanders is an avid small business writer touching on topics from social media to background checks. She writes for an online resource that gives advice on topics including phone systems for b2b lead generation resource, Resource Nation.