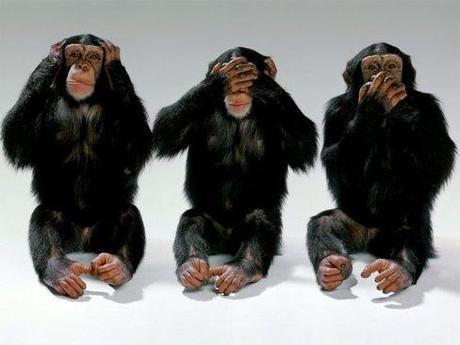 A recent essay by a blogger who calls himself Monty Pelerin struck a chord in me. Monty Pelerin is the pseudonym of a former CFO in the corporate finance field, with a Ph.D. in economics.
Pelerin's essay "Why Don't People See?" asks a question I and many of us also have asked: Why is it that so many seem blind to the problems that we see so clearly?
Here's Pelerin's essay of Feb. 18, 2013:
I meet people that still believe that the world is fine. They believe things like:
The US government has plenty of money.
Government cares for its citizens.
The economy cannot crash.
We are not in a recession (Depression).
The lives of their children will be better than their own.
The government can continue to print money to fund promises they cannot afford.
Despite these untenable beliefs, these are not stupid people. Many are professionals who do quite well — doctors, lawyers, dentists, college professors, etc. They are not  zombies, our walking dead, who have no idea about what is happening around them no less  the way things work in an economy, society or the world. It is our educated who should care yet seem to be oblivious to what lies ahead.
The ignorance and/or lack of concern of this group is perplexing and maddening. They are certainly capable of understanding. It is also in their interests to comprehend, as they are the ones who will lose the most. How doe one open their eyes? What can they be shown to arouse them from their ignorance?
Sadly, I don't have answers to these frustrating questions. It is not that others have not presented the information as much as these people refuse to acknowledge the implications. Are they all too busy? Are they idiot savants who are geniuses in their fields but not very smart away from it? Warnings come from many sources and from many different perspectives, yet they do not seem to penetrate the minds of those most capable of effecting change.
From a self-interest standpoint, this productive group should be the most concerned. After all, they are ground zero for the Socialist schemes that are destroying society. They are the ones that will be crushed in the redistribution dreams of our political class. Will they awaken too late? Or, will many of them just withdraw their productivity by retiring early, emigrating, etc.?
I don't have answers to these questions, but I do know that this professional class is about to become prey for our predatory State. And, when that happens, they will hurt be but not nearly as much as the rest of us.
Indeed, why are so many oblivious to and in denial about America's stark economic realities? — those of:
A

national debt of over $16.579 TRILLION

, and increasing by the second. That debt is now more than

106% of our GDP

(gross domestic product).
This gargantuan debt will have to be paid off by working Americans, but fewer and fewer of us actually work. More than 8 million working-age adults have dropped out of the labor force under Obama. Today,

4 out of every 10 working-age Americans don't work

.
Meanwhile, our dependency on government grows by the day.

Government welfare and entitlement programs

now make up as much as 35% of personal incomes.
At the same time, more and more Americans (

51%!) pay no federal income taxes.
The only difference between Pelerin and me is his question is narrower in scope than mine. Pelerin's concerns are mainly about America's economic problems, whereas in my view, our country's problems transcend the economic to include the political and especially the cultural.
Politically, the federal government under Obama has become one where, instead of a division of powers among three branches, the Executive is dominant, with Obama ruling by executive orders, like kings and emperors once ruled through edicts.
Congress, the legislative branch, seems unable to address our economic problems but only exacerbates them with the passage of Obamacare (that leads to higher insurance premiums, fewer doctors, death panels, and a greater burden for small businesses) and the reprehensible National Defense Authorization Act (that authorizes the arrest without charge and indefinite detention of U.S. citizens).
The Supreme Court is also adrift, too timid to even hear cases that concern Obama's eligibility and his strange Connecticut-issued Social Security number. That is, assuming the Supreme Court justices even saw the documents concerning those cases to begin with.
Did you know that clerks of the Supreme Court never forwarded to the justices the pleadings and documents submitted by plaintiffs and attorneys? The faceless clerks also removed cases from the electronic docket, as well as reported conferences of justices which never took place.
French philosopher and statesman Count Joseph Marie Maistre (1763-1821) once said, "Every nation has the government it deserves." Subtending the economy and government is America's culture, now thoroughly corrupted from decades of moral relativism do-as-you-will narcissistic amorality. Patriotism has become a dirty word: As many as 33% in a 2010 poll said they wanted the American flag banned.
John Adams wrote that "The foundation of national morality must be laid in private families." By that yardstick, the American family is in trouble.
Although every evidence we have points to marriage being good for not just the married, but for children and society as well, the percentage of married Americans is at a lowest recorded level. Between 2000 and 2009, the share of young adults ages 25 to 34 who are married dropped 10 percentage points, from 55% to 45%.
There is an epidemic of fatherless children — 30% of U.S. children live apart from their fathers. That 30% will account for 63% of teen suicides, 70% of juveniles in state-operated institutions, 71% of high-school dropouts, 75% of children in chemical-abuse centers, 80% of rapists, 85% of youths in prison, 85% of children who exhibit behavioral disorders, and 90% of homeless and runaway children.
So, how do we account for the blindness of so many? Why do they not see what you and I so clearly see?
Is it willful ignorance? Have they been brainwashed by the Establishment Media? (but how do we account for the media's blindness?) Is it stupidity? Is it a narrow and short-sighted selfishness? Or is it the terrible darkness of spiritual blindness?
"…you are living among a rebellious people. They have eyes to see but do not see and ears to hear but do not hear, for they are a rebellious people." -Ezekiel 12:2
"…because they received not the love of the truth, that they might be saved. And for this cause God shall send them strong delusion, that they should believe a lie." (2 Thessalonians 2:10b-11)
~Eowyn