In today's date, there are many programs available for weight loss. While some follow hard exercise routines to shed their accumulated fat, Many look for easier weight loss options. And one such method is following the HCG drops diet.
The HCG diet is a standard dieting format where there are phases, in which the subject loses weight and learns techniques to maintain themselves. There is a preparatory phase, a strict diet phase, and maintenance phase during which one has to follow the dietary tips and reduce weight.
Before you start any diet, We suggest cleaning your colon for health weight loss.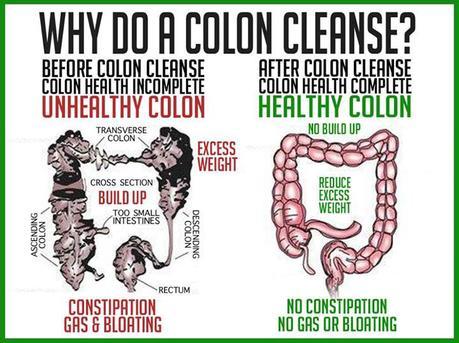 Colon cleansing procedure is used to get rid of harmful toxins in the colon and intestinal tract. Additives, in our foods and chemicals in packaged food are known to deter the overall digestion process.
Doing a colon cleansing is important before you start the HCG diet. It will help in improving the effectiveness of HCG hormone and boost metabolism. Though not a mandatory requirement, colon cleansing has more benefits that you should anticipate to lose weight successfully while on HCG drops diet.
Here are five reasons why colon cleansing is a very useful initial step for those who are planning to follow HCG diet for weight loss. Check these out and get inspired:
1.Relieves stress
Along with overweight, many people suffer from constipation problems as well. The reasons are simple: the food they eat is rich in fat and less in fiber which is necessary to improve the bowel movements in the intestines. Thus, they feel mentally stressed out when their deification process is not regular.
Less bowel movement is also very harmful to the body and is a hindrance for good health. For such category of people, colon cleansing is a crucial step which helps to remove the stored fecal matter and relieve one of the stresses due to this problem and helps them start their diet plan successfully.
2.Eliminate fat from the body
The fat in the foods gets retained in the feces as well. When one does colon cleansing, it removes the stored fat from the intestinal linings resulting in weight loss.
3.Refresh immune system function
Accumulated toxins harm the body leading to the following:
make one dull and tired all the time
damage the immune system by making it weak
diminishes the natural glow of the skin
accumulation of fat in the body
Cleansing Colon refreshes the immune system and makes one stay healthy.
4.Improved energy levels
HCG diet is a balanced diet. It keeps one less on carbohydrate and more on fibers just to keep their energy level boosted. The colon cleansing also improves one's energy levels and keeps them free of the fecal matter that are toxins which induce health hazards like fatigue, headache, stomach upset and more weight gain. By cleaning the colon and removing these stored toxins, one's digestive track is revived, and you can start the initial loading phase of HCG Diet.
5.Organic and natural
If one is worried about the colon cleaning techniques that includes pushing suppositories through the rectum, colonoscopy, etc. then there are plenty of organic and natural herbs which help in cleaning the entire gut and the colon area without any discomfort and pain. While some come in the form of lemonades and green tea, these organic colon cleansing techniques make it very easy for anyone to stay detoxified and grow healthier with strong immune system.
Here is a table that summarizes the different colon cleansing options available in the present day which can be easily carried out before initiating the HCG based weight loss recipe. Have a look at it:
1. Colon irrigation
Flushes the colon completely and removes toxins
2.Liquid supplements, powders, laxatives, suppositories
Eliminates the fecal accumulation from descending colon quickly.
3. Organic and herbal
These help to clean the entire gut and colon area completely
With such effective colon cleansing steps, one's HCG diet becomes even more effective. Colon cleansing methods help one to reap the most out of the HCG diet as it detoxifies the body on the whole.