There is a tendency for people to react with disdain when presented with 'Chinese tea' dismissing it as bitter and astringent. This (mis)perception is often formed because for most people, their first (and possibly only) encounter with Chinese tea is in a restaurant where tea is but a complementary item to the dishes being served.
This, in my admittedly biased opinion is a travesty. Chinese restaurant teas are a terrible representative of the epicurean delight that Chinese tea offers. The closest parallel is mistaking the 'house red' or 'house white' at a casual dining outlet for the pinnacle of fine wine but even that doesn't come close to the gulf between most Chinese restaurant teas and what Chinese tea can truly offer.
Quality of Offerings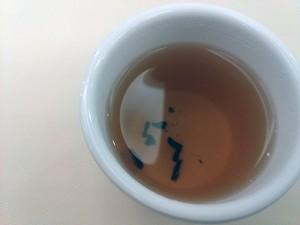 Much like the house red or white, the tea supplied in Chinese restaurants is not the type that would have you raving.
For most Chinese restaurants, the choices available are usually Xiangpian (Jasmine tea), Puer, Tieguanyin and Shoumei and even the last two are usually only available in Dim Sum restaurants.
Tea can range widely in quality, for Puer you can get a kilogram for $20 as well as pay upward of $30,000 for a cake that weighs 357g.
As the main draw is the food- plus the combination of the factors listed below- when the Chinese tea cost something like $3 per pot, you don't expect top notch quality tea.
To put it into perspective, it is like turning your nose up at kobe or wagyu beef just because your encounter with beef has been restricted to McDonald's.
'Hardware'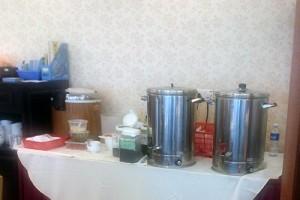 This is the 'tea making counter' at a traditional Dim Sum restaurant. As you can see there are two large stainless steel hot water dispensers. For the eagle-eyed, you can see the words "95⁰C" being labeled.
That temperature is just about right for Pu-er but not so for the finer jasmine teas and not all types of Tieguanyin is suited for this temperature. Regardless, that's the only option available.
In addition, such dispensers work similar to an air-pot, sporadically it is re-boiled. Re-boiled water generally leaves behind a higher mineral deposit content after the evaporation and taste flat.
Water as we know, is crucial to the taste of tea, given these conditions it's quite unlikely that the best Dahongpao would taste anything but mediocre.
Storage of Tea Leaves
If you observe the photo above carefully, you can see that the tea leaves are stored in clear, plastic containers that are not sealed, stored right next to the hot water dispensers (and not too far from the chopped garlic).
This essentially violates every single rule in the book, i.e. storing away from heat, light, air, other odors (hello garlic) and moisture (steam).
From an operational perspective, this placement is optimized for efficiency. Not so if you are being particular about the quality of tea.
All things considered, that your tea merely tastes forgettable would be quite an achievement, no?
Brewing Technique
The title is a bit misleading since there is no technique involved. I was seated next to the tea making counter and I could observe how the serving staff prepares the tea:
i)   Take a huge pot
ii)   Scoop some tea leaves with a spoon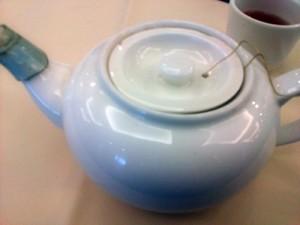 iii)   Add hot water
iv)   Serve the pot
v)   Allow the leaves to infuse indefinitely
vi)   Refill when requested
*v) & vi) were not a direct observation but a logical inference*
Here there are some problems-
i)   Over-steeping
ii)   Huge pot
iii)   The pot is not warmed
That considered it's not a stretch to suggest the quality of tea infused is not going to be spectacular.
How about 'Western Tea' then?
For those who are saying, well Western tea is not exactly brewed carefully in F&B joints, why don't they taste as bad as Chinese restaurant teas?
Simple- milk and sugar covers a multitude of sins.
The problems of over-steeping are manifested in bitterness and astringency which can be masked by milk and sugar.
Low quality offerings tend to be overly bitter and astringent- without hui gan- and too can be masked by milk and sugar.
In other words, if it doesn't taste good, add more milk and sugar.
In Summary
Don't be turned off 'Chinese tea' just because you didn't enjoy what you ordered at a Chinese restaurant. You probably won't enjoy a cheap house red but that didn't stop you from enjoying a Pinot Noir.
See here for more articles related to tea appreciation.