When it comes to Taiwanese Wulong tea, the Taiwanese High Mountain teas (台湾高山茶) are usually among the first to come to mind, with its sweet, refreshing taste, making it a hit with beginners. The Oriental Beauty aka Dongfang Meiren (东方美人) is also another wulong tea that is often brought up- with its combination of black tea-esque sweetness and excellent marketing legends (which most probably did not happen). There is also Dongding Wulong (冻顶乌龙)- which in some ways can be viewed as the predecessor of the Taiwanese High Mountain teas- and Wenshan Baozhong (文山包种)- the wulong tea for green tea lovers.
Lost in the shuffle, when one talks about the wulong teas of Taiwan, is Muzha Tieguanyin (木栅铁观音), which is one of early stalwarts, and despite its obvious non-native heritage has emerged as a unique offering of the Taiwanese wulong landscape.
Origins of Muzha Tieguanyin
Muzha Tieguanyin gets the first part of its name from the Muzha region in Taipei, Taiwan. Since the 18th century, during the reign of Emperor Qianlong, there has been a stream of immigration from southern China, particularly Fujian, to Taiwan. In the Muzha area, there has been a particularly high concentration of Quanzhou, especially Anxi, immigrants. As the number of Anxi immigrants grew, so did the demand for Anxi tea, especially Anxi Tieguanyin.
After the 1860s, tea plants, particularly 'big leaf wulong', were planted in northern Taiwan, especially Wenshan and Muzha. With its close ties and physical proximity to Anxi, tea production began to pick up in Taiwan.
Muzha Tieguanyin is traced to the early 20th century, when a man of Anxi ancestry by the name of Zhang Naimiao (张乃妙) brought back more than 100 Tieguanyin tea shoots from Anxi, and assisted farmers in Muzha region to cultivate the said plant.
Zhang had been orphaned since childhood and had understudied an unnamed China tea master since youth. After his master returned to China, he followed and fell in love with Anxi Tieguanyin. His determination to recreate that taste was born then, though it took him decades later before he could fulfill his dream.
While the initial production of Muzha Tieguanyin was similar to that of traditional Anxi Tieguanyin (not to be confused with the 'green style' that has gained traction in recent decades), variations had to be made to firstly account for the different climate, and secondly compensate for the less favourable harvest conditions in Muzha compared with Anxi. There was where his wealth of knowledge came in handy and Muzha Tieguanyin became famous for its charcoal slow roasting, taking on a unique character from its Anxi counterpart.
Zhang's role in the development of Muzha Tieguanyin cannot be overstated, not only did he bring the plant over, and refined the production process, he passed on both the plant and the technique to his fellow villagers free of charge. At that time tea production had declined in Muzha as it had poorer economic yield compared to sweet potato leaves (a common vegetable consumed in Taiwan). Zhang's enthusiasm proved infectious and some 10 plus families became the pioneers of Muzha Tieguanyin production.
Muzha Tieguanyin in recent years: Revival and Decline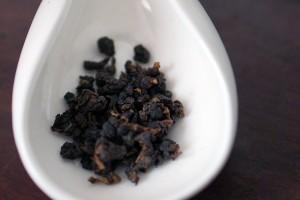 It was only in the 80s that Taiwanese tea culture really took off. Along with internal consumption and tourism, tea became a key economic crop in Taiwan and Muzha Tieguanyin was among the boats raised by the tide. From the initial 10 families, there were 85 families by 1990, producing more than 100 tons of tea per annum.
In recent years though, Muzha Tieguanyin had not grown in popularity as much as the Taiwan High Mountain teas trend. Unlike Muzha Tieguanyin which required skilled and experienced producers to handle the high firing process, the high mountain tea production was more formulaic and procedural based that could be easily replicable, which allowed new production to sprout up all over Taiwan, especially in Nantou region (Dayuling, Lishan, Shanlinxi etc).
Much like its Anxi counterpart, Muzha Tieguanyin grappled with the evolving taste of younger tea drinkers who gravitate towards the more accessible lighter, sweeter taste, as opposed to the fuller bittersweet taste of traditional Anxi and Muzha Tieguanyin. While still present in tea shops, Muzha Tieguanyin's shelf spaces shrunk in comparison to the Alishans, Dayulings of the world, perhaps falling victim to the Taiwanese marketing belief that the higher the elevation, the better the tea.* Compared with the literal lofty heights of 1,500m (Alishan) or even above 2,000m (Dayuling), the paltry elevations of Muzha (~300m) does sound unenticing.
*Which is only true to a certain extent, and only if all else being equal which is near impossible to achieve considering the various factors that come into play.
For producers, apart from the lower requisite skill levels, other cultivars such as Qingxin and especially Sijichun, are easier to cultivate than the notoriously finicky Tieguanyin cultivar. Coupled with the lower weight of more heavily roasted/baked teas (less moisture content), producers and retailers alike are happy to
From its heydays as one of THE Taiwanese teas, Muzha Tieguanyin is increasingly becoming an afterthought in the Taiwanese wulong market which is a pity in the author's opinion. Much like the traditional Anxi Tieguanyin (which is suffering from challenges of its own), Muzha Tieguanyin is overlooked for the younger, more sexier and accessible teas. While the stronger taste may not be for everyone, wulong lovers could do worse than to give this a shot.
See here for other articles related to varieties of oolong tea.
References and recommended further reading:
1) 台湾乌龙茶 edited by程启坤 published by上海文化出版社
2)  两岸乌龙名茶 by 吴德亮 published by知音出版社
3) 铁观音 by 池宗宪 published by黄山书社