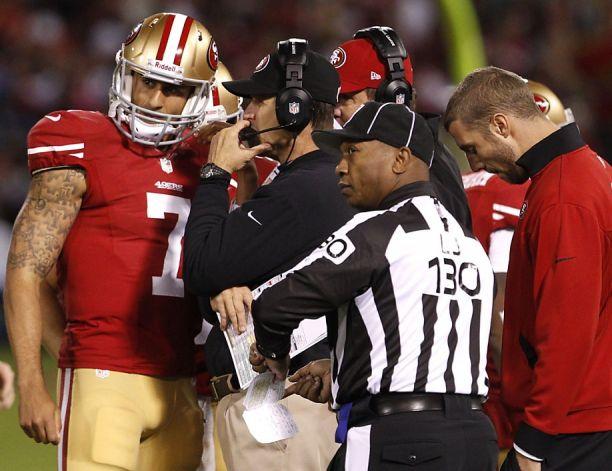 Alright, homework, work, and final projects are keeping me from you guys. I'm sorry. This will be a lot easier when I'm doing this full-time. It can just be me and you. No teachers or bosses. I'll be all yours. Now, this will have to be brief. There is a lot I could talk about, but I'm going to focus on the 49ers quarterback change and then make my picks for this week. Again, I'm sorry.
I'm a huge Friday Night Lights fan1. A little background, [Spoiler Alert] Matt Saracen is the little-quarterback-who-could, taking over the starting job after the star quarterback was paralyzed. No one believed in him except his coach, Eric Taylor. Now, Coach Taylor groomed young Matt Saracen, and eventually the two led the team to a state championship.
What does this have to do with the 49ers? Well, if you couldn't figure it out, Alex Smith is Matt Saracen and Jim Harbaugh is Coach Taylor.
So, who is Colin Kaepernick? Well, there are two choices really. Ray "Voodoo" Tatum was a hot-shot blue chipper. He was a tool, didn't listen to the coach, was only transferring to the team because his school was destroyed by Hurricane Katrina. He was looked at by Coach Taylor and booster Buddy Garrity as a replacement for their injured star because they didn't think Matt Saracen could get the job done. The comparison to Kaepernick is ideal. Both "Voodoo" and Kaepernick are mobile quarterbacks able to make plays with both their legs and their arm, and both have NFL arms, able to throw the deep ball. This comparison ends there. Kaepernick is young and up-and-coming. He has only started two games, at the time of his arrival to Coach Taylor's Dillon Panthers, "Voodoo" was a senior and had plenty of experience.
No, the more ideal comparison, especially mentally, is Kaepernick and is young freshman J.D. McCoy. During the show's third season, Matt Saracen is a senior. He has proved that he is a capable player and a great leader. Coach Taylor trusts him and has won with him. McCoy is the top freshman in the country, a great quarterback prospect, and has the best arm Coach Taylor has ever seen. When Matt Saracen loses a couple close games, Coach Taylor is faced with the decision of keeping Matt as the starter or switching over to McCoy, the blue-chip prospect that everyone wants to play. Coach Taylor knows McCoy is more talented than Matt, but he knows what he has in Matt: knows he can count on him in the 4th quarter of a tight game, knows he can count on him in a championship game. All he knows with McCoy is that he has a great arm. Coach goes with McCoy.
Alex Smith is Matt Saracen. He is less talented than Kaepernick. Doesn't have the big arm, and can't run as fast, isn't as big, but Jim Harbaugh knows what he has in Alex Smith. Alex Smith has performed in the playoffs; Harbaugh has won with Alex Smith. He can trust Alex Smith. Can he trust Kaepernick? What happens when they get to the playoffs or the Super Bowl? Going with Kaepernick is the wrong choice. He has two games under his belt. I know that going with Kaepernick is the wrong choice, just like everyone watching knew that going with McCoy was the wrong choice.
The Dillon Panthers ended up making it to the State Championship game under McCoy, but they got there and McCoy fell apart: threw interceptions, getting sacked, pushing his lineman. Coach Taylor realized his mistake, and changed his quarterbacks at halftime. It was too late, Matt Saracen led a late comeback that would eventually tie the game, but the Panthers lost on a last-second field goal. Coach Taylor made a mistake going to McCoy, he realized it too late. He should have stayed with Saracen. Jim Harbaugh made a mistake going to Kaepernick. He should have stayed with Smith.
Saints @ Falcons-
Pick: Falcons
Seahawks @ Bears-
Pick: Bears
Texans @ Titans-
Pick: Texans
Patriots @ Dolphins-
Pick: Patriots
Jaguars @ Bills-
Pick: Jaguars
Colts @ Lions-
Pick: Colts
Panthers @ Chiefs-
Pick: Panthers
Vikings @ Packers-
Pick: Packers
49ers @ Rams-
Pick: 49ers
Cardinals @ Jets-
Pick: Cardinals
Buccaneers @ Broncos-
Pick: Broncos
Steelers @ Ravens-
Pick: Ravens
Bengals @ Chargers-
Pick: Bengals
Browns @ Raiders-
Pick: Browns
Eagles @ Cowboys-
Pick: Cowboys
Giants @ Redskins-
Pick: Redskins
Last Week:  10-6
Overall: 89-58-1
The TV show, not the movie. Haven't seen the movie, don't care to either. I'm afraid it would ruin the show for me. This column is going to have a lot of spoilers. If you haven't seen the show it's out on Netflix instant watch in its entirety. Watch it. You're welcome.