The garden patio is one of the world's most underrated home additions. Despite being mere slabs of concrete or stone tiles, these outdoor extras can actually provide numerous benefits for any household. If your garden has enough space in it, and you have the budget required, you should definitely make the effort to install a patio in your backyard so that you can then reap the following rewards.
 Guaranteed to Improve Your Garden's Look
While it's great to have an outdoor area flooded with green, you should try and break this up with some other hues. A patio can create a more diverse atmosphere in your yard in the following ways:
It will insert a flash of other colours besides green
The lines will contrast with nearby natural curves
You can draw attention to a particular garden area
Break up the curtain of green and lay down some stones or concrete in your garden today! Advances in staining and colouring can create patios of any hue imaginable. This means you can create an outdoor environment that is as vibrant as you want it to be.
 Even the smallest garden can benefit from a patio
Easier Maintenance in the Great Outdoors
You know how difficult it can be to take care of the lawn, shrubs and other plants in your garden. By installing a stone or concrete patio there, you can then ensure at least part of your yard is easy to look after. Simply sweep it up on a regular basis and occasionally apply weed/moss killer to eliminate unwanted plant growth once a year. That's it! You won't have to think about cutting the grass, trimming the hedges or anything like that in the area you've set up your new patio.
Your Own Personal Entertainment Area
Let's not forget the reason why anyone installs a new patio in the first place: to create an area in your garden that's ready to entertain guests at a moment's notice. When it comes to inviting friends and family over, having your own outdoor place to relax with company is always a nice alternative (especially during the summer). Luckily, even cheap patios can be customised to suit your preferences when it comes to taking care of others and showing them a good time within your garden. Add some wooden furniture, a barbeque and some outdoor lighting and you can then invite people over with confidence that they will have a fantastic time.
A Place to Unwind All Year Round
By including a shelter with your patio, you can also ensure you have a place to just chill out in by yourself no matter the season. Rain, hail or shine, you can sit back in your garden and just take a moment away from the hectic nature of life. You can even add an outdoor heater to fight off the winter chill while you sit outside. Don't forget the following patio essentials to keep yourself comfortable:
Comfortable seating
Barbeque or fire pit
Potted plants or flowers
Fountain or waterfall
All of this can create some truly beautiful surroundings guaranteed to relieve your stress. A patio lets you enjoy the fresh air without exposure to the elements while the additions that you choose will enhance the aesthetics of your environment. Combine beauty with comfort and create an amazing relaxation setting in your backyard.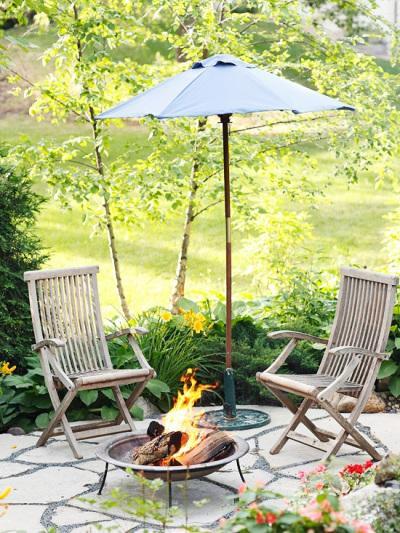 Keep warm on summer evenings with a patio fire pit
Increase the Value of Your Property
Finally, the addition of a new patio can actually help you financially when you later sell your home. Since you've taken the time to enhance your garden, you might be able to get a better selling price for your property when you finally vacate it. Just make sure you choose the right materials and design so that your patio still looks amazing when you sell. You should also maintain your garden in the proper manner so that your timber, stone and other materials remain structurally sound for a long time to come.
As you can see, there are plenty of reasons to install a new patio in your garden. If you are looking for an effective way to improve your home, these outdoor additions come recommended. Regardless of your household style, if you have a backyard, place a sheltered entertainment area there as soon as you can!
Author Bio
Alice Willson is a writer with a background in editing and blogging. She loves to write about a number of topics, particularly properties, industrial, and home and garden.
Related
Categories: Garden | Tags: Design, Garden, outdoors, patio, space | Permalink.

Cassiefairy blogs about everything she does & anything that inspires her; popular culture, film, art, fashion, recipes, craft and design.