New to little Indiana? Subscribe for free to my RSS feed. Thanks for stopping by!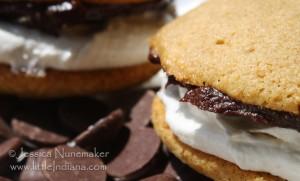 Whoopie Pie Recipes: Smores
Summer, Hoosiers, and S'mores go hand in hand, but with this (never-ending) heat wave, I switched to this Whoopie Pie recipe. All the flavor of S'mores without the fire!
Other parts of the country call them by other names (like Gobs) but in my Indiana town? Not so much. Whatever you call them, they are ooey-gooey awesome.
I flip-flopped one of the steps (because it just made more sense to me). That's how I roll.
Whoopie Pie Recipes: S'mores

From Billingsley and Treadwell: Whoopie Pies
For the Cookies:

1 1/2 c.Graham Flour (or Whole Wheat Pastry Flour)
3/4 c.All-Purpose Flouor
1 1/2 tsp Baking Powder
1/2 tsp Salt
4 tbsp. Butter, softened
4 tbsp Vegetable Shortening
1 c. Dark Brown Sugar, packed
2 Large Eggs
1/2 c. Buttermilk
2 tbsp. Milk
1 tsp Baking Soda
1 tsp White Vinegar
1 tsp Vanilla Extract
For the Marshmallow Fluff Filling:
1½ cups Marshmallow Fluff
1¼ cups Vegetable Shortening
1 c. Powdered Sugar
1 tablespoon Vanilla Extract
For the Chocolate Ganache Filling:
8 ounces Bittersweet Chocolate, finely chopped
½ c. Heavy Cream
Making The Whoopie Pie
Whoopie Pie Recipes: S'mores

Preheat oven to 375*. Break out the Parchment Paper to line your baking sheets and get out the ingredients to make the Chocolate Ganache.

Place bittersweet chocolate into bowl. Heat Heavy Cream in sauce pot on stove until bubbly and pour over Chocolate.
Let rest 10 minutes, then whisk to remove lumps. Cool for two hours or, in my case, pop in front of the window air conditioner and cool a bit faster so it is easy to spread!
For the cookies: In a medium bowl, whisk together the King Arthur flours, baking powder, and salt. Set aside.
Using your KitchenAid Mixmaster, cream together the butter, shortening and brown sugar (about 3 minutes). Add in eggs and buttermilk. Beat until combined.
In a small bowl or measuring cup, combine the milk, baking soda, and vinegar.
Put the mixer on low speed and add in half of the flour mixture, mixing just until it's combined. Mix in the milk mixture and then the remaining flour mixture just until combined.
Add vanilla and beat on medium speed for two minutes or until combined. Scrape sides and bottom as needed.
Using a 1 1/2 Tablespoon cookie dough scoop, drop tablespoons of the dough onto prepared baking sheets, 2″ apart.
Bake for 8 to 12 minutes, until the tops feel firm, spring back slightly to the touch, and a toothpick inserted near the center comes out clean.
Remove from oven. Cool on baking sheets for 5 minutes then switch to wire rack to cool completely.
For the Marshmallow Filling: Beat together Marshmallow Fluff and Shortening until smooth (3 minutes). Add in Powdered Sugar and Vanilla Extract. Beat until fluffy (3 minutes).
Assemble the Whoopie Pies: Spread a layer of the Chocolate Ganache over the flat side of one of the cookies. Spread a layer of Marshmallow Filling over the flat side of another cookie. Sandwich together. Repeat. A lot! This recipe made 17 sandwich cookies.
See more Whoopie Pie Recipes: S'mores images and other pictures in Indiana on my Flickr photostream.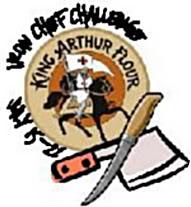 little Indiana: Where to Stay, Play, and Eat in Small Towns in Indiana. Discovering Indiana's best small towns! Now get little Indiana on your Kindle.
New! Offering affordable online advertising for your small Indiana business! little Indiana Businesses is the online presence that you've been looking for.