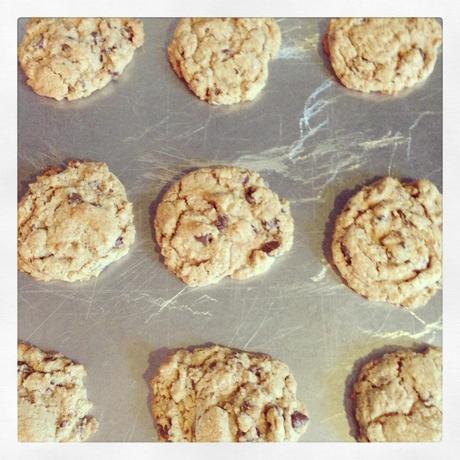 I recently came across the cookbook Good to the Grain.  As soon as I heard about it, I looked for it at the library, and right there on the shelf it sat, just waiting to be brought home and put to use.  I'm on my fourth week - first renewal - of this fine baking guide and quite smitten.  Yesterday I made the whole wheat chocolate chip cookies, and I can honestly say as a lover of the chocolate chip cookie, this recipe might be my favorite.
I loved the nuttiness of the whole wheat flour.  It gives the cookies a wonderful texture and a browned butter-like flavor.  I didn't modify any of the ingredients, just a bit of technique - I'm all about simplicity!  I also think this dough is not meant to be over-mixed.  Mix everything until just combined. 
I'll renew this cookbook the one more time I'm allowed, and then most likely I will buy my own copy.  This is one that I want in my own library, especially come summertime.  I'm already drooling over the Strawberry Barely Scones and Rhubarb Tarts!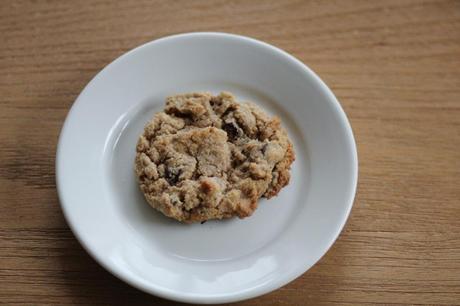 Whole Wheat Chocolate Chip Cookies
(slightly modified from Good to the Grain)
3 cups whole-wheat flour
1 1/2 tsp. baking powder
1 tsp. baking soda
1 1/2 tsp. kosher salt
2 sticks (8 ounces) cold, unsalted butter, cut into 1/2 inch pieces
1 cup brown sugar
1 cup sugar
2 eggs
2 tsp. pure vanilla extract
8 oz. bittersweet chocolate chips
Preheat oven to 350 F.
Combine flour, baking powder, baking soda, and salt.  Set aside.
Using a stand mixer with the paddle attachment, combine cut up cold butter and sugars.  Mix on low just until sugars and butter are blended, about 2 minutes.  Scrape down sides of the bowl and mix in eggs, one at a time until just combined.  Add vanilla.  Scrape down sides again.
Add flour mixture and blend on low until just combined, about 30 seconds.  Add chocolate chips and mix until everything comes together, about 30 more seconds.
Using a cookie scoop (about 2tbsp), scoop dough onto ungreased cookie sheets, 3 to a row.  Bake for 14-16 minutes, or until just slightly golden.
If you're not baking all the dough at once, scoop into balls and store in a freezer bag in the refrigerator for up to one week.