I am a big of Scarlett Johansson, she might not be a fashionista but, the way she elegantly carries her outfits is so chic and stylish. She wore bottle green gown by Atelier Versace. Just love her outfit, perfect for an award ceremony, nor too big nor too long sweeping the floor. Coming to her look, i really love the look created by her, she opted for very soft brown based pink look.
2. Naomi Watts
She was dressed in a black & silver Monochrome gown by Armani Privé. Naomi Watts sported a dark red burgundy lipstick to finish her look. Her lipstick very close to the Pure Garnet from L'Oreal pure rich lipsticks.
She wore a black square neck black netted gown with slight shimmers by Oscar de la Renta. I love her gown , just a perfect pick for the evening and she has also done a good face contouring with thick black eyeliner and nude pink lipstick to finish her look.
4. Dakota Johnson
The 50 shades Grey star wore a one shoulder strapped red gown by Saint Laurent. She looks simplistic yet so hot with the poker full fringe .
5.Jennifer Lopez
There is nothing that JLo cannot do, she has left no stones unturned and made heads turn to her neutral cinderella dress studded with layers of tulle and champagne stones by ElieSaab. The signature look JLO with a smoky eyes and pastel lips looks absolutely sultry.
6. Emma Stone
7. Julianne Moore
Julianna wore a white sequinned Chanel gown. She looked stunning with the bun and some deep red lipstick.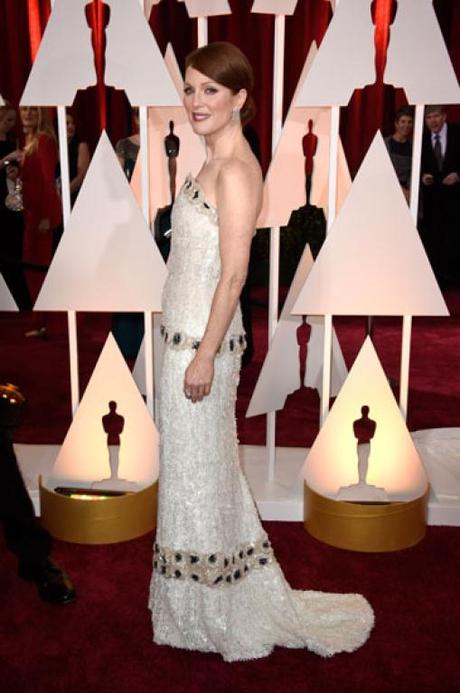 8. Keira Knightley
The star of imitation game looked like a bohemian in a neutral/ pastel shade netted gown with flower prints by Valentino Couture. She liked to those girls from poetry who let their hair down and are free spirited.
I hope that post inspires some of the brides to be and bridesmaid to get inspired and get something equivalently stitched. From the above ensembles my favourite are Scarlet Johansson, Juliana Moore and Emma Stone and Sienna Miller.
<
p style="text-align: justify;">Do leave in the comment below which is your Favourite