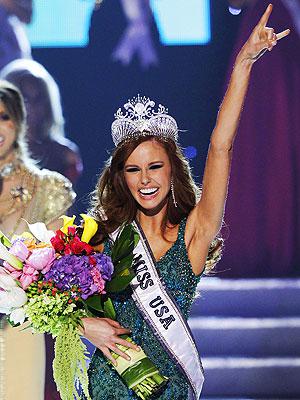 Miss USA Alyssa Campanella
I was recently given the opportunity to interview Miss USA. Since I don't really keep up on the pageant world I had to do some research. Alyssa Campanella seemed like a fine person – I was mostly curious to ask her about feminism.
Alyssa currently lives in New York City with Miss Universe. She is hardly ever there because of all the fabulous places she "has" to travel to such as Chicago, Miami, the Bahamas, Los Angeles, Cannes and others. Once her reign as Miss USA is over she wants to attend culinary school and has been doing some work with the Food Network to prepare.
Now for the interview:
Pageants receive criticism because they are seen as negative to young women because the focus is on appearance. How do you think pageants can be empowering?
Part of my job is to travel around with charity organizations raising awareness about women's issues. I'm learning skills that I can apply to my future. This work is not just about being a glamazon. I help out organizations such Susan G. Komen For The Cure, Gilda's Club, God's Love We Deliver, and Project Sunshine. I would rather put less make up on, wear jeans, and spread cheer.
Are you a feminist?
We are all human beings, so what if we have different body parts? There are women presidents — not in the U.S. but soon. There are women all over the world in positions of power doing a good job such as the Queen of Denmark and Brazil's president. In history, there is Margaret Thatcher England's first female prime minister. We don't need only a man to do the job. Let women have power.
Have you had negative experiences that have helped to shape you into a better person?
I was bullied as a kid. I became so upset about going to school I asked my mom to homeschool me. I was bullied because of what I wore. I liked to dress more mature, like my mom, so I was shopping at New York & Co. when I was 12. I took school very seriously and was teased about that. I never went to high school parties, so I wasn't cool. When I became Miss Teen New Jersey everyone wanted to be my friend, but I knew it wasn't sincere and remained friends with the three people who always stuck by me. I'm naturally thin and have always been teased about that. Even at Miss Universe people were spreading rumors that I was anorexic. I was stressed and eating a lot, but the weight wasn't sticking.
We commiserated over how it is socially acceptable to tell someone they are too thin and to eat a burger. However, if you reverse that and tell an overweight person to eat a salad you are vilified. What people need to know is that feelings are hurt in both scenarios. And women shouldn't be attacking each other's weights out of insecurities and jealousies.
Any favorite quotes?
My mom always said "You can't make a difference in the world without knowing what's going on in it." She would leave a newspaper on the table in the morning and I would read it while eating breakfast. I still do this every day and I feel weird if I don't.
Any advice on how to stay motivated on the path to fulfilling one's goals?
You aren't a loser unless you give up. If you don't get what you want it's because something else is on the horizon if you keep going. That's what happened with me. I placed first runner up in a pageant, but I persisted and won Miss USA.
Originally posted on FashionFoodFeminism