Folks, just watch from :40 – 1:30 and watch your blood pressure spiral.
——————————————————————————————-
Patrick Howley
Political Reporter          dailycaller.com
James O'Keefe Crosses The US-Mexico Border Dressed As Osama Bin Laden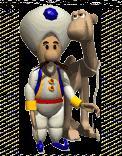 Hey, the camel's cute. :)
Investigative filmmaker James O'Keefe exposes the U.S.-Mexico border's vulnerability to terrorism in his latest undercover project, obtained exclusively by The Daily Caller.
O'Keefe's Project Veritas video reminds viewers of recent statements by the president and Obama administration officials that the southern border is secure. O'Keefe then proceeds to Hudspeth County, Texas, to easily cross back and forth cross the Rio Grande wearing the costume of modern history's most recognizable terrorist.
"I see no border patrol. I see no security," O'Keefe said in the video before donning a bin Laden mask. "Thousands of people have stood in my footsteps right now. They've come from South America, Honduras, Guatemala, and they've all crossed the border. And if they can cross, anybody can cross."
O'Keefe's work often distinguishes itself for proving taboo but accurate premises – in this case, that Islamic extremists are able to gain entry to the United States from Mexico, where drug cartels are linked to numerous terrorist organizations including Hezbollah and the Islamic State of Iraq and the Levant (ISIS), the strongest al-Qaida-like organization in the heart of the Middle East.
~Steve~
Read more: http://dailycaller.com/2014/08/11/new-video-james-okeefe-crosses-the-border-as-osama-bin-laden/#ixzz3A69rGzTK