It's been awhile since we've had an "Who's hotter?" type of poll…and this one is a battle within our own True Blood fandom.
Alexander Skarsgard is up against that mangy mutt Joe Manganiello over at SheKnows.com.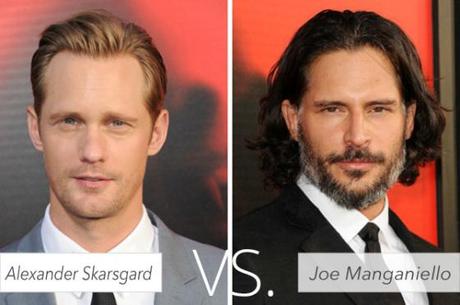 This is what they said about Alex;
Tall, brooding and with sparkling blue eyes, it's hard not to have a crush on this vampiric bad boy. A former child actor in Sweden, Skarsgard booked Zoolander while on vacation in the U.S. After being named The Sexiest Man in Sweden five times, he finally moved to Los Angeles in 2004 — and we are lucky to have him. His break out role is playing 1000-plus-year-old vampire Eric Northman, on HBO's True Blood, but he has worked a ton. Skarsgard has taken on Sgt. Brad Colbert in Generation Kill, Charlie in Straw Dogs and he even made a cameo in Lady Gaga's Paparazzi music video. He's apparently going to be Tarzan next… now that's a man I'd love to swing with.
You can find out how the two men match up in a number of categories like; talent, kindness and intelligence – as well as cast your votes for Alexander Skarsgard on the link below. As of the time of this post, Alex was in the lead…and we want it to remain that way. Please cast your votes and pass this on!
I know who I prefer… Alexander Skarsgard!  There's just something about him that tells me he's more than a pretty face. He can act and is kind and caring too!

Thanks Eric & Sookie Lovers!
PS. You CAN vote more than once by refreshing your screen!