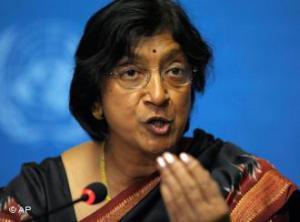 This is my question after reading the jaw dropping line on Drudge: "UN Condemns Israel for Not Sharing Iron Dome Tech…"
---
BRIETBART:
UN CONDEMNS ISRAEL'S LATEST WAR CRIME: NOT SHARING IRON DOME WITH HAMAS
The UN's top human rights official again condemned Israel for its military actions to stop Hamas rocket attacks against Israeli civilians, accusing the Jewish state of "deliberately defying International Law… in a way that may constitute war crimes." Navi Pillay told reporters following yet another "emergency" meeting of the Geneva-based UN Human Rights Council that Israel was not doing enough to protect civilians… …Israel's refusal to share its Iron Dome ballistic missile defense shield with the "governing authority" of Gaza – i.e. Hamas…
Read the Breitbart article here at http://www.breitbart.com/Big-Peace/2014/07/31/UN-Condemns-Israel-s-Latest-War-Crime-Not-Sharing-Iron-Dome-with-Hamas
---
 So who is this brilliant luminary, Navi Pillay?

Here's the puff piece on the UN website describing their "High Commissioner for Human Rights." To understand it, I've excerpted a couple of telling clues:
---
Navanethem Pillay
http://www.ohchr.org/en/aboutus/pages/highcommissioner.aspx The appointment of Navi Pillay as UN High Commissioner for Human Rights was approved by the General Assembly on 28 July 2008…
What follows is carefully crafted puff. If you want to read it, just click on the link. 
…She co-founded Equality Now
an organization that is working to legalize abortion worldwide. Success in Nepal: The Decriminalization of Abortion
…She also holds a Master of Law and a Doctorate of Juridical Science from Harvard University. 
…hmmmmmm. Who else do we know who majored in Law at Harvard, hates Israel and loves abortion?
---
The UN High Commissioner for Human Rights is cut from the same cloth as our own Barack Hussein Obama. This fact will comfort some people, but chill others.  I don't have the time to dig for more information, but we now know that she drinks from a polluted stream, like most Harvard alumni.  ~ TD