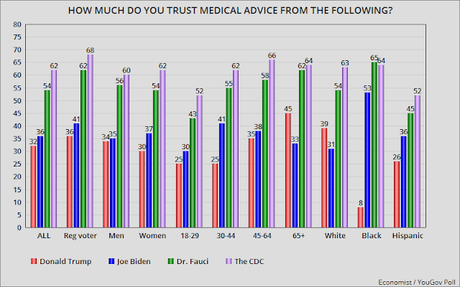 The chart above reflects the results of the new Economist / YouGov Poll -- done between July 19th and 21st of a national sample of 1,500 adults (including 1,222 registered voters). The margin of error for both adults and registered voters is 3.2 points.
Donald Trump has resumed giving updates on the COVID-19 pandemic in the United States, but this time he is doing it alone -- without any doctors, public health officials, or the CDC.
This is probably a big mistake, because most people consider him dishonest and untrustworthy (see chart below).
When asked who they trusted to give them medical advice (see chart above), Trump was the least trusted. Joe Biden was trusted a bit more, and both Dr. Fauci and the CDC were trusted a lot more.