1. What type of diamond cut do you like?
Any diamond is gorgeous!!  But my favorite is either round brilliant cut or princess cut.
2. If you are married when is your anniversary. if not what month 
would you like to be married in?
   My anniversary is June 29. 
3. What were or would you like your wedding colors to be?
   My wedding color was Victorian Lilac, which is a very pretty muted lilac color.  I accented this color with peach, white and purple flowers.
4. How many bridesmaids did or would you have at your wedding?
   I had 4 bridesmaids - including the maid of honor.
5. How long have you been married?
   This year is 9 years!!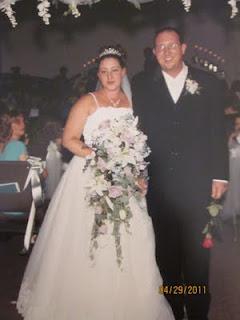 Join my in this fun linky party!!