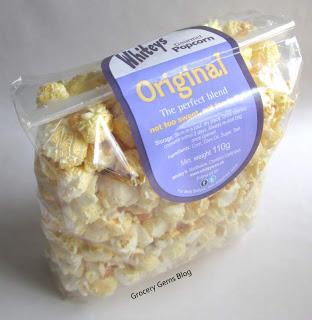 Yesterday I reviewed the Cinnamon Sweet Gourmet Popcorn made by Cheshire based company Whiteys, which is just the most perfect cinnamon popcorn. Today I'm reviewing Whiteys Original blend of gourmet popcorn, which promises to be a delicious blend of sweet and salty popcorn. Thank you again to Mark at Whiteys for sending me this fantastic popcorn to review.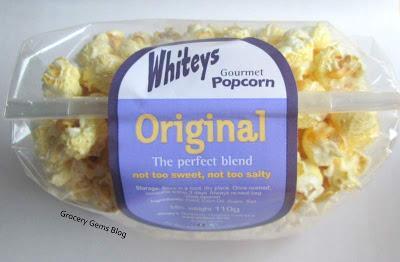 Whiteys popcorn comes in a generous 110g portion and is made with all natural ingredients, without any artificial colours, flavours or preservatives. The ingredients for this Original popcorn are simply; corn, corn oil, sugar and salt. Add to that a bit of excitement from the way the popcorn is made (in an open pan with no lid!) and you have the perfectly balanced popcorn.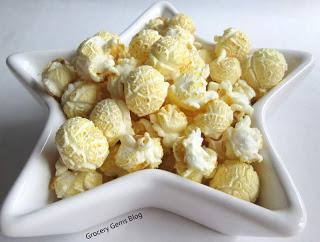 Just like the Cinnamon Sweet popcorn I tried yesterday, the Whiteys Original Gourmet Popcorn is super light and fluffy. These are some of the biggest pieces of popcorn I've ever seen and the texture is amazing. It's slightly crunchy on the outside but super soft and airy on the inside.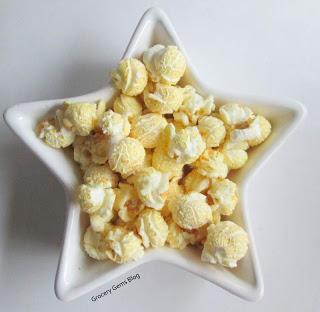 The balance of the salt and sweet flavours is the key factor is making this popcorn absolutely delicious. It is indeed "not too sweet, not too salty" as described on the front of the packaging. I love the golden sweetness with the added salty edge that helps to bring out all the popcorn's fresh flavor. Everyone in my family loved Whiteys Gourmet Popcorn. It's truly a fantastically made popcorn, with the perfect blend of ingredients to create a delicious and moreish snack.


You can order Whiteys Gourmet Popcorn from their 

website

 for £13 for four bags. They have four flavours in total: Original. Cinnamon Sweet, Cocoa Original and Maplecorn. 

Follow Whiteys Gourmet Popcorn on 

Twitter

 and Like them on 

Facebook

 to keep up with all their popcorn news!


Grocery Gems Verdict: Whiteys Original Gourmet Popcorn
RATING: 10 out of 10.Buy them again?: Absolutely.


Purchased

:

 Available from Whiteys website or check their local stockists


Price

: £13.00 for four bags.