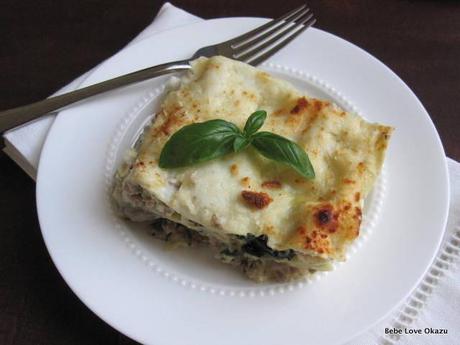 Comfort. That's probably one of the first things that come to mind when I think of my childhood besties. When we get together, I am comforted and happy. They are my family.
Our get togethers are at least 30 strong (and still growing I'm happy to report), with 10 girlfriends, their mates and a minimum of 10 kids running around. It's quite an affair, so you can only imagine the amount of food that is often served at our potlucks.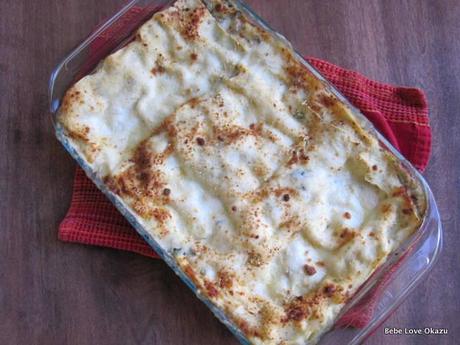 Over two years have passed since I was at one such potluck where I came across a delicious white lasagna. If you're not familiar with white lasagna, it's referred to as such, because of the white béchamel sauce that is used in place of a traditional red sauce. The meat, in this case is lean ground turkey which is seasoned with herbs and is layered with noodles and two of my favorite vegetables, spinach and mushrooms.
This lasagna is best eaten on the same day, but it serves our modest family of four at least thrice over, so leftovers are undeniable. If the lasagna is not eaten on the same day, it becomes slightly dry, so I will serve this white lasagna with a very simple and easy to make tomato basil sauce (to be posted one of these days hopefully not too far in the future). My family enjoys this white lasagna just as much as my Mom's red lasagna that I also love. (The post for my Mom's red sauce lasagna is available here.)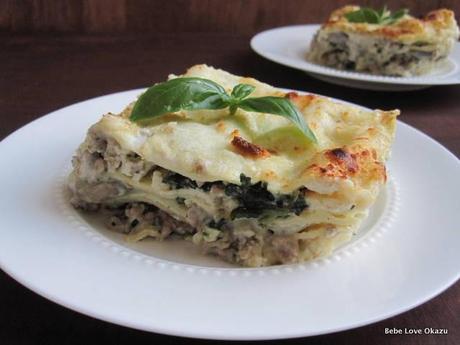 Print
White Lasagna with Mushrooms, Spinach and Turkey Author: 
Judy | Bebe Love Okazu
Recipe type: 
Main
Cuisine: 
Italian
Prep time:  25 mins Cook time:  45 mins Total time:  1 hour 10 mins Serves: 
6
  Ingredients
FOR SAUCE:
1 stick (1/2 cup) unsalted butter
½ cup all-purpose flour
4 cups milk
Salt and pepper, to taste
FOR LASAGNA FILLING:
1 teaspoon dried oregano
1 teaspoon dried rosemary
½ teaspoon dried marjoram
½ teaspoon dried thyme
½ pound white button mushrooms, sliced
1 bunch fresh spinach, coarse chopped
1 lb ground turkey
1 tablespoons olive oil
1 tablespoon minced garlic
1 15-ounce container whole-milk ricotta (about 1¾ cups)
1 large egg
1½ teaspoons dried basil
Salt and pepper, to taste
Cooking spray
1 box 7 x 3, ½-inch sheets dry no-boil lasagne pasta (approx. 15 sheets)
½ cup freshly grated Parmesan (about 1½ ounces)
1½ cup shredded mozzarella
Instructions
MAKE SAUCE:
In a saucepan melt butter over moderately low heat. Stir in flour and cook roux, stirring, 3 minutes. Add milk in a stream and bring mixture to a boil, whisking until thick and smooth. Add salt and pepper to taste and simmer sauce over low heat, whisking occasionally, 10 to 12 minutes, or until thickened. Transfer sauce to a bowl and cover surface with a buttered round of wax paper to prevent a skin from forming.
MAKE FILLING:
Into a small bowl crumble oregano, rosemary, marjoram, and thyme.
In a large skillet heat ½ tablespoon olive oil, 1½ teaspoons of chopped garlic and cook ground turkey with half of the herb mixture until turkey is browned and cooked. Transfer ground turkey to a large bowl.
Add ½ tablespoon of olive oil, add remaining garlic, herb mixture, sliced mushrooms and rough chopped spinach. Cook until spinach is wilted. Add salt and pepper to taste.
Transfer mushroom mixture to ground turkey and stir until combined. Reserve 1 cup of sauce, then add remaining sauce with salt and pepper to taste to the turkey mixture and stir until combined.
Preheat oven to 350°F. and spray a 13 x 9-inch baking dish (3-quart) with cooking oil.
In a separate bowl, whisk together ricotta, egg, basil, and salt and pepper to taste. Pour ½ cup reserved sauce into baking dish (sauce will not cover bottom completely) and cover with 3 pasta sheets, making sure they do not touch each other. Spread half of turkey filling mixture over pasta sheets in dish and top with another 3 pasta sheets. Spread half of ricotta mixture over pasta, sprinkle some of the parmesan and top with another 3 pasta sheets.
Continue layering lasagne in same manner with remaining chicken mixture, pasta sheets, and ricotta mixture, parmesan, ending with pasta.
Spread remaining, 1 cup sauce over top and sprinkle with remaining Parmesan and shredded mozzarella cheese.
Bake lasagna on middle rack for 45 minutes or until golden brown and bubbling. Broil on low for 5 minutes for golden color.
Notes Adapted from Epicurious. 3.1.09