Larry O'Connor reports for Breitbart.com, Feb. 2, 2013, that the White House has released a picture purporting to show the POS "skeet shooting" at Camp David.  An activity he claims he does "all the time."
Skeet shooting is a recreational and competitive activity where participants, using shotguns, attempt to break clay disks automatically flung into the air from two fixed stations at high speed from a variety of angles.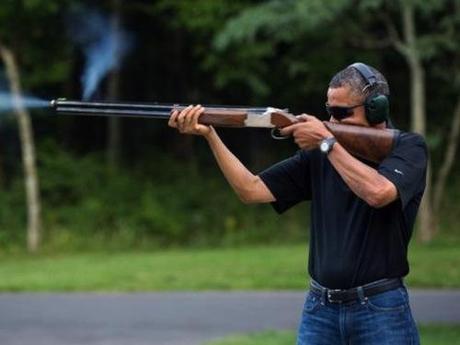 This is the WH's caption for the picture above: "President
Barack Obama
shoots clay targets on the range at Camp David, Md., Saturday, Aug. 4, 2012. (Official White House Photo by Pete Souza)"
Underneath the caption, the White House sternly warns:
"This official White House photograph is being made available only for publication by news organizations and/or for personal use printing by the subject(s) of the photograph. The photograph may not be manipulated in any way and may not be used in commercial or political materials, advertisements, emails, products, promotions that in any way suggests approval or endorsement of the President, the First Family, or the White House."
The command "The photograph may not be manipulated in any way" is, of course, equivalent to waving a red flag in front of a charging bull.
You're forbidding the American people from photoshopping that pic? — the same American people who make fun of every President in late night talk shows, newspaper political cartoons, YouTube videos, blogs (like FOTM), and over the office water cooler?
Ha!
FOTM now invites our readers to send us EVERY photoshop image you can find of the photo of POS skeet-shooting, by giving us the photoshop's URL via:
Putting it in a comment on this thread; or
Emailing the URL to us: fellowshipminds@gmail.com
I'll collect all the photoshop images and we'll have a Best Photoshop-of-the-Shooting-POS Contest!

~Eowyn