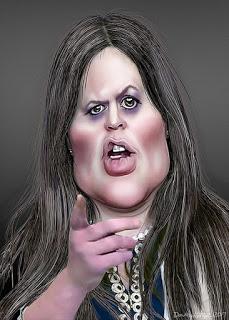 (This caricature of White House press secretary Sarah Huckabee Sanders is by DonkeyHotey.)
The government shutdown has entered its third week. It is because Donald Trump refuses to accept any budget that does not include at least $5 billion to start building a wall between the United States and Mexico.
Most Americans don't want the wall built -- especially because it will be paid for by American taxpayers (and not by Mexico, as Trump had repeatedly promised). This is compounded by most Americans blame Trump and the Republicans for the shutdown, which they don't think is necessary.
What is the response of the Trump administration? They have resorted to their favorite tactic -- lying. White House press secretary Sarah Huckabee Sanders, in an obvious effort to try to scare the public into agreeing with Trump, claims that about 4,000 terrorists have been caught at the Southern border. The problem with that is that it is simply not true. In fact, there is no evidence that even a single terrorist has been arrested trying to enter this country by crossing the border with Mexico.
Here is how Julia Ainsley at NBC News describes the reality:
White House Press Secretary Sarah Sanders said Friday that Customs and Border Protection picked up nearly 4,000 known or suspected terrorists last year "that came across our southern border."

But in fact, the figure she seems to be citing is based on 2017 data, not 2018, and refers to stops made by Department of Homeland Security across the globe, mainly at airports.

In fiscal 2017, the latest year for which data is available, according to agency data and the White House's own briefing sheet, the Department of Homeland Security prevented nearly 4,000 known or suspected terrorists from "traveling to or entering the United States."

According to Justice Department public records and two former counterterrorism officials, no immigrant has been arrested at the southwest border on terrorism charges in recent years.

The White House did not respond to a request for comment about Sanders' statement.

Ahead of President Donald Trump's meeting Friday afternoon with Congressional leaders to negotiate the end of the government shutdown, the White House issued briefing materials that stated "3,775 known or suspected terrorists [were] prevented from traveling or entering the U.S. by DHS" in fiscal year 2017. Nowhere did the briefing materials state the known or suspected terrorists were stopped at the southern border.

Ned Price, who served on President Barack Obama's National Security Council, said many of those 3,775 were stopped simply because their name matches that of someone on a terrorist watch list, which have grown in recent years, and not because they pose a threat.