0 Flares
0 Flares
×
New to little Indiana? Subscribe for free to my RSS feed. Thanks for stopping by!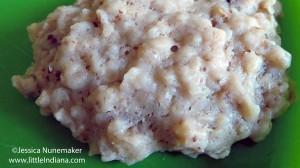 White Chocolate No Bake Cookies Recipe
White Chocolate No Bake Cookies are a great twist on the classic Chocolate No Bake Cookie recipe. With close friends that are allergic to chocolate (tragic, right?), it's also one that I was eager to try.
No white chocolate chips? Me neither. So, I used four blocks of white chocolate. I have no idea if that's close to the 3/8 cup requested in the recipe but I thought it felt right. Either way, it was fantastic!
I did add an extra 1/4 cup of oats to the mixture because it did not look quite right–and it turned out with success. I found this original recipe on Indiana blogger Sarah Lynn's Sweets website.
White Chocolate No Bake Cookies Recipe
Print White Chocolate No Bake Cookies
Rating: 51
Prep Time: 10 minutes
Cook Time: 5 minutes
Total Time: 15 minutes
From Indiana blogger Sarah Lynn's Sweets!
I used 4 squares of white chocolate in place of the 3/8 cup white chocolate chips. I did also add in an extra 1/4 cup of quick oats. It set just fine and was excellent.
Ingredients
1/2 Cup Milk
2 Cups Sugar
3/8 cup White Chocolate Chips (I used 4 Blocks of White Chocolate)
1/2 Cup Butter
1 Pinch Salt
1 tsp Vanilla Extract
1/2 Cup Peanut Butter
3 1/4 Cup Quick Oats
Instructions
In medium saucepan, combine Milk, Sugar, White Chocolate, Butter, and Salt.
Heat at medium heat until boiling.
Remove from heat and let cool for one minute.
Mix in Vanilla Extract, Peanut Butter, and Oats.
Place blobs of dough onto wax paper.
Let cool and enjoy!
Schema/Recipe SEO Data Markup by ZipList Recipe Plugin2.0
http://littleindiana.com/2013/06/white-chocolate-no-bake-cookies/
Photos are the Property of little Indiana. Do Not Use Without Permission.
Find pictures in Indiana on my Flickr photostream or on the new little Indiana Tumblr blog.
Just don't forget to tell 'em that  little Indiana sent you!
Don't miss a moment. Subscribe to little Indiana and receive instant updates to stay on top of everything "little."
little Indiana: Where to Stay, Play, and Eat in Small Towns in Indiana. Discovering Indiana's best small towns! Now get little Indiana on your Kindle.
Targeted. Relevant. Affordable! little Indiana advertising.