When I have to choose whether to bak
e the 
cheesecake or not, most often my choice would be
  the first option.
  Well, after this recipe, it would be quite complicated. 
When it comes to cheesecake without baking in almost all cases it 
contains a lot of gelatin to the rea
ch
 stability. Instead of gelatin in this recipe I use white chocolate, which is a combination of mascarpone 
cheese
and cream cheese that contribute to the ideal density of dessert. To break the standards, I add a thin layer of dark chocolate 
between the
 biscuit base and the creamy layer of cheesecake, which wh
en
 cooled contrasts perfectly and brings a slightly bitter flavor.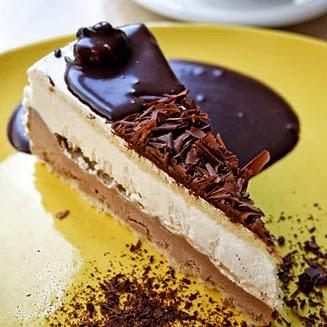 Products
170 g plain biscuits 
40 g caster sugar 
85 g melted butter
100 g dark chocolate 
25 g butter
300 g cream cheese "Philadelphia" 
250 g mascarpone cheese 
200 g white chocolate 
150 g sour cream 
30 g caster sugar 
rind of 1 lemon 
a shape with dimensions of 20 24 cm
M
etho
d
The biscuits are finely ground
e
d
 and mixed with the powdered sugar. 
We add to these
 the melted butter.
Distribute the 
biscuit base along the bottom of the form and keep i
n 
refrigerator for 15 minutes, or until 
it 
tightens.
Dark chocolate and butter are melted in a water bath or microwave. 
Pour them
 over the biscuit base and spread evenly with a spoon. 
Put them back into the refrigerator until the chocolate tightens.
White chocolate is melted in a water bath or in the microwave. 
Allow to cool completely. 
The
 mascarpone 
cheese
and 
th
e
 cream cheese ar
e w
ell
 mix
ed
 with a mixer. Add th
e
 grated lemon rind. 
The
 melted and cooled chocolate is added to the mascarpone and cream cheese and mix well with mixer. 
The
 sour cream and powdered sugar ar
e
 mixed w
ell 
 a
nd a
d
ded
 to the other products. 
The
 resulting cream is spread over th
e
 biscuit-chocolate base and th
e
 surface is aligned with a spatula. 
Set in refrigerator
 for at least 10-12 hours or best a
n
 overnight.