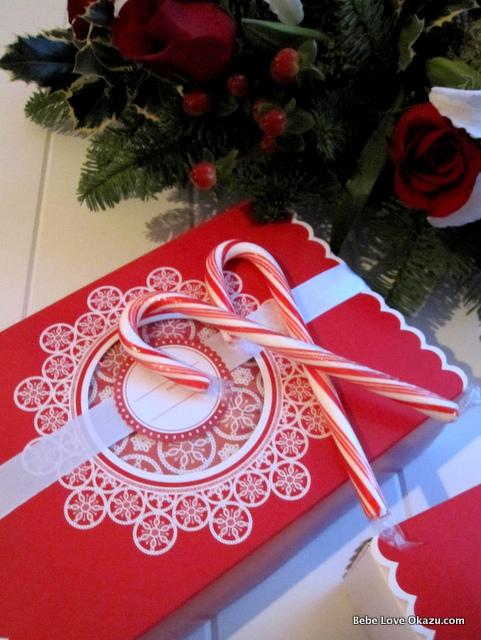 It's been quite some time since I enjoyed the simplicity of a red and white candy cane. Minty, yet sweet and oh so refreshing. I used to enjoy candy canes quite a bit in my childhood but I think the red and white peppermint flavored candy canes were always favored over the fruity, colorful candy canes that also adorn store shelves during this time of the year.
Not too long ago, Bebe E tasted her first candy cane at her school's holiday party. I never thought she'd like the pepperminty-sweetness of a candy cane, but, to my surprise she loved it. So when my husband came home with a box of peppermint candy canes to hang on our tree, a tradition that he seems to enjoy annually since I've known him, it was pure joy to see Bebe E's excitement.
Every year, I enjoy making something new to give as holiday treats. This year, with so many candy canes in our home, I decided I wanted to use them somehow. Thank goodness for food bloggers because they are a host of inspiration!
I ended-up making white chocolate candy cane popcorn to gift to Bebe E's nursery  school teachers and a few other friends. It was fun to make and it's definitely a festive treat. Bebe E was a great help crushing all of the candy canes using the bottom of a small pot. It was a noisy affair but we got the job done.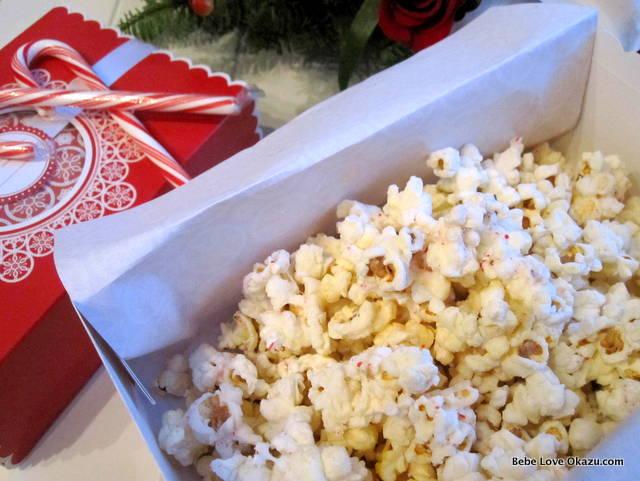 Print
Prep time:  10 mins Cook time:  5 mins Total time:  15 mins   Ingredients
2 bags of microwave popcorn, light butter (approximately 12 cups)
12 peppermint candy canes
1 bag of white vanilla candy melts (original recipe calls for vanilla almond bark)
Instructions
Make popcorn according to package instructions.
Crush candy cane in a food processor, or place unwrapped candy canes in a ziplock, cover the bag with a kitchen towel, and then crush them with a can other heavy object. The finer the crushed candy, the better.
Melt vanilla candy melts in a small bowl in the microwave: 1 – 2 minutes, until creamy and smooth. Stirring periodically. Mix in crushed candy cane, but reserve about ¼ cup of the crushed candy cane.
Cover 2 cookie sheets with parchment paper.
Spread popcorn over the parchment paper, drizzle hot vanilla candy melts liquid over the popcorn. I use a spatula, shaking it back and forth, to drizzle the candy melts over the popcorn. There might be some clumps of vanilla candy that you'll need to spread around. (Using my hands was very effective.) Alternatively, you could mix the melted white chocolate and popcorn together in a bowl if you want the popcorn heavily covered with the white chocolate mixture, but I wanted to go a bit lighter on the sweetness.
Sprinkle reserved crushed candy cane all over the popcorn and white chocolate mixture.
Allow the coated popcorn mixture to cool. Store in an airtight container or ziplock bag, otherwise the popcorn will turn stale fairly quickly.
Notes Adapted from Food.com 3.1.09