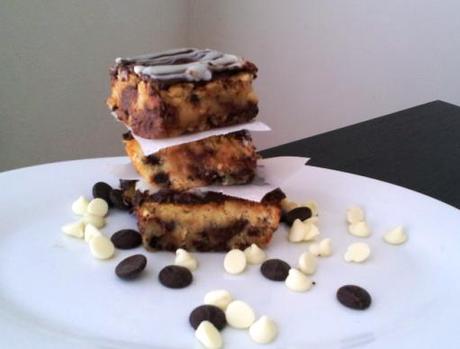 Hi all! I have been missing my blog and blogging; I have been checking on some of my favorite blogs here and there but I have been missing from the blogging world for a couple of weeks.
But I'm back and I brung a PHENOMENAL recipe to share with you all.
I'm my biggest critic as most are but I mean sometimes I take it a bit far. My pictures does not, I repeat DOES NOT do this recipe justice. But once you look at the ingredients and give them a try, if you do not enjoy them I will be EXTREMLY shocked.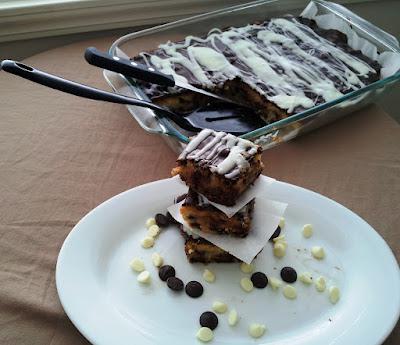 A million people could tell me my baking is GREAT and I'm great at what I do, but all it takes is one person to tell me it was ok or say something hurtful and I feel like crap for about a week but then it gives me motivation to just keep trying to be the best that I can be. Baking is pure joy to me it relaxes me not suppose to be stressful and it had became a bit stressful so I had to take a small break, but I'm back.
This has been a fantastic week and I think I will make these again for Mother's day weekend.
I hope everyone has a wonderful Mother's Day and weekend!
J
Ingredients:
Blondies
16 tablespoons (2 sticks) unsalted butter
1 & ¼ cups white chocolate chips
2 teaspoons vanilla extract
1 teaspoon salt
4 large eggs
1 cup sugar
2 cups unbleached all purpose flour
1 bag (12 oz bag) semisweet chocolate chips
Chocolate Glaze
½ cup whipping cream
1 tablespoon dark corn syrup
1 & ½ cup dark chocolate chips
White Chocolate Drizzle
¼ cup white chocolate chips
1 tablespoon whipping cream
Directions:
Blondie
Pre heat oven to 350 degree F.
Spray a 13x9x2-inch baking pan with cooking spray and line with parchment paper. Lightly spray the parchment paper with the cooking spray as well.
Melt the butter in a small saucepan over medium heat. Add in the white chocolate and stir until completely melted. Remove from heat and allow cooling; after cooled mix in the vanilla and salt, and set aside.
Beat the eggs in a large bowl, gradually adding sugar and beat until the mixture is a pale yellow about 5 minutes. Add the melted butter mixture to the mixture and beat until combined. Add flour and beat until combined. Stir in the chocolate chips.
Pour the mixture into the prepared pan and use a spatula to spread and smooth evenly.
Bake for 35 minutes. Cool completely.
Chocolate Glaze
In a small saucepan bring the whipping cream and corn syrup to a boil then remove from heat. Add in the chocolate and whisk until melted. Pour the chocolate over the blondies and spread to completely cover the blondie. Place the pan in the refrigerator to chill for about 30 minutes.
White Chocolate Drizzle
And finally the last step, you will need to heat the whipping cream and white chocolate chips in a small saucepan over medium heat allow melting and add more cream as needed (if needed). Drizzle the mix over the blondie using a fork or however you prefer.
Allow the chocolate to set and cut into squares.
*Makes about 30 bars* I cut mines a little smaller than in the pictures.
Recipe adapted from:
Cooking.com