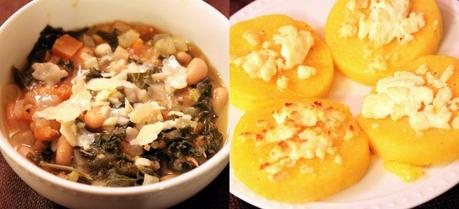 Last night, I cooked for my three favorite men: my dad, my brother, and my husband.
This was the first time I had ever cooked an entire meal for my dad – after all those years he cooked delicious meals for me, I was excited to return the favor. We joked about how he never though this day would come, because when I was a kid I had no interest in cooking or helping out in the kitchen. But obviously times have changed!
The best part was, all of them LOVED this meal. And it only took an hour to make (and that includes time for the soup to simmer on the stove for quite a while, so the flavors would blend together well).
All of the produce in this meal came from Berkeley Bowl West, which is one of my new favorite places to buy my produce: it's always fresh, organic and cheap!
I served this soup with goat cheese polenta rounds and a slice of whole wheat crusty bread with a tiny bit of butter. All in all, it was the perfect, warming, Sunday night dinner.
The Ingredients: White Bean and Kale Soup
1 Tbsp Extra Virgin Olive Oil
8 large garlic cloves, minced
1 medium yellow onion, chopped
4-6 cups chopped raw kale
4 cups low-fat, low-sodium vegetable broth
2 (15 ounce) cans white beans, such as cannellini or navy, rinsed and drained
4 roma tomatoes, chopped
1 Tsp dried oregano
1 Tsp dried basil
1/2 tsp salt
1/4 tsp pepper
1/4 tsp crushed red pepper
Fresh shredded Parmesan (1 Tbsp per serving of soup)
The Ingredients: Goat Cheese Polenta Rounds
Pre-cooked polenta
Fresh goat cheese
Note: The Pre-cooked polenta looks like this: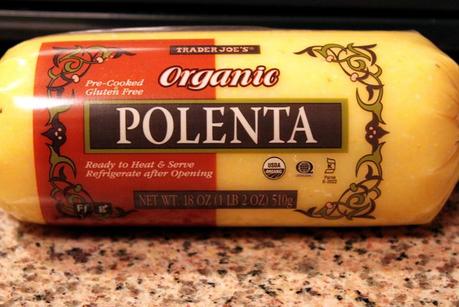 The Directions: White Bean and Kale Soup
Step 1: Chop all your veggies. In a large pot, heat olive oil over medium heat. Add garlic and onion; saute until soft.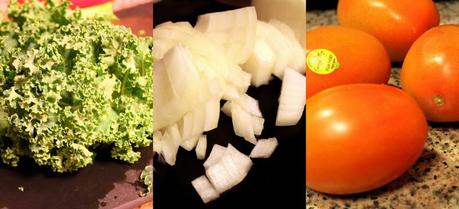 Step 2: Add kale and saute, stirring, until wilted.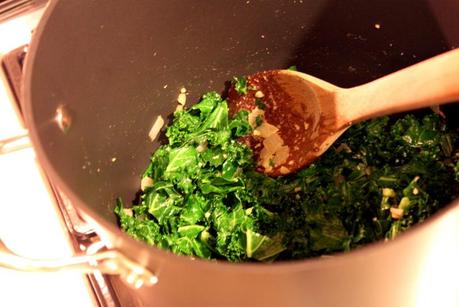 Step 3: Add 3 cups of broth, 2 cups of beans, and all of the tomato, herbs, salt and pepper (crushed red pepper + black pepper). Simmer 5 minutes.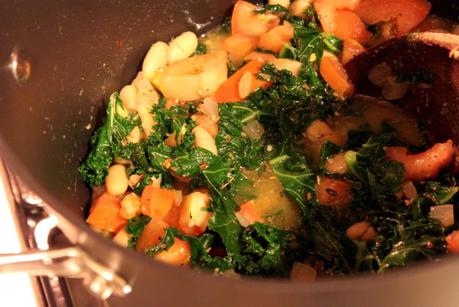 Step 4: In a blender or food processor, mix the remaining beans and broth until smooth. You can also just mashed the beans in the broth with a potato masher (I did this and it worked great). Stir into soup to thicken. Simmer at least 15 minutes.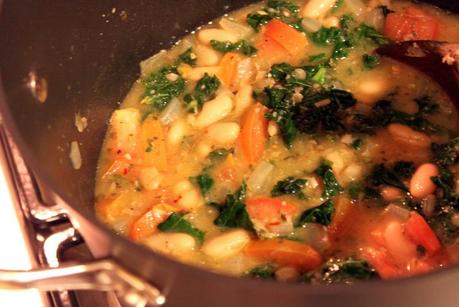 Note: I actually simmered mine for 30 minutes on low, it let the flavors combine and the kale cooked down a bit more – so it had the perfect texture. When it was done it looked like this: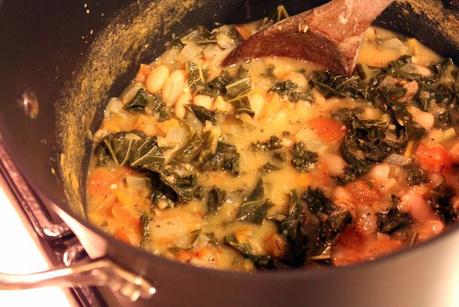 Step 5: Ladle into bowls; sprinkle with parmesan cheese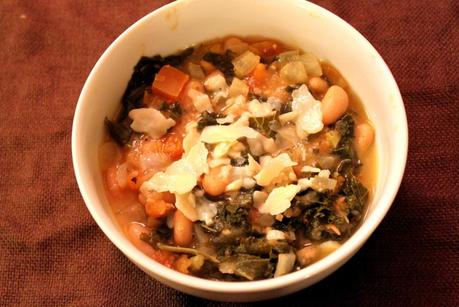 The Directions: Goat Cheese Polenta Rounds