In the latest poll, NoWhiteNoise.com is holding a "Best Whisper-Talkers Tourney", where they are determined to find out who is the "Best Whisper-Talker" on TV.
In the latest round, it's everyone's favorite bad boys from The CW's The Vampire Diaries (Klaus) and HBO's True Blood (Eric Northman).
Whether Klaus is threatening Elena and company or Eric is giving orders (or acting like Sookie's plaything), these two whisper — definitely. But the question is: which whisperer do you like most? Will it be the Vampire Diaries's Big Bad or will it be True Blood's bad boy love interest?
We know who we think it should be…Eric Northman of course!
You can cast your vote as many times as you want. This poll closes Thursday at 3pm ET. Check out the entire tournament bracket by clicking here.
Please vote for Eric by clicking on the image below!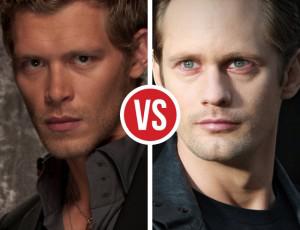 Credit: NoWhiteNoise.com
As you know, The Vampire Diaries' fandom is very large and like to vote – so please pass this on to everyone you know! Even Eric wants you to vote for him…see?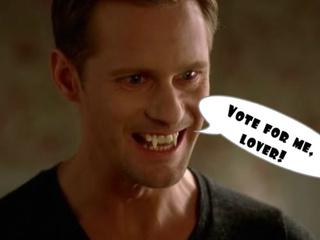 Thanks Eric & Sookie Lovers!