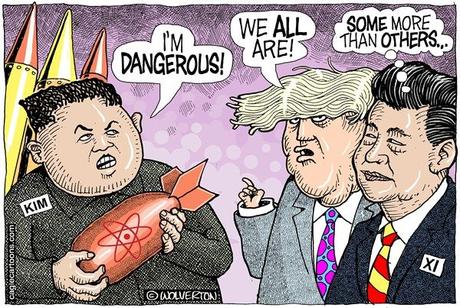 Of course China wants to make a deal.
Trump is so weak right now they can shove almost any crap down his throat and he'll be happy to sign the papers just to get a "win".  As we all know, it doesn't matter how awful the trade deal is for the US, Trump will still say it's "the best deal ever" over and over again until you can't even remember why he's lying anymore and isn't that good enough for US these days?
While Team Trump is ducking subpeonas like the Road Runner ducks anything you throw at him, the Dems keep blowing themselves up like Wile E. Coyote – the plans always look so good on paper but they tend to fall apart in the actual execution.  Sure the impeachment inquiry is moving along but, as long as the GOP manages to delay things, Team Trump, Fox, et al manage to repeat their message another 1,000 times and, like a catchy commercial jingle – it doesn't matter whether or not the catch-phrase is true – you start to hum the tune and, eventually, you can't get it out of your head…
So it's "trade on" at the moment as China says they are still willing to make a trade deal though traders are ignoring the fact that China actually said they are prepared to accept a "PARTIAL" trade deal – as long as no more tariffs are imposed and they will only offer "non-core" concessions, like purchases of agricultural products – which they need to buy anyway.  China said they will not budge on the other sticking points which would be a total humilation for Trump but, well – Trump.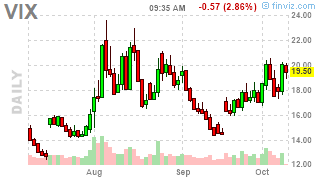 I guess it's cool to have a President who always wins – even though it's only because he doesn't admit it when he's lost and that allows the whole country to pretend we've won – even when we've clearly lost, but at least we all feel good, right?  The market is trading up on feelings as there's certainly no evidence that things are any better and the Dow may be up 200 points this morning but the VIX is still near 20 – so let's not get hurt patting ourselves on the back just yet
.  
The market is up $1Tn this morning because China said they would buy $10Bn worth of agricultural products.  Keep in mind that, as we noted in Monday's PSW Report, that's out of $275Bn worth of imports or about 3%.  I'd call it an over-reaction but, on the whole, we don't care because we cashed out and we didn't care yesterday when the market dropped 300 points and we don't care this morning when it's back up 150.  All that only takes us to 26,300 on the Dow, 2,915 on the S&P, 7,689 on the Nasdaq 100 and 1,486 on the Russell and our bounce lines still are:
Dow 

25,000

 is the mid-point and bounce lines are 25,550 (weak) and 

26,100

 (strong)
S&P 

2,850

 is the mid-point and bounce lines are 2,880 (weak) and 

2,910

 (strong)
Nasdaq 

7,200

 is the mid-point and bounce lines are 

7,360

 (weak) and 7,520 (strong)
Russell 

1,440

 is the mid-point and bounce lines are 1,472 (weak) and 1,504 (strong) 
So we still need the Russell and the S&P to confirm their strong bounce lines and that means CLOSING above them today and tomorrow.  Powell speaks again today at 11am and we get the Fed Minutes at 2pm, after the 1pm 10-year note auction - which could spook the markets if it doesn't go well.  Not much else going on that's likely to spook the market until Friday morning's Consumer Sentiment Report and we'll need to watch those Forward Expectations, which have been in a downtrend and I doubt all the recent political uncertainty is helping: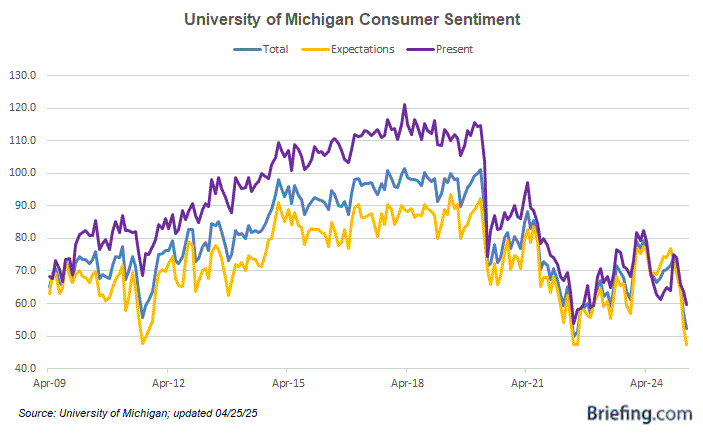 If all we're going to do with all this positive Trade Talk and positive Fed Speak is get back to our strong bounce lines – then I'm going to be VERY CONCERNED about how the market reacts to Q3 earnings and, more importantly, Q4 guidance.  Earnings are, so far, down 5% from last year but that hasn't stopped the markets from reaching all-time highs as price multiples have jumped to cover the gap.  As you can see, there was that one time in 20 years that we had a small slump in earnings that quickly reversed (only 3 years) so – fingers crossed!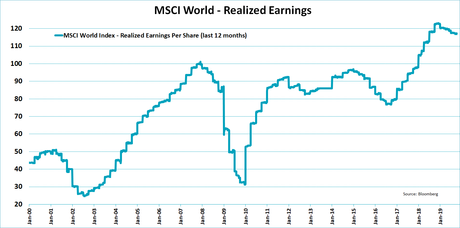 Not much to do but sit back and see how it all plays out.  We have a Live Trading Webinar today at 1pm and I'll be on when they release the Fed Minutes at 2pm – should be an interesting day.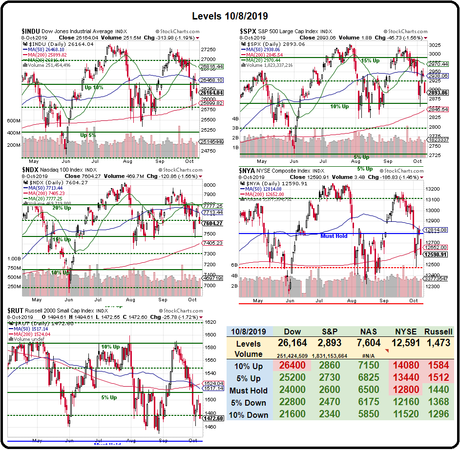 Do you know someone who would benefit from this information? We can send your friend a strictly confidential, one-time email telling them about this information. Your privacy and your friend's privacy is your business... no spam!
Click here and tell a friend!