After making "just" 20% on our Nikkei trade idea over the weekend, we got more aggressive yesterday and went with the /NKD futures just after the close as I said to Our Members at 4:09:
Nikkei at 13,185 is a bull play over 13,200 as long as the Yen is over the 96 line but very dangerous stuff (/NKD). 
The Nikkei is a great way to lock in bearish gains overnight as it tends to have spectacular recoveries, as you can see from a $1,500 per contract gain in just over 12 hours (much sooner if you were up all night playing the lines).  Futures play is VERY dangerous but it's also a very useful tool we like to teach as, in situations like yesterday – it's a fantastic way to make sure you don't get blown out of your main positions by overnight changes.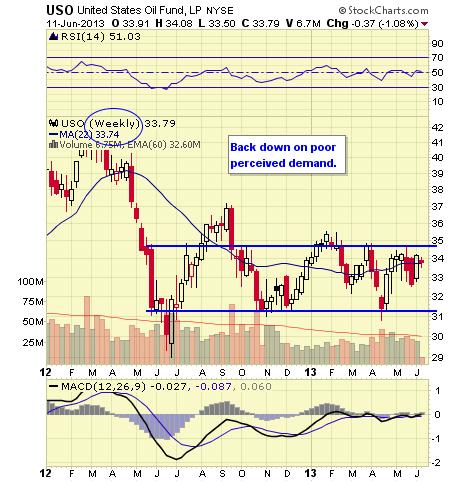 We took the money and ran on oil at $94 (our goal #1 with $92.50 our next downside target) and now it's back to $95.50 pre-market ($33.90 on USO, see Dave Fry's chart), where we're now waiting for inventories at 10:30 to hopefully give us another leg down.  In this case, we found a nice SCO (ultra-short oil) hedge to get into on yesterday's pump into the close.  Later we'll add USO puts if we get a nice run-up as we're expecting a build in inventories to disappoint oil bulls.  
Our key index this morning is the NYSE, as it finished just below its 50 dma line of 9,275 at 9,255 so that needs to stay over today if we're to stay bullish on this, so far, weak bounce (see yesterday's post covering all bounce lines).  The Futures are up a bit but, with Dow at 15,200 and the Nikkei at 13,500 this morning – I expressed my doubts in an early morning Alert to Members (also tweeted!) that we'd go any higher from here.  
Not enough to turn bearish pre-market but I just don't get that bullish vibe from the overnight moves vs. the news-flow I'm seeing which, frankly, sucks.  Most of that sucking can be easily summed up in this one chart that shows the US Macro Surprise Index ( a compilation of upside or downside data points vs. expectations) is back to January lows as…
This article will become free after 48 hours (see below for free content). To read the rest of this article now, along with Phil's live intra-day comments, live trading ideas, Phil's market calls, additional member comments, and other members-only features -
Subscribe to Phil's Stock World by clicking here
.