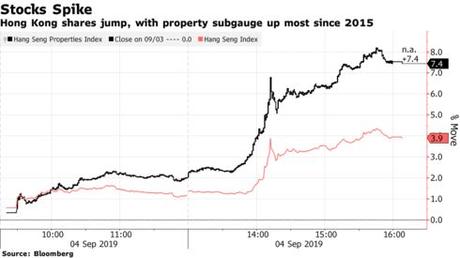 What a night it's been!
The MSCI Hong Kong Index popped 5.4% – the biggest gain since a massive stimulus bill in October, 2011 led by Real Estate firms that almost hit the limit up 10% as the Government finally gave in to protesters and witdrew the extradition legislation that had started the protests over a month ago.  Hong Kong also declined to set up a comission to investigate the protesters – another point of contention. 
The index had fallen 8.6% in August as the protests raged and properties were down 20% as the real estate market ground to a halt and values began dropping.  It's not clear, however, that the protests will end as there are several more issues on the table but any sign of flexibility on the part of the Government is a huge step forward and, for now, the markets are thrilled.
Yesterday we also noted that, while Boris Johnson was talking on the floor of Parliament, one of his House Conservatives, Phillip Lee literally got up and walked across the aisle to join the opposition party, taking Johnson's one-vote lead with him. 
"I have reached the conclusion that it is not possible to serve my constituents' and country's best interests as a Conservative Member of Parliament," Lee said in a statement.  "This Conservative government is aggressively pursuing a damaging Brexit in unprincipled ways. It is putting lives and livelihoods at risk unnecessarily and it is wantonly endangering the integrity of the United Kingdom."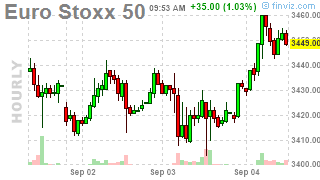 If only the Republicans in this country had the same level of integrity!  Lee's defection stops Johnson from forcing a "NO DEAL" Brexit next month and, of course, that's a massive relief to European markets.  Lee inspired 21 other Conservative politicians to defy the Prime Minister and vote to delay Brexit until 2020.  Johnson was, of course, outraged and called for a general election in an attempt to get the public to give him more Ministers but he's clearly lost control of his party already.
"Parliament is on the brink of wrecking any deal we might be able to strike in Brussels," Johnson said. "Because tomorrow's bill would hand control of the negotiations to the E.U. And that would mean more dither, more delay, more confusion."
British politics are so much fun!  
Since Asia is up and Europe is up, our Futures are, of course up – even though no one has overthown Trump yet.  Until his next pronouncement, we're moving back to the top of the range we've been stuck in since August 1st, which tops out at 2,950, though the 50-day moving average has dropped to 2,944 – so that's a line we'll be watching now as failure there would indicate the index is weakening.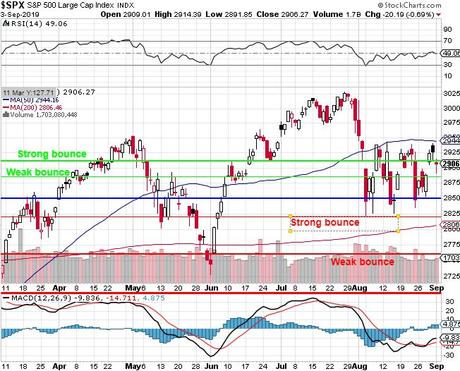 Remember, it's very easy to push the index around between the 50 and 200 dmas, the trick is which end it breaks out of.  So far, the strong bounce line of the greater drop (June) is holding up and that's actually a bullish signal in the big, big picture but it certainly doesn't mean we're going to be spared a drop – just an indication it's not as likely to get out of control.  
That's why we've been holding onto our long-term longs – like Brexit and Hong Kong, our economic wounds are primarily self-inflicted and can be resolved with Trump and Xi simply shaking hands and moving forward and we've just seen evidence that China knows how to be reasonable – now we'll see if Trump can do the same and, if not, maybe we can find enough Republicans to cross the aisle to stop our own "damaging and unprincipled" leader and, if not – well we do have a general election coming up where the people get a chance to throw them all out – with the President…
Do you know someone who would benefit from this information? We can send your friend a strictly confidential, one-time email telling them about this information. Your privacy and your friend's privacy is your business... no spam!
Click here and tell a friend!