Not as expected, they didn't do much, merely increasing their existing asset-purchase program to ¥80T ($1.01Tn) from ¥70T, and lengthening the program by six months to the end of 2013.  This is, of course, having very little effect on the Dollar, which barely managed to hang on to 78.50 yesterday, but should be bottoming out around here nonetheless.  The weak dollar did not prevent oil from heading even lower, touching our $94.50 target this morning as the only explanation NOT discussed by the MSM – that oil trading is a fraud on committed against the the American people – is the one that is explaining the action perfectly:
Click for
Chart Current Session Prior Day Opt's
Open High Low Last Time Set Chg Vol Set Op Int
Oct'12
-
-
-
99.03
18:37
Sep 18
95.29
-1.33
181913
96.62
83374
Call Put
Nov'12
-
-
-
96.70
18:37
Sep 18
95.62
-1.33
165161
96.95
317514
Call Put
Dec'12
-
-
-
88.94
18:40
Sep 18
95.92
-1.33
58606
97.25
203426
Call Put
Jan'13
-
-
-
89.25
18:39
Sep 18
96.25
-1.34
16894
97.59
109675
Call Put
Note there are still 83,374 contracts, representing orders for 83M barrels scheduled for delivery to Cushing, OK in October.  Yesterday there were 98,376 open contracts so just 15M barrels were flushed in yesterday's session but it took 181M barrels worth of trades (volume) to get rid of them and there are only two sessions left before the NYMEX crooks are stuck taking delivery – so of course they are panicking.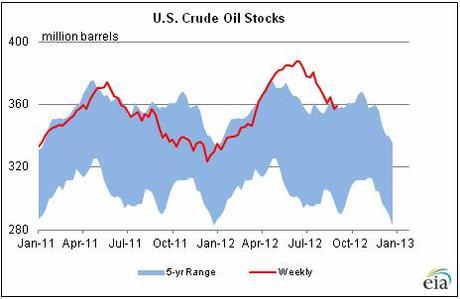 Aside from the fact that they don't want the oil in the first place (they just churn contracts to create the impression of demand to excuse the 50% mark-up on crude they line their pockets with), it's not even physically possible for Cushing, OK to process more than 40M barrels in a month.  Isn't it interesting then, that there are already 317M barrels on order for delivery to Cushing in November, when 90% of those barrels physically can't be delivered.  YOU are paying for that scam, not the traders.
As you can see from the EIA chart, total US inventories are still at the top of the range yet September is setting new records for crude prices.  This is why Obama has not used the SPR to influence the oil markets – THERE IS NO SHORTAGE OF SUPPLY – just a surplus of manipulation.  Still, as I said yesterday, the President can stick it to the speculators by announcing today the release of just 3Mb/week (out of 750Mb of storage) until prices are back under $85.  Since the prices are completely faked now – that would take about 3 days…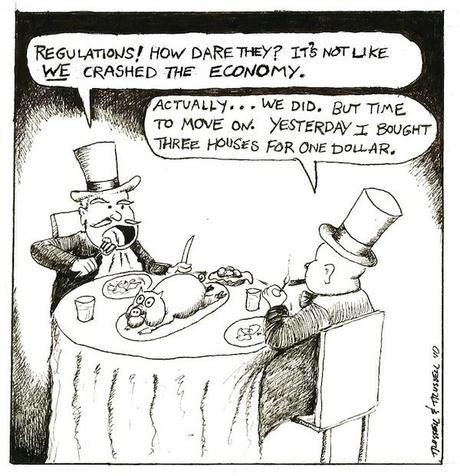 Speaking of fake demand, Retail Trading Activity continues to disappear, with ETrade reporting Aug DARTs (Daily Average Revenue Trades), down 5% from July and down 37% from last year.  UBS is cutting 17% of its European Investment Banking Division and that's only in-line with the anticipated 15% drop in Global Revenue this year.  Tumbling revenue from stock trading dragged down global investment banks' earnings below year-ago levels in the first six months of 2012, underlining the threat of heavy job cuts in equities departments.  GS, MS and DB have already announced close to 4,000 job cuts between them.   Is this a sign of a recovering Global Market?

Today the MSM will cheer-lead the housing data but I just read an article that my home state of New Jersey now has more housing defaults than Nevada, with only Florida now with a higher rate of delinquencies – at a whopping 17.5% of all mortgages – Jersey is "only" 12.7%.  
Keep these numbers in mind when you hear them tell you that housing is recovering – serious delinquencies (90 days +) were up 6% from last year in NY, CT and MD and up 5% in PA and DC.  The West Coast may have bottomed out but prices in the Northeast never took enough of a hit to bring the buyers back.  There is also a tremendous backlog of foreclosures with 60,000 pending in NJ alone, with an average delinquency of 934 days.  Keep these numbers in mind when going over this week's housing data while today's 750,000 housing starts may sound better than 500,000 – but if you put it into perspective – there's nothing sexy about it at all: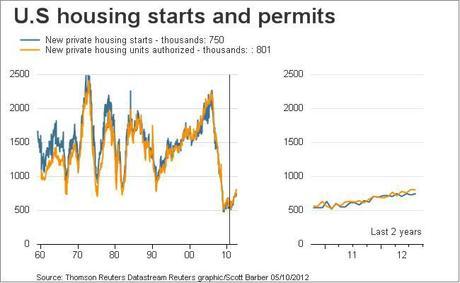 By some estimates, the visible inventory of 2.4 million homes for sale nationwide is dwarfed by the hidden supply, which may number 5.7 million, according to a Morgan Stanley analysis. The U.S. shadow supply — a combination of off-market bank-owned homes and properties forecast to be repossessed by lenders.  New Jersey's unemployment rate jumped to 9.8 percent in July, with declines in manufacturing, construction and professional and business service jobs, the state's Labor Department said.
The weak economy is hitting inner cities and more-affluent communities alike, said Mark Cherry, a Cherry Hill, New Jersey- based attorney who represents delinquent borrowers. Wall Street cuts are being felt in the New Jersey suburbs, resulting in a "domino effect" on luxury home sellers, high-end car dealerships and restaurants, he said.  "
You could drive down a street that looks perfectly normal, with minimal for-sale signs, and not realize that 20 percent of those homes are in foreclosure," Cherry said. "There's no big flag that says that a lot of these people are in trouble
."
 We are still a long, long way from a real recovery so let's be careful out there!