I can't believe that, after all that drama, we're right on track for S&P 1,450 – the target we set a year ago for what was to be a 16% gain on the year.  I wrote a great article on January 2nd about the folly of trying to predict the future but it's still lots of fun when you nail those predictions, right?
The point I was trying to make was the same point I often make – don't try to guess what the market will do – just BE THE HOUSE and sell premium to other suckers who think they know what's going to happen in the future.  
In that article, my trade idea was selling the AAPL Jan 2013 $300 puts for $18.50, much like my idea to sell the 2015 $400 puts for $52 the other day.  The Jan 2013 puts are already down to .11 so I suppose we can call that one an early winner but the 2015 $400 puts are still $49.50 – so don't complain to me if you're sitting here in Jan 2015 and wishing you'd listened to me and sold those puts, the same way you wish you sold the Jan 2013 puts last year when I told you about them.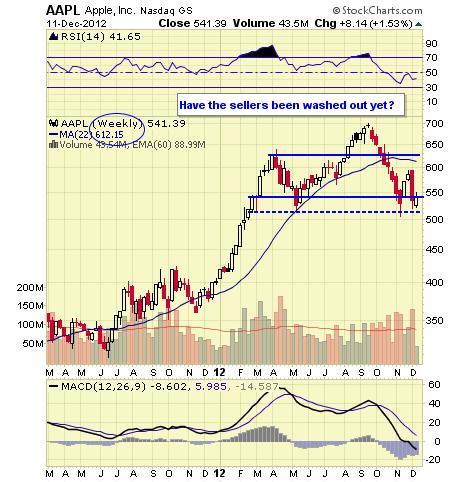 I'm sorry to talk about AAPL (Dave Fry chart left) so often but if they were selling brand new Porsche's for $25,000 I'd talk about those or if IBM were $120 – I'd probably talk about them every day but currently it's AAPL that's the deal of the century so I'll likely talk about them until they are back over $600 and no longer so compelling.  Back in May I was on TV telling people to go bullish at S&P 1,275 and my picks at the time were BBY, which went from $17 to $23 in June but now back to $12 and WFR, which was $1.80 and is now $3.25 – up 80% in just over 6 months.  
These were a couple of picks from our "Twice in a Lifetime" list that we published for Members on 5/22 that included other gems like BAC at $6.97 (now $10.51), CHK at $13.83 (now $17.09), CSCO at $16.70 (now $19.78), FTR at $3.20 (now $4.77) and HOV at $1.83 (now $5.49).  As our Members know, these are stocks I pounded…
This article will become free after 48 hours (see below for free content). To read the rest of this article now, along with Phil's live intra-day comments, live trading ideas, Phil's market calls, additional member comments, and other members-only features -
Subscribe to Phil's Stock World by clicking here
.