Not just because we shifted bearish – we're not bearish enough to root for a crash but, from our neutral to slightly bearish perch – this is, as Dave Fry said the other day, ridiculous.  
I've been pointing out to Members that we're now in a pattern where we rise on low volume (or no volume in the Futures) and then have volume selling at the opens and closes, followed by nothing but buyers on low volume again.  It kind of makes you wonder if any real people at all are trading the market or if the whole thing is just a bunch of trade-bots doing the Bugs Bunny thing (5:10 in this video)..  
This is a sign to get out folks – cash is king in this situation or, if you are determined to ride out a dip – get yourself some good hedges.  We're ready to slap on some longs if they actually do pop new highs but the RUT failed our 932 line yesterday and that kept us bearish one more day at least.  If we do have to buy, we'll be holding our nose all the way but, as I noted to Members yesterday, there were 11 stocks off the top of my head that were still dirt cheap if we're really in a massive rally and, if you can still buy X for $17.50 or DBA for $25.75 – what kind of half-assed rally is it anyway?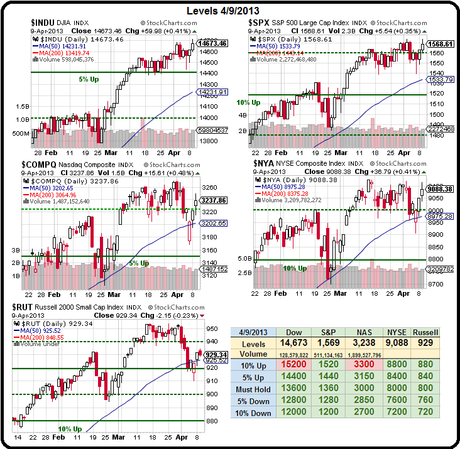 Looking at the Big Chart – we are still PATIENTLY waiting for a proper sign to adjust our levels higher but look at the RUT – FAIL!  Looking at our other indexes – some may see breakout but I see double-top and our DIA June $141 puts are down to $1.45 and we can spend .75 to roll then up to the $144 puts ($2.20) and DD to get a bit more bearish this morning in our $25KPs
. 
Oh, I'm not publishing on Seeking Alpha anymore so you can expect more trade stuff in the morning post until I get another publisher (already in the works) for our morning posts.  In my last post there, on 3/28, in the comments, I pointed out that SA had redacted links in my…
This article will become free after 48 hours (see below for free content). To read the rest of this article now, along with Phil's live intra-day comments, live trading ideas, Phil's market calls, additional member comments, and other members-only features -
Subscribe to Phil's Stock World by clicking here
.