We fixed our targets yesterday morning, in the main post, at Dow 11,300, S&P 1,200, Nas 2,575, NYSE 7,100 and Russell 685 and, at 10:46 in Member Chat, my comment was: "Past 10:30 without breaking 10,300 and the Dollar over 78.20 so over 78.25 is a good reason to tap the DXD hedge or grab the DIA FRIDAY $111 puts, now .98 so let's watch that VERY CAREFULLY although it could just be a bit of profit taking into the EU close with the DAX up 12% since Friday morning. A pullback to 10% (from the DAX 5,000 bottom) is very much expected here and EWG naked calls can come off the table for now until they prove they can break $20."
We ended up holding that 10,300 line through the afternoon but we finally broke down at 3:07 and we stuck to the plan but my adjustment on the trade idea for Members in chat was: "Game on for the DIA puts but now we can pick up the $112 puts for $1.10 – 10 in the $25KP with a stop at .90 in case we dive into the close."
Those puts came off the table at $1.65 into the close, up 43% in less than an hour and even the original idea of the $111 puts topped out at $1.40 for a nice 43% gain on the day (but those took 6 hours, so not as good an annualized rate of return!).  As I noted to Members in this morning's Alert – these are the kinds of quick adjustments we can make to re-balance our portfolios on the fly in a choppy market.  
We don't want to let ourselves be chased in and out of short-term positions by these silly market fluctuations so we make quick adjustments with even shorter-term momentum plays that help us ride out these little moves.  As I said to our Members during the afternoon drop "I'm not changing my stance because Meredith Whitney told me to."  That was at 3:48 when people were asking if we should panic out of our bullish positions on FAS and other trades.  At 3:29 I had already pointed out:  "Also Whitney was no help – same BS as usual when they want to halt a rally. Next we hear from Roubini, Gross and El-Erian."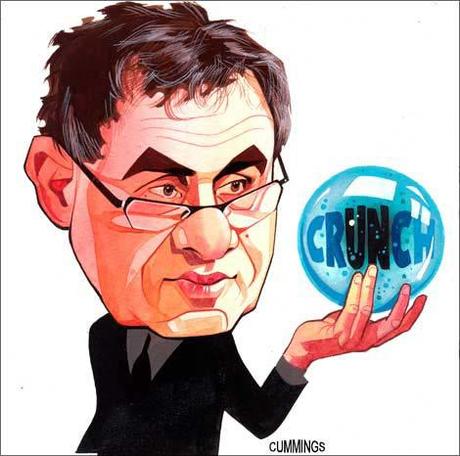 That was brought on because Whitney had cut her earnings estimates for GS to .31, very far below consensus of $1.13 for the quarter, she also cut MS estimates to .28 (.37 consensus) but was kind to our BCS – keeping her estimate at .12 for Q3.  I reminded Members that Whitney has been wrong 66% of the time since starting her advisory firm and, as I noted earlier, "THEY" always trot out the Doom Patrol when they want to squash a market rally and Whitney is usually the lead dog, followed by Roubini, El-Erian and Gross
.   
True to form, "Doctor Doom" Roubini came out of his coffin yesterday evening and declared that  the European debt crisis could result in consequences "worse" than the Lehman collapse. The U.S. already is in the throes of an economic contraction, he says; the issue is "whether it's going to be relatively mild or whether it's going to be a severe recession and a global financial crisis."  Here's my article from June 15th, 2009, when I warned people not to listen to Roubini and El-Erian as they were on a World Tour telling investors we were DOOMED!  
The reason that Corporate Media treats the investing public like complete idiots is because they generally act like complete idiots and mindlessly follow any BS story that is written in bold headlines or is told to them by "someone they've heard of."  On June 15th, 2009 the Dow was at 8,555, coming down from 9,000 and we bottomed our around 8,100 in July but NEVER came back to 8,555 or 9,000 again after crossing back over in July.  THOSE GUYS ARE IDIOTS – DO NOT LISTEN TO THEM!  The Banksters and their MSM puppets trot this Gloom Patrol out whenever they want to move the sheeple out of positions.  Sadly, this works so well that they can do it over and over and over again – because traders never learn!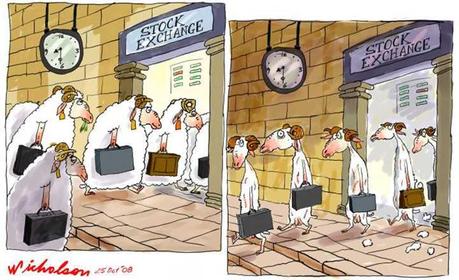 Actual sheep need to be herded and have enough minds of their own where a shepherd needs a pack of dogs to keep them in line.  Traders can be pushed to selling all of their stock assets by simply floating a rumor on CNBC – which animal is smarter?  Just like a shepherd, the Banksters have their pack of MSM hounds who bark their stories over and over again until they get the herd moving in the direction they want them.  Is it ultimately in the sheep's interest to obey the shepherd?  While they may get fed once in a while – ultimately, they end up being the dinner or, in the very least – fleeced!
8:30 Update: Durable Goods were down 0.1% and that's worse than the up 0.2% expected but July was up 4.1% so what's 0.3% between friends?   On the other hand, Mortgage Applications were up 9.3% but that too, should be taken with a grain of salt as it's 9.3% better than dead.  So, lacking any proper US data, we will wait for the 10:30 Oil Inventories, but those have turned into a joke as the industry crooks have stopped importing oil to create artificial draws in inventory.  What they can't control, though, is the lack of demand for finished product and that's the number to keep our eye on but we don't get the proper details until 1pm.  We will probably short a pop in oil to $85 or over on "good" inventory news.
Other than the usual back and forth BS out of Europe, we have a $35Bn 5-year note auction at 1pm and that should have good demand and, aside from Hoenig (8:30) and Resengren (2:40) we hear from the Bernank himself at 5pm.  The Troika is in Greece this morning and all they have to do is to decide Greece is making enough progress to release 10% of the 109 Billion Euro rescue package they are ALREADY APPROVED to disburse and, suddenly, Greece will be "fixed" again.  Finland approved, by a wide margin this morning, to expand the EFSF and make it more flexible – something that just yesterday the Doomsayers were saying would never happen.  
I'm not saying it's all sunshine and lollipops but I am saying we need to step back from the madness and wait for the FACTS – as these rumors can kill you!