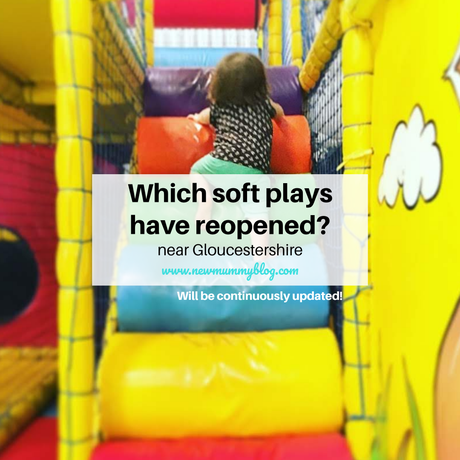 We may earn money or products from the companies mentioned in this post.
Last Thursday evening it was announced that soft plays in England could reopen after lockdown. There are several soft plays around Gloucestershire and the neighbouring countries... i.e. around Cheltenham, Stroud, Bourton, Evesham and so I thought I'd compile a list of who is reopening and when... something I hope you find useful.
** I will continually update this post as soft plays open and announce opening **
** Shares of this post are much appreciated if you do find this useful - thank you! **
Some are quite rightly taking time to understand and implement the new rules and others have been very quiet and some have already announced they have shut down... so who's said what?
I will update this post regularly, so do pop me a comment, or message on social media (Facebook, Instagram, Twitter) if you spot any new updates, thank you.
Which soft plays are reopening?
Cotswold Clubhouse, Bourton-on-the-Water
Opening from Monday 17th August.
https://cotswoldclubhouse.co.uk/
Address: Unit 20B Industrial Estate, Bourton-on-the-Water GL54 2HQ
Phone: 01451 263130
The Play Farm, Cheltenham
Opening August 21st! Book a 2 hour slot online - full details and booking link on their Facebook page - https://www.facebook.com/cheltplayfarm/
https://www.playfarm.co.uk/
Address: Unit 18, The Brewery Quarter, Cheltenham GL50 4FA
Phone: 01242 257955
Raglan Farm Park
Phone to book! Book up to 7 days ahead.
Full details on Facebook - Raglan Farm Facebook group
https://www.raglanfarmpark.com/
Address: Chepstow Rd, Raglan, Usk NP15 2HX
Phone: 01291 690319
Dick Whittington Park
Opening Monday 17th August.
See website and Facebook for details:
https://dickwhittingtonpark.co.uk/
Address: Little London, Longhope GL17 0PH
Phone: 01452 831000
Hopefully opening soon
- looking at the new guidance:
These soft plays have posted (mostly on their Facebook pages) that they have seen the guidance and are digesting it to figure out what they need to change to reopen...
Rugrats and Halfpints, Cirencester (also Banbury)
Hoping to open in the next 10-14 days
https://www.rugratsandhalfpints.com/
Address: Unit A Meadow Rd, Cirencester GL7 1YA
Phone: 01285 885570
Dobbies, Gloucester
https://www.dobbies.com/content/extended/find-a-garden-centre/gloucester.html
Address: Bath Rd, Gloucester GL10 3DP
Phone: 01452 721081
LOCAL ATTRACTIONS/DAYS OUT WITH SOFT PLAY...
Cattle Country
https://www.cattlecountry.co.uk/
Address: Berkeley Heath Farm House, Berkeley GL13 9EW
Phone: 01453 810510
All Things Wild
https://www.allthingswild.co.uk/
Address: Station Rd, Honeybourne, Evesham WR11 7QZ
Phone: 01386 833083
Dinky Street Role Play in Bishops Cleeve
- not strictly soft play but I think it is similar!
Not open yet, but definitely one of our favourite places to visit - Dinky Street review
https://www.dinkystreet.co.uk/
Address: Church Rd, Bishops Cleeve, Cheltenham GL52 8LT
Phone: 01242 676064
No updates online...
The following soft plays around Cheltenham, Glocestershire have not currently posted any updates on their soft play mentioning reopening or the announcement that they can reopen...
Pingo's at Tenpin, Barnwood
https://www.tenpin.co.uk/our-locations/gloucester/
Address: Centre Severn, Barnwood, Gloucester GL4 3HR
Phone: 0871 222 3675
Go Bananas, Stroud
http://www.gobananas.org.uk/
Address: Ebley Wharf, Ebley, Stroud GL5 4SR
Phone: 01453 769120
Oxstalls Fun Factory
http://aspiretrust.org.uk/kids/fun-factory-soft-play
Address: Plock Ct, Tewkesbury Rd, Longford, Gloucester GL2 9DW
Phone: 01452 396969
Funky Warehouse
https://funkywarehouse.co.uk/
Address: Unit 5 Swindon Rd, Kingsditch Trading Estate, Cheltenham GL51 9NB
Phone: 01242 300101
LOCAL ATTRACTIONS/DAYS OUT WITH SOFT PLAY...
- Cotswold Farm Park
- WWT Slimbridge
- Elmbury Lodge Brewers Fayre, Tewkesbury
Soft Play which are not reopening...
Unfortunately back in May, due to covid-19 and lockdown Winchcombe Fun House announced it will not be reopening, which is such a shame as we absolutely loved it there, and Little G's appears to have disappeared online.