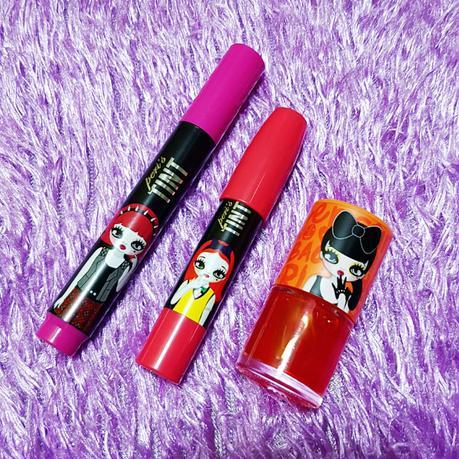 Peripera is one of those Korean cosmetic brands that has cute packaging designed by a well-known artist, but they are more famous for their lip products specifically the Peri's Tint which comes in three different types: Marker, Crayon, and Water. With a wide array of choices, a lot of people are asking me in Instagram which one they should get. To be honest, everyone has different preferences when it comes to lip products, some loves matte while some prefers glossy. So to help you decided which is the best for you, I decided to write a Peripera Peri's Tint review to comapare the three lip tints.
WARNING: This will be a long post because I will do Peri's Tint review individually. So if you're only interested on a specific Peripera Peri's Tint review, I suggest to just scroll to the one you like to save time. But it's good if you'll also read the others for comparison.
Peri's Tint Marker Review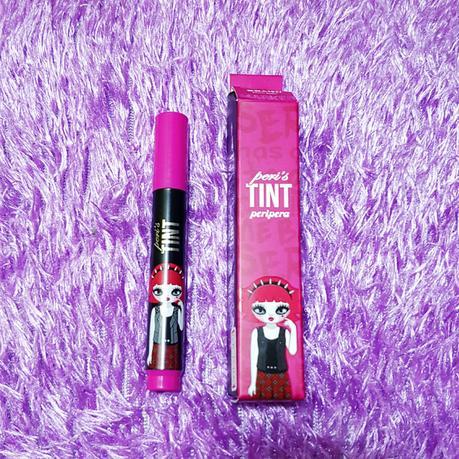 What is it?
Peripera Peri's Tint Maker is a fast-absorbing, long-lasting lip tint. It's waterproof with a felt-style marker which makes it easy to apply. It also comes in five shades which are all bold. This one I got is the Plum Stain and the first one I bought.
Performance
APPLICATION: Because of its felt-style maker design, it's so easy to apply on my lips. It's like I'm just coloring my lips like how I put colors in a coloring book. Think of a sharpie, that's how it feels like applying it. I start on the center of my lips, specifically the cupid's brow, then I spread it outwords then line my lower lip from the center as well.
PACKAGING: As expected from Peripera, the box and the lip tint itself is cute with a cute gothic girl illustration by Mari Kim. I like it that the shade is already shown in the pacaking unlike It's My Lip Crayon so I don't have to open them to know which shade it is.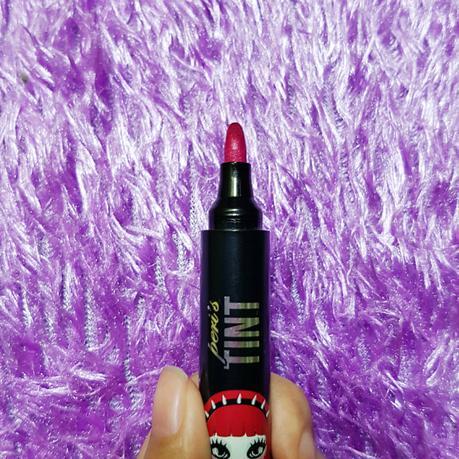 SMELL: I love the smell of Peri's Tint Marker. It smells like cotton candy, supper sweet! So applying it is like you're applying those lipstick candies you used to eat when you were in kindergarten. Although this one isn't edible like that lipstick candy.
RESULTS: When I went on an island-hopping trip in Caramoan, Philippines this was the only lippie I used. Since I will be in the beach all day I didn't put any makeup except this one, after all I was in a vacation exploring remote islands. Amazingly, Peri's Tint is really watreproof and last all day even when I ate crabs and drank a lot of fresh coconut juice. We were island-hopping for 10 hours straight and I didn't reapply once. But I have to admit it, I left it in our hotel room because I don't want to bring too much.
PROS: Waterproof, long-lasting tint, and smells so sweet like cotton candy.
CONS: None! Seriously! It's the best tint I ever use.
Peri's Tint Crayon Review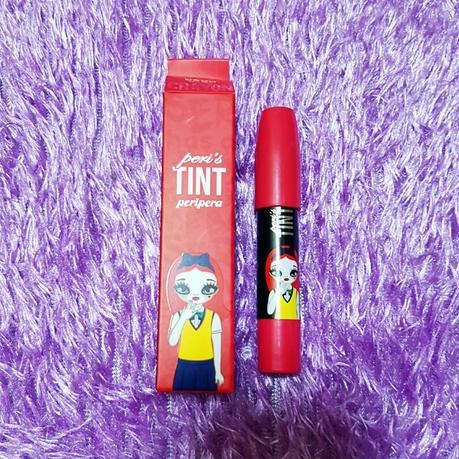 What is it?
This cult beauty favorite has been updated in a hydrating and more pigmented formula. Peripera Peri's Tint Crayon will give you vivid lips with one single sweep. It's also available in five shades. This one is Yam Yam shade and the second Peri's Tint I own. I got this for free as a gift from Althea Korea.
Performance
APPLICATION: Peri's Tint Crayon has a soft texture which makes the application smooth and easy. You can gently dab it for a tint finish, and when you glide across the entire lip, you'll get a vibrant matte lipstick finish. But it's not drying your lips unlike most matte lipsticks.
PACKAGING: It's in a new black and bold-color super cute packaging designed by graphic artist, Mari Kim. And just like in most lip crayons, you can screw the bottom to push the lipstick out. I also like it's symmetric tip which makes dabbing or swiping smooth and easy.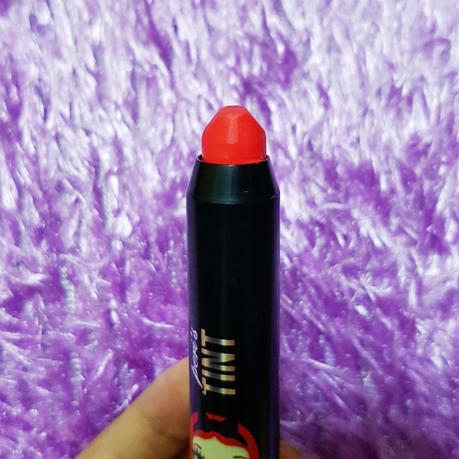 SMELL: Peri's Lip Tint Crayon also smells like candy, but unlike Tint Marker it has a milder scent.
RESULT: It last long, but not as long as the Tint Marker above. It's also transferable meaning, when you drink or kiss someone it will transfer. But I like that it has full coverage and highly-pigmented. This actually reminds me of the Clinique Chubby Stick Instense.
PROS: Highly-pigmented, last long, can be use as a tint or a full coverage lipstick, and smells really nice.
CONS: It smudges and transferable.
Peri's Tint Water Review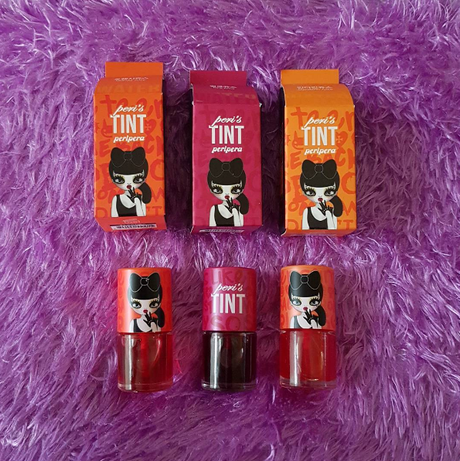 What is it?
Peripera Peri's Tint Water is a lightweaight juice-inspired lip stain that supposed to cover the lips with a single swipe. Formulated with nourishing fruit complexes, it's long lasting and super bright. It comes in five shades as well, but I only have the Orange Juice, Mandarin Juice, and Pink Juice. This is the third Peri's Tint I own.
Performance
APPLICATION: Using the sponge applicator, carefully swipe and cover lip area. Sounds easy right? But not really. I'm aware it has "water" in its name and inspired by juice, but the formula is so watery, when you raise the wand from the bottle it started dripping so you have to hurry to apply it on your lips. But you have to be careful applying it on your lips as well, because it's so watery it drips inside your mouth and it taste awful!
PACKAGING: Just like the two tints above, this Water Tint is also packaged in a super cute box and bottle with wwide-eyed gothic girl designed by Mari Kim. But since it has a watery formula, it comes with a wand like a liquid matte lipstick.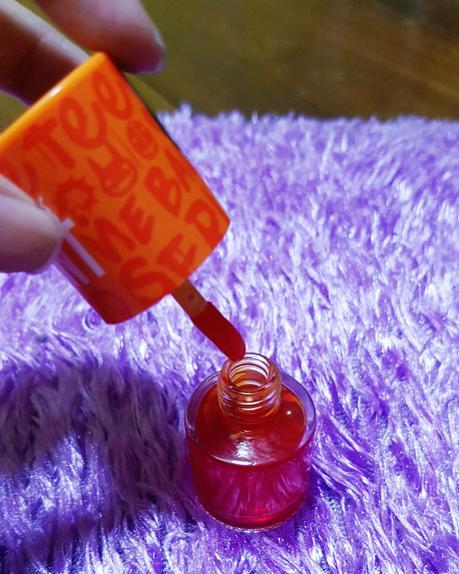 SMELL: It has a sweet yet mild citrus scent. Just like a juice! But unlike juice, this has an awful taste. Like when you eat an orange or pineapple after you brushed your teeth. Yes, that awful!
RESULTS: It was mentioned on the description that Peri's Tint Water "covers the lips in single swipe" true it does, but it's not really pigmented so it has a stain –almost transparent– finish. Barely visible. Like you ate a candy that slightly stained your lips. It doesn't last long as well. Which baffles me why it's such a best seller. If you want a lip tint water formula, I suggest just go for Tony Moly Delight Tony Tint which actually covers your lips in one swipe and last longer.
PROS: Cute packaging, sweet mild citrus scent, and affordable.
CONS: Doesn't last long and doesn't cover well.
Which Peri's Tint is the Best?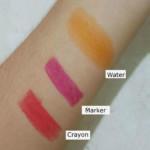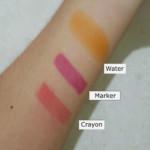 RIGHT: Shade comparison of the three Peri's Tints // LEFT: How they look like after an hour and rubbing it.
When it comes to coverage, the Peri's Tint Crayon is the best among the three Peripera lip tints. But unlike the Marker and Water, it smudges and transferrable. While when it comes to lonegetivity, the Peri's Tint Marker is the best. It's waterproof and survive my island-hopping and food adventure. The worst of the three is the Peri's Tint Water, I only bought it using my shopping points (thanfully) because it's cute and I find the first two Peripera lip tints I own really good. But I end up regretting it.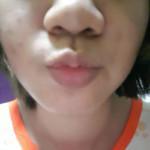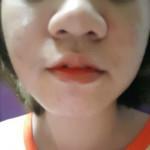 Left: My natural lips // Right: With Peri's Tint Water in Orange Juice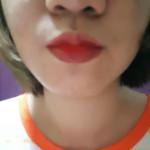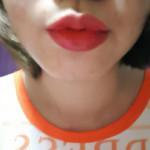 Left: Peri's Tint Marker // Right: Peri's Tint Crayon
To answer the question which is the best Peripera Peri's Tint? My answer would be the Peri's Tint Marker. Why? Because it may not be as full coverage as the Peri's Tint Crayon but it's pigmented enough as a go-to everyday lip tint, it's smudge proof, waterproof and lasts very long.
Where to buy?
You could buy Peripera Peri's Tint Marker (Php340), Crayon (Php170), and Water (Php200) in Althea; if you live in the Philippines, Malaysia, Korea, Singapore, Indonesia, and Thailand. And you could use my Althea Coupon Code "stylevanity" to get up to Php350 off discount on your first order. But if you live in the US, UK or where Amazon ships, you could buy them there.