I recently completed reading New York Mets pitcher R.A. Dickey's new book "Wherever I Wind Up: My Quest For Truth, Authenticity and the Perfect Knuckleball."
If you are going to read any baseball book this year, read this one.
Dickey has been known as quite the renaissance man, as his climb up Mt. Kilimanjaro last winter gained him lots of national attention. But he has lived quite a life, from former first round pick to journeyman pitcher to the current pitcher in the Mets rotation.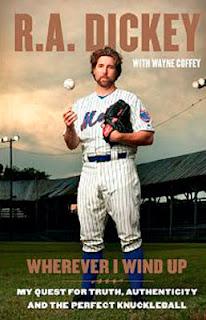 Dickey lets it all hang out in this book, which he wrote with New York Daily News writer Wayne Coffey (who I had the pleasure of meeting on a couple of occasions at Professor Thom's for another story he was working on). He reveals many of the most intimate details of his life: from his parents broken marriage, his distant relationship with his father, to two occasions where he was sexually abused as a youngster, and how it had such a profound affect on his life.
Yep, it's not something you read in your average baseball biography.
Dickey had a promising career when he was drafted by the Texas Rangers out of the University of Tennessee in 1996. When he reported to the Rangers, he had a routine MRI done of his pitching arm, and it was discovered he had no UC ligament, and the Rangers dropped their original offer. It devastated Dickey, but he did sign a lesser offer with Texas a short time later.
The book also focuses on Dickey's relationship with God, and how it changed his life.
Dickey's career seemed on the road to be nothing more than a journeyman "AAAA" pitcher until Orel Hershiser, the Texas Rangers pitching coach, suggested Dickey try throwing a knuckleball. He met with knuckleball guru and Hall of Famer Phil Niekro, and it would ultimately change Dickey's life forever, and lead him to the New York Mets in 2010.
Dickey comes off as a likable family man who has finally found peace. I admire the courage it took for him to write this book, especially telling the story of the dark times of his life, and how he managed to overcome them. It's an inspiring story, and if you get the chance, check out "Knuckleball!", the 2012 documentary he is featured in with Tim Wakefield.