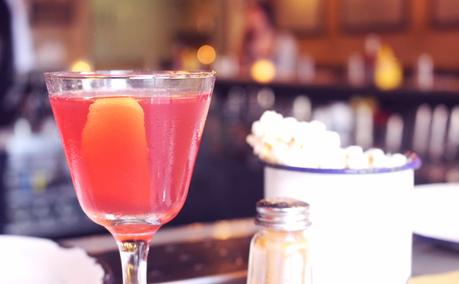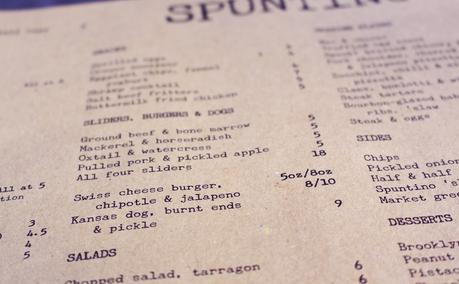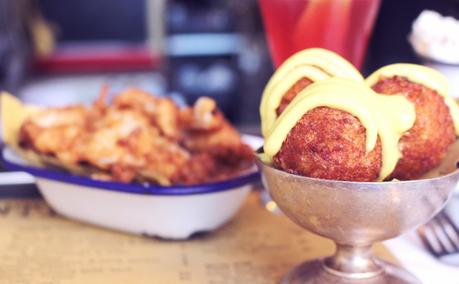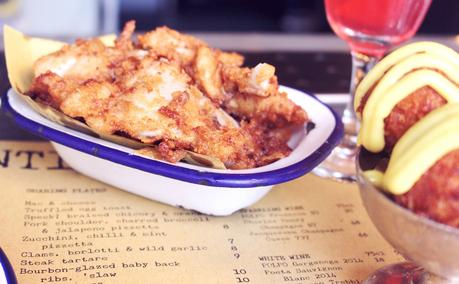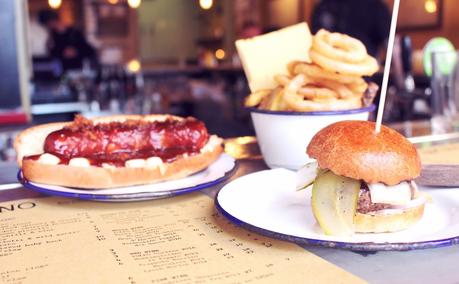 After my Toni & Guy shoot in London, I met up with my Uncle for some late lunch and cocktails. He'd scoped out this place called Spuntino located in Rupert Street, Soho so I thought I'd snap it up and share my experience and thoughts.
So Spuntino is essentially a chilled bar filled with stools with a menu consisting of sliders, so you choose a couple of things to share between you and your friends and whatnot. We first opted for two snacks, the Salt Beef Fritters and the Buttermilk Fried Chicken. The first came with a mustard dressing, which, considering I'm not a huge mustard fan, tasted really lovely will the beef. The chicken was absolutely beautiful, with a kind of sweet taste and a crispy outer. We then decided to go a little bit larger and ordered a Kansas Dog (without the pickle), a Ground Beef & Bone Marrow Burger and Half n Half Chips and Onion Rings. The Kansas dog was huge and the bbq and mayonnaise really gave it a kick. Considering when I read the words 'bone marrow' I was a little bit skeptical, I gave the burger one bite and was sold - I didn't really taste the difference between your normal regular beef burger, which is good and bad I suppose. 
During our meal we ordered three cocktails each because, well, when in London! I firstly went for a Ted Damsen which was fizzy and vodka infused, then a New Your Sour which was a bourbon based cocktail - something I don't normally go for but really enjoyed. Then I finally went for the cocktail that was the special, Ariel something... Nevertheless it was delicious and pink so it's a win-win situation. I wish we had room for dessert because I LOVE a good brownie but unfortunately we were full from all the meat and alcohol.
So there's a little great spot in London that's definitely worth the visit. Have you every heard of Spuntino? Is it a type of restaurant that you would visit? Let me know in the comments below, thanks for reading! 

Facebook  - Twitter - Instagram - Bloglovin - YoutubeCheck out my May advertiser - The Beauty Baker!