I'm so dumb.  I wrote a blog post last week about the launch of a Missoni for Target collection that came out September 13.  I wrote it like I had somehow, through my superior design sleuthing, become privy to a secret that was about to unleash on the design world.  And I had every intention of marching into that store yesterday to photo document my findings so I could do a follow up post on what I really thought about the pieces once I saw them in person.  But if you listened to the news yesterday (which I didn't), you already know that pretty much everyone in the world was aware of this and had already bought the farm before I even got out of bed.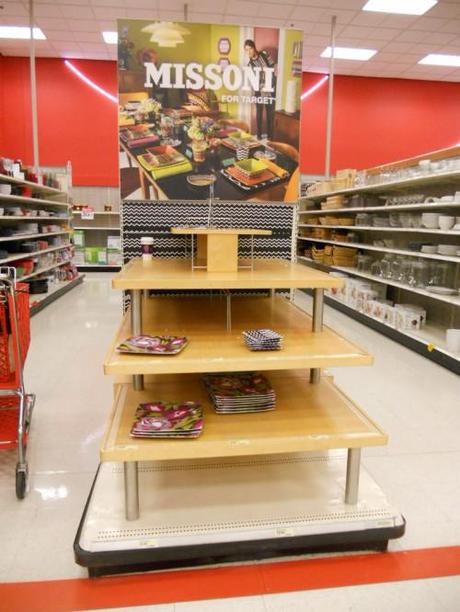 Yeah.  That's a completely empty shelf at 11AM, just 2 hours after the store opened.  As I was standing there taking my photo, 3 hawks swooped in and took a few plates and as soon as I got the shot 1 lady grabbed those remaining small plates.
Every section of the store was the same.  The displays were getting pilfered as I tried to photo the carnage and, as usual in human nature, people  who didn't even know what the deal was were coming over and picking up anything they could get their hands on.  I talked to a girl who said she was on hold with Target online for an hour that morning trying to order and finally gave up.  The online store was flooded to the point where they would only let people in once someone left.  Like a hot new bar.  It went on like that all day.  But I didn't know, I just thought it would be a fun way to spend my lunch hour, plus I had to pick up a prescription.
My favorite was the shoe incident.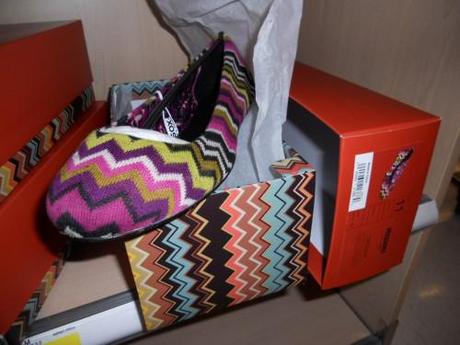 I think these are adorable, but only available in size 11 (no chance in hell of finding my size there).  I leaned down to get my picture and felt heavy breathing on my neck.  When I stepped back there was a mob behind me – apparently clamoring for these shoes.  I watched as the savages took every last pair of shoes on that shelf with no regard to what size they were…it didn't matter, they just had to have them.
Animals!  I bow to the Marketing Gods who did this.  I'm impressed and disgusted at the same time.  What I saw was nice – the quality I've come to expect from Target's nicer brands.  It was colorful and fun, great packaging and displays, and I was really glad that the candles were soy.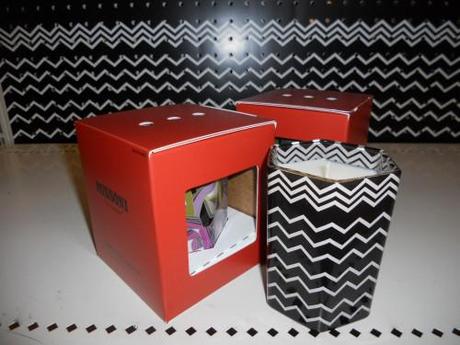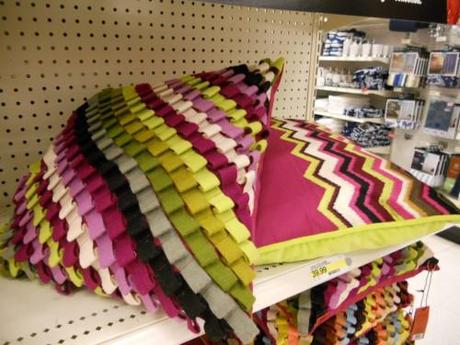 They had a few pillows left, but not for long.  That's where I met the girl who sat on hold all morning, and she snatched a bunch of these puppies up.  I like the felt ribbons, colorful and really bright but a great texture for fall.  Not really my color palette though…neon green and pink bring me back to some outfits I wish I hadn't worn as a kid.
So that's my story.  What's yours?