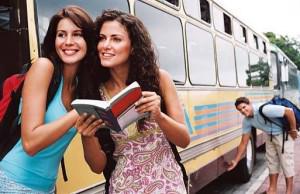 "If you're wanting to do something to change the world and make it a fundamentally better place, you need to be around the right people."
- Justin Caden, a 29-year-old electrical engineer quoted in a New York Times article about "hacker hostels"
A coworker shared this article with our team and I loved this guy's sentiment. I could not agree more. Last semester when I was in school, I wrote a couple of posts on my personal blog about my creativity/entrepreneurship class at Miami University. I didn't write about the last day of class when our professor posed the question:
"Where are you going, and who are you taking with you?"
I guess it's more of a hypothetical question, but it made me think, and it made me feel inspired and anxious at the same time. Looking past my literal answer … (Chicago, and no one) … I think about how his question relates to our personal mission statements in life. People ask me all the time what I want to do – everyone wants to know everyone else's life plan. I honestly want to change the world – it's just that I have no idea what I really want to be doing. There is so much on my list and so much more to learn about myself and the world around me.
The part I'm confident about is wanting to add meaning to my life and others' lives surrounded by inspiring people who challenge each other and are working toward a common goal. (And I think a lot of people feel the same way whether they know it or not). When my professor threw out the question, I couldn't say the same thing as when people ask what I want to do – it made me think in a new way. I didn't have an answer sitting in class that day, and I didn't give it much thought until I read this quote in the hackers hostel article. Justin Caden, a complete stranger to me, said:
"If you're wanting to do something to change the world and make it a fundamentally better place, you need to be around the right people."
Lightbulb. I'm there – literally and figuratively as I sit in my desk at my internship surrounded by people who are willing to answer my questions, show me the ropes, work hard, learn from and support each other. Yeah, I could be writing this post to suck up in an obnoxious way, but I feel genuinely inspired by this place, the atmosphere, the people, what I'm learning and the work I'm doing. How many people can look you in the eye and tell you that? (I really don't know, I just feel lucky).
So, where are you going, and who are you taking with you?