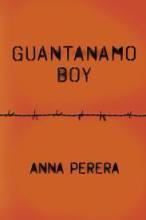 Anna Perera; Guantanamo Boy
The Sunday just gone was Fathers' Day. Prompted by this, a friend of mine tweeted a question that I thought I'd be able to answer:
Trying to think of my favourite literary father. So far I've got nothing. Where are the good fictional fathers? #FathersDay
I had a half-hearted stab at naming a couple of father figures who seemed like generally good eggs – Dumbledore, obviously, and The Fat Controller from Rev. Awdrey's " target="_blank">Thomas series. In desperation I added the father from " target="_blank">Piggybook, who starts out not very pleasant but grows into a good father. Other friends mentioned Arthur Weasley – Ron's dad in the Harry Potter series, Pa Ingalls from " target="_blank">Little House on the Prairie and  Gilbert Blythe from the later Anne of Green Gables books (from " target="_blank">Anne's House of Dreams onwards).
Contrast this with the number of (kid)literary orphans one can name without taking more than a second to think about it: Harry Potter; Oliver Twist; Giant Peach inhabitant James; Mary Lennox; Heidi; Anne of Green Gables; Dorothy (of Oz), Mowgli; Pauline, Petrova and Posie of " target="_blank">Ballet Shoes; Katniss Everdeen; the Sager children of " target="_blank">Children on the Oregon Trail or the Chant siblings of Diana Wynne Jones" target="_blank"> Charmed Life, to name but a few.
Then there are the stories in which characters are sent (or taken) away from their parents. Often the children are sent to school to have their adventures (as in " target="_blank">Tom Brown's School Days or the " target="_blank">Malory Towers or " target="_blank">Chalet School series), but they are also frequently separated by war (as in " target="_blank">The Lion, the Witch and the Wardrobe or " target="_blank">The Silver Sword), political upheaval (" target="_blank">The Other Side of Truth, " target="_blank">Guantanamo Boy), by going  on holiday  (" target="_blank">Five Children and It," target="_blank"> Tom's Midnight Garden*) and occasionally by a number of these circumstances in tandem (" target="_blank">Swallows and Amazons).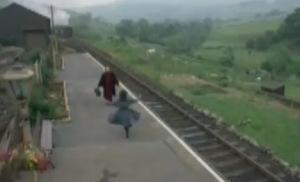 Roberta runs toward her returning father at the end of the 1970 screen adaptation of The Railway Children
Finally, there are the Parents ex Machina who are largely absent, but turn up at the end of the story to force a closure to the plot. They can be found in " target="_blank">The Railway Children, " target="_blank">Little Women, " target="_blank">The Tiger who Came to Tea, " target="_blank">The Face on the Milk Carton; even the paternal stand-in woodsman in many Red Riding Hood variants fulfils this trope.
It is much, much easier to name books with absent or neglectful parents, especially in YA, than it is to point to examples of the traditional nuclear family.
There main reason that parents, and fathers especially, are frequently absent from kidlit: if child characters are to behave autonomously, they need to be separated from the authority figures that they would otherwise be subordinate to. They must be actually or figuratively emancipated and forced to drive their own narrative. The child protagonist must be at the mercy of her own moral compass and, just as with adults, must be placed in the position of decision maker regardless of how capable they are. It is a bonus for the character, if not for the reader, if they can appreciate risk and understand consequence, but it is not necessary.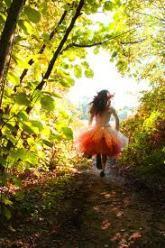 This way to adventure! (photo credit CLMInc.)
The loss or removal of parental characters paradoxically both empowers and makes vulnerable the child character. No accessible parents or parental figures means no safety net, but it also means no restraints.
The orphan character, particularly, is empowered by their situation. Symbolic of  isolation, orphaned characters are othered by their lack of connection to the most basic building block of society, the family group. They serve both as a reminder of the fragility of human connections and of our capacity for self-invention. Their state is not a temporary one, thus they have more to lose and more to gain.  But I digress…
Even those narratives that do include parents or parent substitutes tend to keep them at arm's length, either geographically or emotionally so that aloof parents are a common motif in kidlit for all ages. Which is what makes finding the required 'good fictional father' difficult.
But of course father figures do exist. Here are some of my favourites.
The All Round Number One Top Dad: To Kill a Mockingbird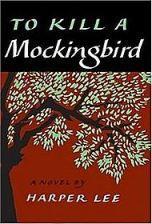 Harper Lee; To Kill a Mockingbird
Atticus Finch, the father of  Jem and Scout in To Kill a Mockingbird, is based on Harper Lee's real life father Amasa Coleman Lee. What a man he must have been.
Atticus Finch is perhaps not available to his children as much as he could be, but he certainly leads by example. He is a man of great honour and integrity, whose social conscious is admirable and whose work ethic is enviable.
Universally respected, he is a man ahead of his time for whom equality is not just to be paid lip service. A man working full time and raising two children on his own – something that no woman or man ever gets enough credit for – and a man who cares deeply that his moral compass always points in the right direction.
Scout is very much a product of her Daddy's liberal outlook and in her is reflected Atticus the father, with all the integrity of Atticus the lawyer.
Runners up:  William;" target="_blank"> Danny, Champion of the World and Martin Penderwick, " target="_blank">The Penderwicks series.
The Break Your Heart Dad: Michael Rosen's Sad Book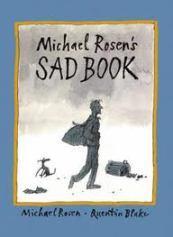 Michael Rosen's Sad Book
Reviewed in detail on TreasuryIslands in 2011,  Sad Book describes the depression Rosen experiences after the death of his son. It will break your heart.
Bleak and honest, uplifting and poignant in equal measure, it takes just ten words to deliver a heartrending, guttural pang of sorrow.
"I loved him very, very much," says Rosen, "but he died anyway."
It is enough to melt the stoniest of hearts. Rosen's words, coupled with Quentin Blake's often incongruous illustrations create a picture of  parental loss which cannot be forgotten.
The Right On Same-Sex Parent Dad(s): And Tango Makes Three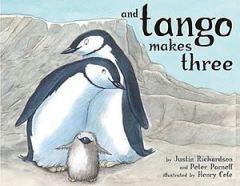 Julian ; And Tango Makes Three
Here at TreasuryIslands, you know we like to queer it up as often as possible, and this is one of our favourite books for that purpose. Roy and Silo are the famous chinstrap penguins from Central Park Zoo who were given an orphaned egg after their attempts to incubate a rock came to nought.
Roy and Silo present a relationship that mirrors the mating behaviour of the other penguins; they had been behaving as a couple for almost a decade before they became parents and their relationship is with one another and with their chick is presented as tender and deeply loving.
As parents go, you could do a hell of a lot worse than Roy and Silo.
The Unwilling Surrogate Dad: The Harry Potter series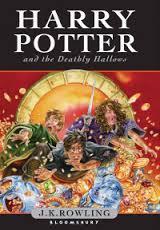 JK Rowling; Harry Potter and the Deathly Hallows
Professor Snape does not particularly like Harry Potter, that much is clear. Nevertheless he is the most consistent protector of the young wizard, absorbing blame (often unfairly) without question and never asking for anything in return despite the fact that being close to the boy is immensely damaging to his own psyche. The ambiguity of Snape's place in Harry's life – the apparent flip-flopping of his alliances – does not, as one might think, make Snape less of a father to Harry but strengthens his role as surrogate father, lending humanity to a character that might otherwise appear too severe.
Sirrius craves affection and requires protection; in his relationship with Harry, the Boy Who Lived is the adult. Dumbledore remains necessarily distant from the boy. Hagrid is perhaps more of a zany uncle, McGonagal a spinster aunt. The Weasley's have their own enormous brood to take care of. Harry Potter is choc-full of substitute parents for Harry, but the one that delivers is reluctant, determined Prof. Snape.
The Bumbling Inept But Ultimately Lovely Dad: The Large Family Chronicles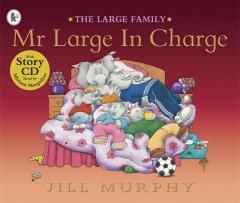 Jill Murphy; Mr Large in Charge
Bumbling Inept But Ultimately Loveable Dad does not understand his children at all. Unfortunately, he is also accident prone, technologically clueless and socially awkward.
…Which is Mr Large in a nutshell. The father of an untamed brood of four, he is incapable of running the household for a single day. The Large Family's narratives always centre around parenting as an activity fraught with dangers and Mr Large in Charge is no different. It is the first time that we spend any real time with Mr Large, now that his wife is ill in bed, but he just can't seem to get the hang of managing four excitable elephants, running the household and looking after his sick wife. While the children do their best to help out, Mr Large is constantly on the cusp of emergency.
It's very easy to love Mr Large, and that love comes with an extremely large dose of knowing sympathy.
The Absolutely Most Horrible, Nasty, Kick-Him-In-The-Throat Dad: Matilda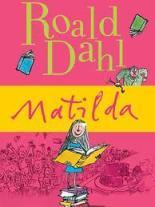 Roald Dahl; Matilda
Matilda Wormwood has a lot to put up with at home. Her father, a greasy and corrupt used car salesman who is suspicious of books and learning, a perpetually dishonest and disinterested man who ultimately abandons his daughter to the care of Miss Honey while fleeing the country in avoidance of criminal charges.
While the portrayal of  Matilda's parents is uncomfortably classist, deriding the couple's  nouveau riche lifestyle of conspicuous consumption, interest in popular culture, staunch anti-intellectualism and criminality as vulgar, the couple are nevertheless the most thoroughly unpleasant parents in middle grade literature.
And Finally…
Just for fun, here's Mr Wormwood's reaction to his daughter's birth in Tim Minchin's musical adaptation of Matilda:
————————————————————————–
With thanks to Katy of Fausterella for inspiring this post.
*Tom is sent away from the home so he does not contract his brother's measles, but he looks on the trip as a holiday so I shall too.