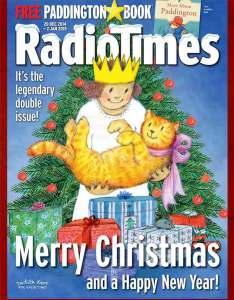 Radio Times, Christmas 2014
Yesterday I got my annual Radio Times. It's a tradition, not just for me, but for many people in the UK. We carefully peruse the Christmas television listings, marking what we'd like to watch and what we'd like to record. Some people, I hear, even use a traffic light system to mark the priority viewing. Others use different coloured pens to mark the choices of different members of the household.
Not me though. I don't share. My Christmas Radio Times is mine. It is selfish and it is irrational and it is entirely counter to the spirit of Christmas, but tough. If you go anywhere near my Radio Times with a pen or pencil, I will be forced to seriously reconsider my friendship with you. If you put an answer in the prize crossword at the back I will marry you just so I can expensively divorce you.
The magazine itself is always of interest to children's literature fans, and this year is no different. The cover (see above) is designed by the inimitable Judith Kerr, sill going strong at 91 years old (she's interviewed on page 61). Page 63 carries and interview with Michael Morpurgo, and David Walliams and Harry Hill, both stars of kidlit adaptations this year, talk about their writerly inspirations on page 59. Judi Dench, starring alongside Dustin Hoffman (Dustin Hoffman!) in a Roald Dahl adaptation is interviewed on page 20.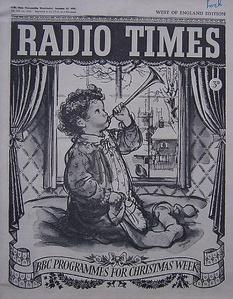 Radio Tmies, Christmas 1955
This year, the Daily Mirror reported that 63% of Christmas TV will be repeated from a previous year. They are up in arms as only the British press can be: demanding the BBC spends less money, then complaining when they do.
As well as a boatload of old and new movies* repeats are the backbone of Christmas televisual entertainment. Year on year we want to see Del Boy fall through the bar. We want to see The Vicar of Dibley force one more sprout into her and we want to watch Morcambe and Wise doing what ever it is they do that makes us laugh so much even though we've seen it a million times before.
Some repeats are annual traditions, and others are fast becoming so. Raymond Brigg's heartbreaking 1978 picture book The Snowman was adapted to the small screen in 1982 and has been shown annually since then (this year it's on Channel 4, 23 Dec). Its sequel, The Snowman and the Snowdog which first aired in 2013 will be repeated on Christmas eve.
Julian Donaldson and Alex Scheffler's The Gruffalo, first shown in 2009, and The Gruffalo's Child, from 2011, air on 23rd and 24rd respectively. The latest Donaldson/Scheffler contribution to the BBC's animated stable Room on the Broom, will air on Boxing day.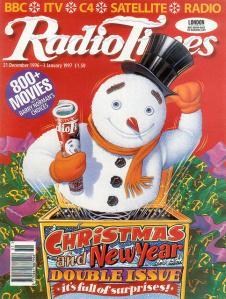 Radio Times, Christmas 1997
Repeats are a part of Christmas. But new televisiual delights await us too. Following the success the BBC had in adapting David Walliams Gangsta Granny (repeated this year on 22 Dec at the ungodly hour of 07.45) this year they're giving us The Boy in the Dress. Adapted for the screen by relative unknowns Kevin Cecil and Andy Riley, Walliams debut novel airs Boxing Day. Here's the trailer:
The BBC is also bringing us an adaptation of Norman Hunter's Professor Branestawm series (Christmas eve, 8.30 pm BBC1), starring Harry HIll and featuring David Williams, Miranda Richardson, Charlie Higson and Ben Miller, among others.
But the thing I'm looking forward to most is a new adaptation of Roald Dahl's Esio Trot, written by Richard Curtis and Paul Mayhew-Archer and starring Dame Judi Dench and Dustin Hoffman. Esio Trot is probably my favorite Dahl tale (no one tell The Vicar of Nibbleswicke). It's a love story wherein the lovers are not nubile attractive 21 year olds, but white haired seniors. It's just right for this time of year.
Michael Morpurgo's contribution to our festive entertainments is twofold this year. On Christmas eve, BBC1, On Angels Wings, an animated version of the nativity story, written by Morpurgo and narrated by Michael Gambon. Says Morpurgo in the Radio Times,
I wanted to believe this story, to make it believable. […] Tell it again, your way, I thought. I had done this often enough with stories of old. I could do it again, even with this iconic story so full of religious and universal significance.

Yes, the shepherds would have to leave, I thought, but if they did the would leave someone behind to look after the sheep. The youngest of them, the shepherd boy. So he is left there on his own with the sheep while the others go off to Bethlehem!
On Angel Wings promises to be a version of the Christmas story that even a Godless heathen like me can enjoy.
Finally, War Horse at the Proms, which took place at the Royal Opera House in August, will be shown on BBC on Boxing Day. It's a programme inspired by the National Theatre's production of War Horse, with an original score supplemented by music from Ravel, Holst, Elgar and others. Perfect for curling up in front of with a mince pie and a small dry sherry.
—————————————-
*Films for kidlit enthusiasts are too numerous to mention; maninly in the form of big screen adaptations of books. Finding Neverland, The Secret Garden, 101 Dalmations, Snow White and the Huntsman, Shrek (and sequels), Fantastic Mr. Fox, Mary Poppins and The Grinch are all showing over the festive period, along with literally hundreds of others.