On Tuesday we hit the Virgin Mobile Mod Club in Toronto to check out Bobby Wills, Jess Moskaluke, and headliner Chad Brownlee on the When The Lights Go Down Tour.
From start to finish everyone had a great time… but it wasn't just a 2 hour concert, the tour offered a lot more than that for the fans who wanted it!
The When The Lights Go Down Tour VIP Upgrade offers fans a chance to come check out soundcheck, meet & greet with the artists, get some swag and pictures and autographs, and it was a lot of fun to be there with them as it all went down. Chad, Jess and Bobby were all great with the fans, and even put on a little acoustic set together for the small group in the Mod Club.
Highlight of the VIP Experience: Bobby Wills' cover of Garth Brooks' classic, The River.
And now, onto the show.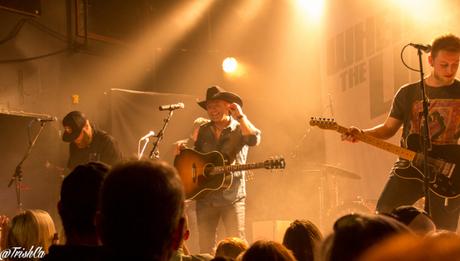 Bobby Wills
took the stage first, and he did a great job of bringing the crowd into the night and starting the St. Patrick's Day party.
Wills played a fun set with a big smile on his face. It's easy to see that he loves what he's doing up there. And the crowd loved it too. The set included recent singles like Crazy Enough and Never Didn't Love You from his Crazy Enough album, and threw in a little throwback to his 2012 single, Show Some Respect.
And then he wrapped things up with his most recent release, Undressed, with the help of the night's next performer, Jess Moskaluke.
Note: After the meet & greet we had a chance to chat with all of the artists and Bobby was quick to mention that he'd love to play Boots & Hearts. Here's hoping that we see him there in 2016.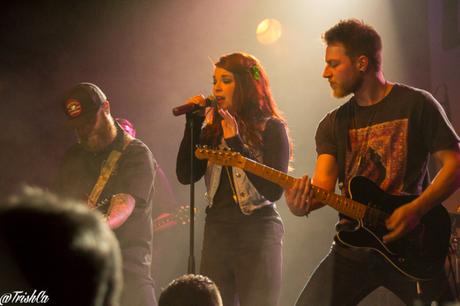 After her duet with Bobby Wills, Saskatchewan's
Jess Moskaluke
took over the When The Lights Go Down Tour stage.
Her energy level was fantastic right from the start, and I was a happy guy hearing Good Lovin' to kick things off. It's a really fun song that some of Jess's new fans may not know since it's not on the Light Up The Night album.
Speaking of the album, Moskaluke did treat the fans to a number of songs from the disc, and they showed her that they'd been listening, singing along en masse to Used, Night We Won't Forget, Cheap Wine and Cigarettes and the title track, Light Up The Night.
The first time we interviewed Jess none of us knew how huge her 2014 was going to be… and now that we've been in touch a few times and seen how crowds respond to her, we won't be surprised to watch her have more years just like it and bigger.
Unexpected Highlight: Jess threw a cover mash-up in with her set, giving us an awesome showing of Big and Rich's Fake ID & Meghan Trainor's Lips are Movin'. We had no idea it was coming, and she knocked it clean out of the park!
Before we get to the headliner, we need to take a second to shout out the band. The 5 dudes up on stage come from all across Canada (Newfoundland to BC) and they did a fantastic job. These same talented men stayed on stage all night, playing and singing backing vocals for all 3 acts – and they never dropped their energy a single inch. Well done boys.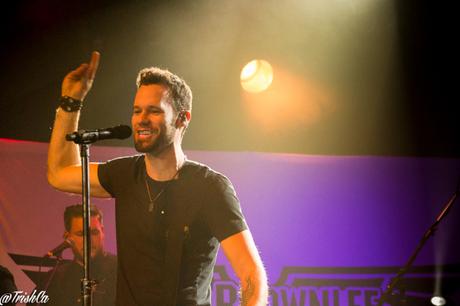 Last up, headlining his first Canada-wide tour, and totally ready to do so, was
Chad Brownlee
.
Let's start at the start… before Brownlee ever took the stage my jaw dropped. While some artists have music to bring them to the stage (Miranda coming out to Beyonce's Run the World was memorable) Brownlee went a different route. The former Canuck's draft pick was intro'd by Hockey Night in Canada's Jim Hughson calling a mix of play-by-play action featuring Chad's name. It was 100% Canadian, and I loved it.
Also, let's deal with this too… Chad Brownlee is aggressively handsome. It's not a hard conclusion to come to, but we did it while he stood on stage, playing for a crowd that was totally into him.
We got a lot of music out of Brownlee's time on stage. There wasn't a minute wasted in his set… and in case you were wondering – this is what the set looked like.
Smoke In The Rain
Sitting On The Hood Of My Car
Matches
Listen
The Fighters
Fallin' Over You.
Ed Sheeran Cover: Thinking Out Loud
Stay/ Sitting On The Dock Of The Bay
Carried Away
Where The Party At
Just Because
Love Me Or Leave Me
When The Lights Go Down
And then it was time for the encore… and it was awesome.
I'll be honest, it took me a minute to recognize the first  track, but as he got closer and closer to the chorus, it clicked… we were treated to a 6 dude rendition of Katy Perry's Roar… and they nailed it.
But as cool as that was, it wasn't quite as boss as what came next, and ended the show. The band started to play a few notes, Brownlee started singing and we got a funked up country version of Mark Ronson and Bruno Mars' smash hit, Uptown Funk. Bobby Wills and Jess Moskaluke came back out to sing and dance along with the final song of the night and the entire Mod Club joined in on the 'Hot Damn's and Uptown 'Funk You Up's.
Final Verdict: The When The Lights Go Down Tour was a lot of fun and Bobby Wills, Jess Moskaluke and Chad Brownlee put on a great show with the added bonus of the VIP upgrade in the afternoon.
If you're west of Toronto and you like any of these 3 artists you need to check the Tour's website to find a tour date near you.
You won't regret it!