After railing on about how science fiction, horror, fantasy and dystopian features have occupied the thoughts and minds of moviegoers, producers and directors of late, it's refreshing to note that, at times, history can be an even more fascinating subject for cinematic depiction.
To be specific, we mean "history" as viewed and interpreted by the movies. While not always authentic or accurate, nor even representational of actual historical events, they can certainly be entertaining. This is reason enough for students and teachers to spend quality time with the output.
Here, then, is an addendum to my series, "When the Legend Becomes Fact." Albeit a far from complete list, this section surveys the vastness, breadth and scope of American and World History in massively distinctive ways. Looked at from their creators' vantage point, these films offer a wider range of topics than the norm: from discovery and expansion to the colonial period; from Independence and Civil War, straight on through two World Wars, up to and including the cultural changes that took place in American society, and well beyond.
Where indicated, subject sections include both earlier and later screen versions, either a scene-by-scene recreation or an updated edition for modern tastes. Whether one agrees with their particular point of view or not, and whether these filmed portrayals of real-life events can be deemed faithful to the subject matter at hand, all were chosen for their specifically controversial and/or comparative properties.
The main thrust of this list is to spur conversation; to get students and teachers talking, and to engage with the particulars about our country's past, both the good aspects and the bad:
Exploration and Colonization
The Arrival of the Europeans:

1492: Conquest of Paradise (1992) - Ridley Scott (dir.)
Christopher Columbus: The Discovery (1992) - John Glen (dir.)
Pocahontas (1995) - Mike Gabriel, Eric Goldberg (dirs.)
The New World (2005) - Terence Malick (dir.)

Colonial Life in Early America:

Drums Along the Mohawk (1939) - John Ford (dir.)
Unconquered (1947) - Cecil B. DeMille (dir./prod.)
The Last of the Mohicans (1992) - Michael Mann (dir.)

The Fight for Independence:

1776 (1972) - Peter H. Hunt (dir.)
Revolution (1985) - Hugh Hudson (dir.)
Hamilton (2020) - Thomas Kail (dir.)
Expansion and Civil War
Missionaries:

Hawaii (1966) - George Roy Hill (dir.)

Black Robe (1991) - Bruce Beresford (dir.)

Manifest Destiny:

The Alamo (1960) - John Wayne (dir./star)

The Alamo (2004) - John Lee Hancock (dir.)

The Roots of Slavery:

Amistad (1996) - Steven Spielberg (dir.)

12 Years a Slave (2013) - Steve McQueen (dir.)

Civil War and Reconstruction:

The Birth of the Nation (1915) - D.W. Griffith (dir.)

Gone with the Wind (1939) - Victor Fleming (dir.), David O. Selznick (prod.)

Glory (1989) - Edward Zwick (dir.)
The Far West and Eastern Expansion
The Native Americans and a Final Solution:

They Died with Their Boots On (1941) - Raoul Walsh (dir.)

Geronimo: An American Legend (1993) - Walter Hill (dir.)

Immigration and Industrialization:

Hester Street (1975) - Joan Micklin Silver (dir.)

War and the American Empire:

Wings (1927) -William A. Wellman (dir.)

Citizen Kane (1941) - Orson Welles (dir./star), Herman Mankiewicz (writer)
America From the Twenties to World War Two
The Roaring Twenties:

The Roaring Twenties (1939) - Raoul Walsh (dir.)
The Spirit of St. Louis (1957) - Billy Wilder (dir.)
The Untouchables (1987) - Brian De Palma (dir.)
The Aviator (2004) - Martin Scorsese (dir.)

The Movies Talk:

The Jazz Singer (1927) - Alan Crosland (dir.)
Singin' in the Rain (1952) - Stanley Donen, Gene Kelly (dirs.)
The Artist (2011) - Michel Hazanavicius (dir.)

The Great Depression:

The Grapes of Wrath (1940) - John Ford (dir.)
Sullivan's Travels (1941) - Preston Sturges (dir.)
Bonnie and Clyde (1967) - Arthur Penn (dir.), Warren Beatty (prod./star)
Public Enemies (2009) - Michael Mann (dir.)

America in the Second World War:

From Here to Eternity (1953) - Fred Zinnemann (dir.)
The Longest Day (1962) - Andrew Marton, Ken Annakin, Bernard Wicki (dirs.)
Tora! Tora! Tora! (1970) - Richard Fleischer, Toshio Masuda, Kinji Fukasaku (dirs.)
Saving Private Ryan (1998) - Steven Spielberg (dir.)
Post-War America and the Cold War
The Nuclear Threat:

Fail-Safe (1964) - Sidney Lumet (dir.)
Dr. Strangelove, or How I Learned to Stop Worrying and Love the Bomb (1964) - Stanley Kubrick (dir.)
The Sixties, the Seventies and Vietnam
The Civil Rights Movement:

In the Heat of the Night (1967) - Norman Jewison (dir.)

Mississippi Burning (1988) - Alan Parker (dir.)

The Long Walk Home (1990) - Richard Pearce (dir.)

A Tale of Two Presidents:

All the President's Men (1976) - Alan J. Pakula (dir.)

JFK (1991) - Oliver Stone (dir.)

Nixon (1995) - Oliver Stone (dir.)

Parkland (2013) - Peter Landesman (dir.)

The Vietnam Experience:

The Deer Hunter (1978) - Michael Cimino (dir.)

Apocalypse Now (1979) - Francis Ford Coppola (dir.)

Platoon (1986) - Oliver Stone (dir.)

Full Metal Jacket (1987) - Stanley Kubrick (dir.)

Sex, Drugs and Rock 'n' Roll:

Woodstock (1970) - Michael Wadleigh (dir.)

Nashville (1975) - Robert Altman (dir.)

Shampoo (1975) - Hal Ashby (dir.)
Contemporary American Society
America's Back Yard:

Missing (1982) - Costa-Gavras (dir.)

Red Dawn (1984) - John Milius (dir.)

Clear and Present Danger (1994) - Philip Noyce (dir.)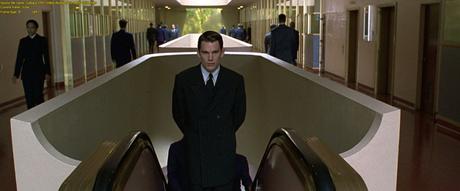 The Future of Speculative America and the World
A New Kind of Holocaust:

Blade Runner (1982) - Ridley Scott (dir.)

Gattaca (1997) - Andrew Niccol (dir.)

Children of Men (2006) - Alfonso Cuarón (dir.)

Hope and Horror for a Modern America:

Contact (1997) - Robert Zemeckis (dir.)

The X-Files: Fight the Future (1998) - Rob Bowman (dir.)

Her (2013) - Spike Jonze (dir.)

Ex Machina (2015) - Alex Garland

Arrival (2016) - Denis Villeneuve (dir.)
Copyright © 2022 by Josmar F. Lopes