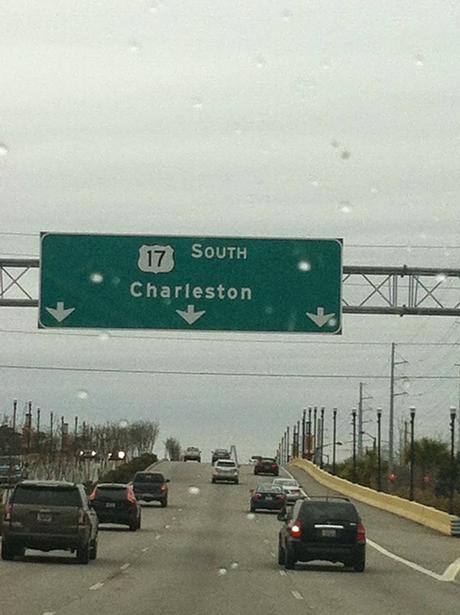 The crap view on 17 in Mount Pleasant last weekend... OK so the weekend was not total crap and I will explain the cork and fan part in a bit.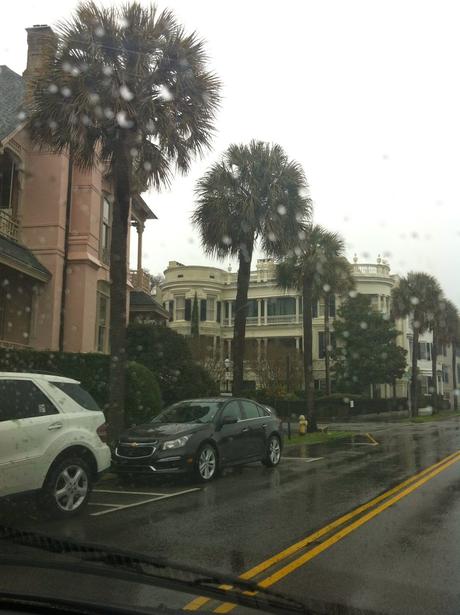 Charleston was nice although the weather took a serious bite out of our plans. I have no gorgeous photos of Rainbow row or the beach outside of our Isle of Palms hotel.
 The photo above is the best photo I have of downtown Charleston and its clearly through a rainy windshield. We only ended up in the historic district at night and it rained the whole time!
The first night I visited Redux studios while the family shopped. I felt wrong taking photos but I did go into the studios of Teil Duncan, Kate Long Stevenson, Raven Roxanne, Alex Waggoner and more. It was delightful!
Next we met up with a childhood friend who lives in the area at Rarebit. I have nothing nice to say about the food but I ordered a champagne cocktail that so lip-smackingly delicious that I had to try to make it at home. Receipe to follow.  I should mention that our trip was a scouting trip to be sure we want to make a new home there. We do.
On Sunday we drove around West Ashley that is just across the Ashley river from the peninsula. I had read good things about Ms. Rose's and we stopped in for brunch. I ordered fried chicken that was seriously mediocre but my husband's shrimp and grits was so spectacular that we will go back.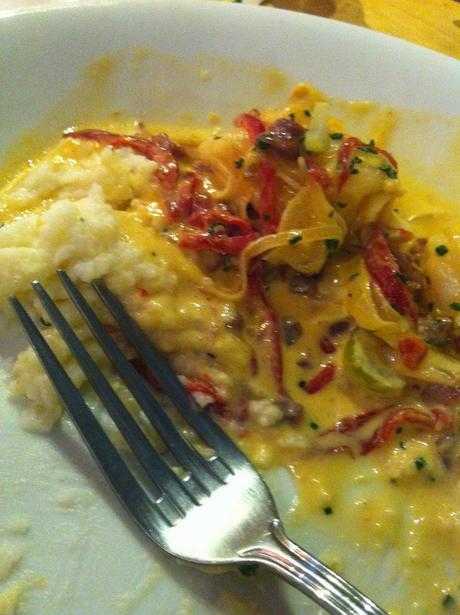 If  you are in the area, I also highly recommend Coleman's Public Hose in Mount Pleasant. Don't let the non-descript exterior fool you. It was exceptional.
Now back to the cork.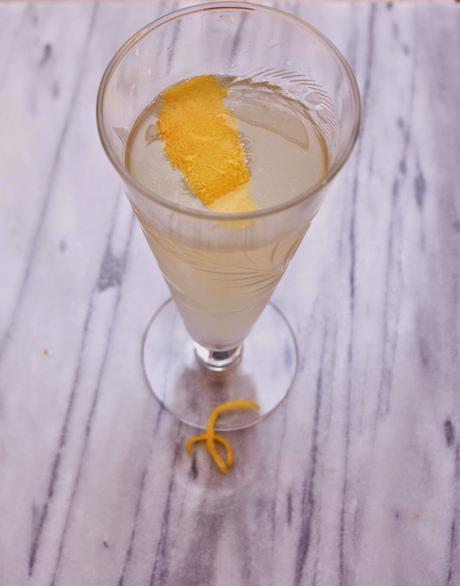 I knew that delicious champagne cocktail had elderflower liqueur in it so I grabbed a bottle as soon as we returned and bottle of inexpensive sparkling wine. The bottle had a strange safety cork. Being unfamiliar with it my husband popped it like any other cork and it released with such violence that it hit a 10 ft. high ceiling fan blade and splattered a bit of the on the fan making a "tink"sound and shaking the fixture. Had it not hit the fan I am quite sure it would have hit the 18 foot ceiling. We laughed.
Here is the recipe should you wish to partake.
I used a vintage  8 oz. pilsner glass instead of a champagne flute.
1 oz. St. Germain liqueur
3 oz. Champagne or dry sparkling wine
3 oz. lemon lime soda
Twist of lemon zest (do not skip this)
Enjoy but watch out for the cork!