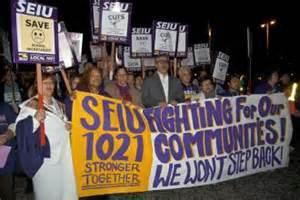 Fighting for a big raise…
BART workers vote to authorize a strike
SFGate: Members of BART's two largest unions voted overwhelmingly to give their leaders the power to call a strike as early as Monday, officials announced Wednesday morning.
The unions – Amalgamated Transit Union Local 1555 and Service Employees International Union Local 1021 – held separate strike authorization votes throughout the day and into the night on Tuesday.
SEIU members, who include mechanics, maintenance workers and a variety of BART professionals, voted overwhelmingly to authorize a strike, with 98.5 percent of its voting members approving the move, while 99.9 percent of ATU workers – train operators and station agents – approved a strike vote.
Granting strike authorization does not mean a work stoppage will happen but it gives union leaders approval to order a walkout. The last BART strike took place in 1997, when the system's weekday ridership was 275,000, and lasted six days.
With BART now hauling about 400,000 a day, a strike would almost certainly deliver gridlock to the Bay Area. However, it would have less of an impact during the Fourth of July holiday week when fewer people are commuting to work or school.
Union leaders have not announced when a strike would take place. Typically, BART's unions have given the public 72-hour notice when they've threatened to strike, though a warning is not required.
Bay Area transportation officials are making plans to boost alternative transit and to encourage carpooling if a strike occurs. Bay Area carpool lanes would operate continuously from 5 a.m.-7 p.m. AC Transit would operate shuttles between downtown Oakland and San Francisco and San Francisco Bay Ferries would run extra boats on the Oakland, Alameda, Alameda Harbor Bay and Vallejo ferries to and from San Francisco.
Negotiations between BART and the two large unions are expected to resume on Wednesday. The unions are asking for raises that add up to about 23.2 percent over three years. They're also demanding the transit agency take steps to improve safety on the job. BART has offered 1 percent raises, contingent on the agency meeting economic goals, in each year of the four-year contract it's proposed. The agency has said it needs employees to pick up a share of their pension contributions, to increase their health insurance costs and to approve rule changes that would reduce overtime.
BART has 2,841 of its employees in five labor unions that bargain some issues separately but economic issues, including wages and benefits, jointly. SEIU represents 1,430 workers, and 945 are represented by ATU. The American Federation of State and Municipal Employees represents 210 employees, mainly supervisors and midlevel managers. Two police unions, one for rank-and-file officers and one for sergeants and lieutenants, cover 256 people, but are prohibited from striking. BART has 411 nonunion employees.
AFSCME workers are bargaining in a more collaborative process but have said they will honor picket lines if the two larger unions walk off the job.
I haven't had a raise since 2008. And in the private sector, your raise is based on your performance, not some negotiated union figure. But that's how it works in government now – raises for simply negotiating, no matter how you perform.
DCG