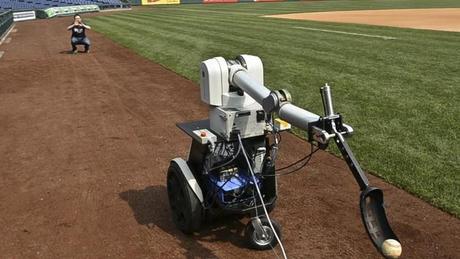 If you would like to see science play sports, you should totally check out the Phillies-Brewers game tonight.  Because tonight is the debut of PhillieBot.  Who, who is PhillieBot you ask?  He is a "one-armed, three-wheeled robot" with the ability to pitch, created by engineers at the University of Pennsylvania and inspired by Science Day at Citizens Bank Park.  And he will be throwing out the first pitch tonight.  
The idea for PhillieBot came about a couple of months ago. A few dorks with way too much time on their hands basically took a Segway, gave it a robotic pitching arm, added a third wheel, and inserted a "pneumatic cylinder, which delivers a burst of compressed carbon dioxide to power the pitch."  You can also adjust its "brain" to alter pitch speed and trajectory; however, when tested, PhillieBot could throw no faster than 30-40 miles per hour.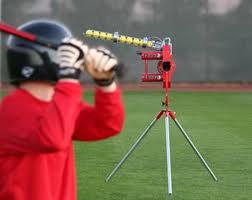 This is great and all, and I am sure that some people are super excited about seeing a robot pitch slower than, say, Tim Wakefield, but I am also confused about one semi-important thing: what is the point of PhillieBot? Don't we already have pitching machines? With wheels and mechanical arms?  Haven't I been using them in batting cages since I was like six?  I am all about supporting science and technology, but I feel like engineers at UPenn probably have something more essential to develop than a below replacement-level middle reliever. Next thing you know, they will be creating machines to give us money at banks instead of tellers, trucks that double as mobile restaurants, and telephones that also work as cameras.  Oh, wait.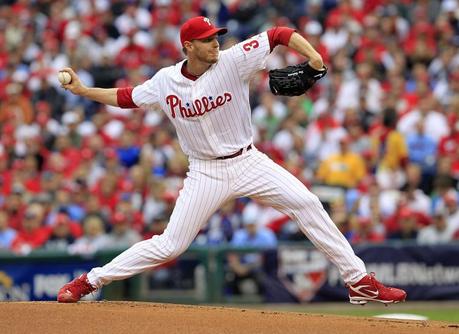 So go ahead and get excited, Philadelphia.  But personally, I will only care about PhillieBot when he replaces Roy Halladay in the rotation – which, after the way he pitched last night, is not a distinct impossibility.  That said, I would not be opposed to replacing someone like Jonathan Papelbon with a silent machine-like creature which lacks the ability to be an asshole or demand more money.  So take notes, Red Sox.  I would also support a robot who can perhaps teach Brett Gardner to hit again or Mike Leake not to be a klepto.  And in the world of baseball robots, I would still take the MoBot3000X, even if he blew a save last night, over this piece of junk metal.  I did not think it was possible to make a Segway more useless, but it seems like the geniuses in Pennsylvania did just that. 
[In other news, a big middle finger to the Knicks, who again lost a close one in the final minute last night, and the Yankees, who lost in the tenth after leading all game.  You guys frustrate the hell out of me. And hating on PhillieBot was just the next best thing on this fine Wednesday morning.].