It is Memorial Day Weekend in the United States, when we celebrate the start of summer. There is no work Monday, so TheMarioBlog will resume Tuesday, May 28
TAKEAWAY: Sometimes the front page of a newspaper turns to that important task of honoring someone worthy of such attention. Such is the case on two newspapers we profile here today: O Estado de Sao Paulo of Brazil, and Il Secolo XIX of Italy.
  PLUS: Politiken, the Danish daily, also publishes its morning newspaper on tablet the evening before publication
Ruy Mesquita: 1925-2013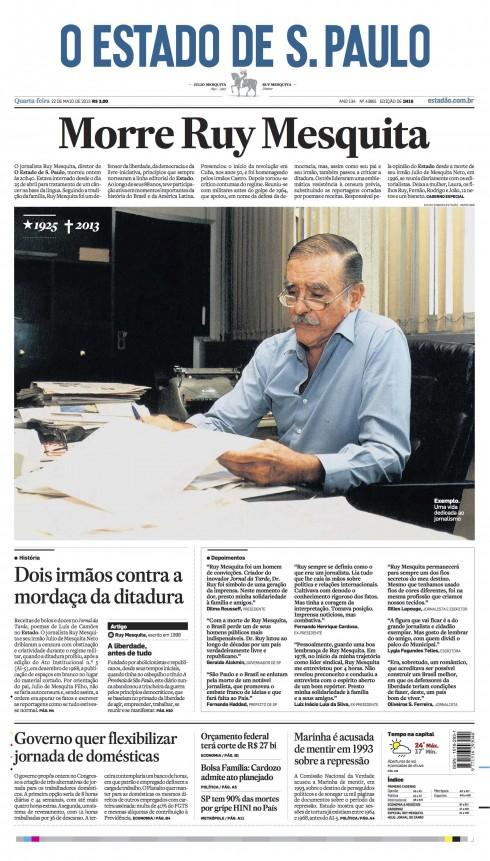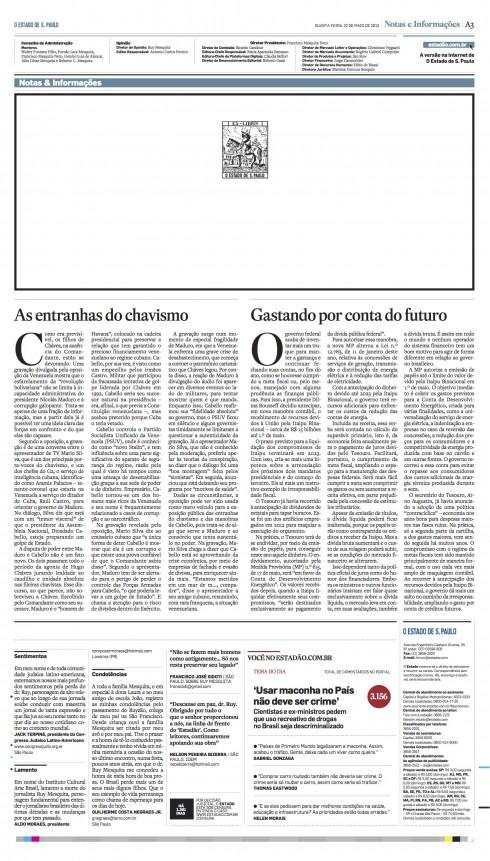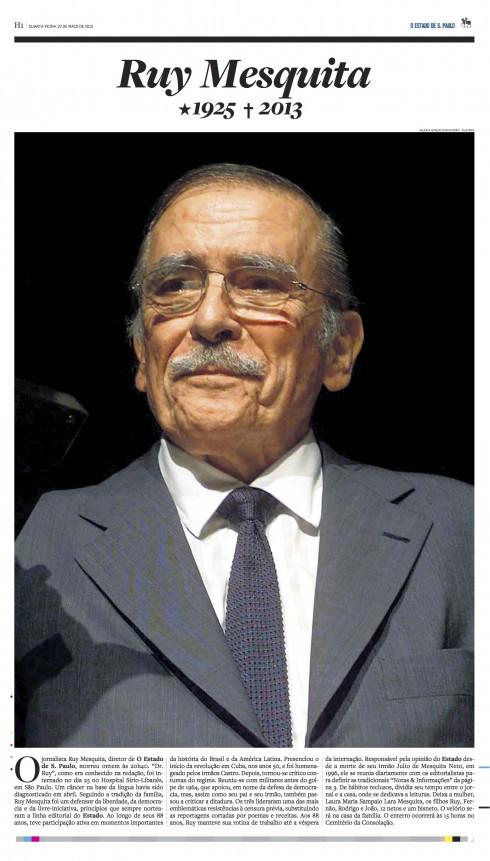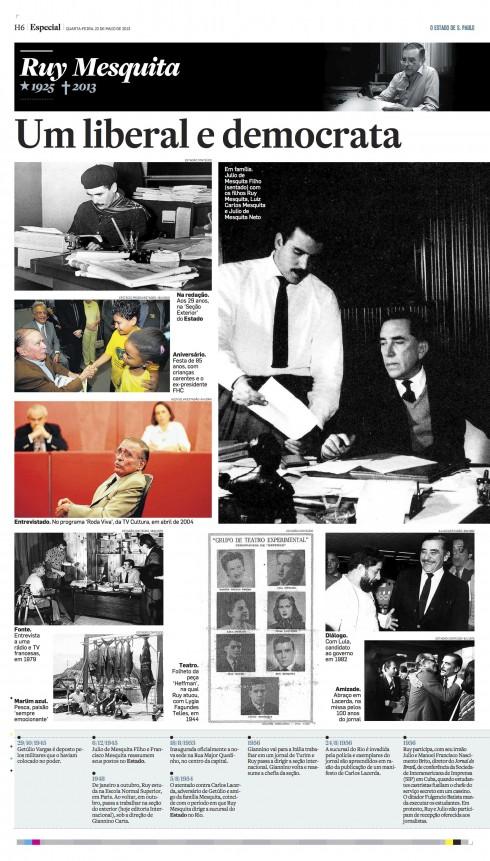 O Estado de Sao Paulo's coverage of the death of its long time editor Ruy Mesquita (images courtesy of our blog reader Alexandre Giesbrecht)
Latin American journalism has lost one of its giants.  Ruy Mesquita, of O Estado de Sao Paulo, died earlier this week. He had been diagnosed with cancer of the tongue in April.
I had the privilege of meeting Mr. Mesquita when I worked on an early redesign of O Estado.  He was an energetic man who believed in the importance of a free press to keep a democracy moving forward, and he defended it in Brazil and throughout Latin America.
The front page story in O Estado cited that Mr. Mesquita "was a strong defender of freedom, democracy, and free will, principles which have always been the foundation of O Estado's editorial line."
And the story added:
During his 88 years, Mesquita had direct participation in important events in the history of Brazil and of Latin America. He witnessed the beginning of the Cuban revolution and was paid tribute by the Castro brothers, but he later became a strong critic of the revolution.
Wednesday's edition of O Estado paid tribute to its long time director/editor and it's noteworthy to see that the editorial page, where Mr. Mesquita contributed the lead editorial for decades, simply left the space of the editorial blank.
Don Andrea Gallo: 1928-2013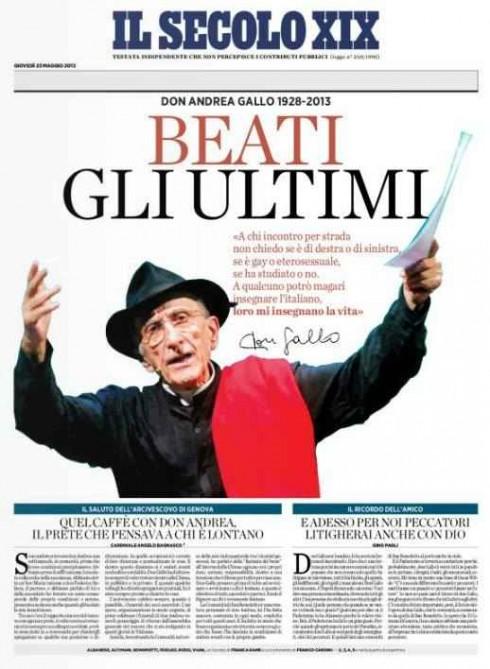 This interesting front page comes from Il Secolo XIX, of Genoa, Italy.
On the cover, Father Don Andrea Gallo, a local priest who was more like a hero to the people of Genoa, this beautiful port city.
Massimo Gentile, design director of Il Secolo tells me that Father Gallo was an indefatigable worker and a friend of everyone, but primarily, the homeless, the helpless, and those whom society left behind: prostitutes, drug addicts, gays, lesbians, transexuals.
Here is how Massimo describes Dom Gallo:
He was the voice and the soul of the Church. He founded a community/society to help these people who had nothing, São Bento, which became well known throughout Italy, a rehabilitation center for those with drug addictions.  The society has worked so well, that even a restaurant was started next to it, and it has become a social place for everyone. A fun place, really. In Genoa, Dom Gallo was considered a hero, a monument and a source of city pride.  He was also quite critical of the Church, or at least the idea of how the Church handled the poor.
So Il Secolo not only paid tribute to Dom Gallo on its front page, but also through four special pages inside.
Politiken and evening edition on tablet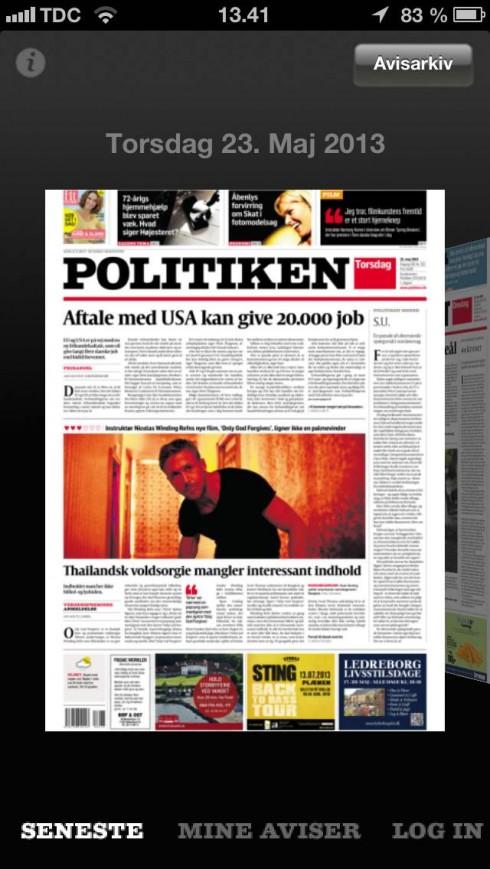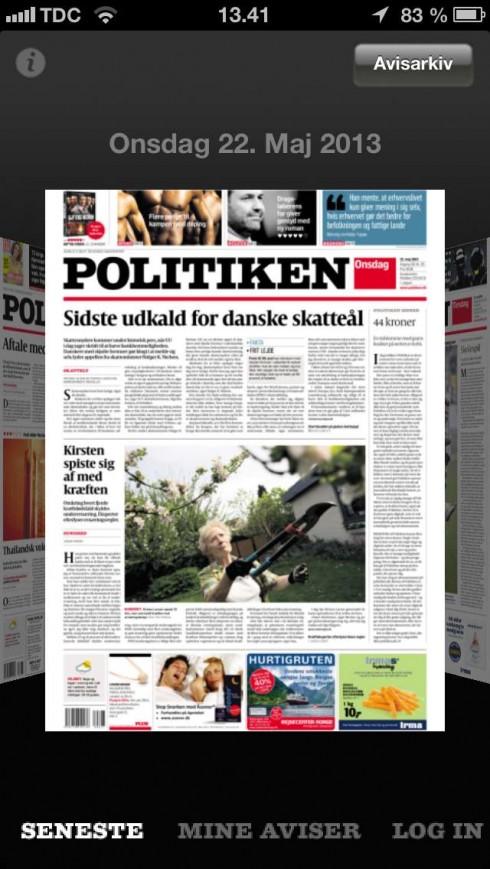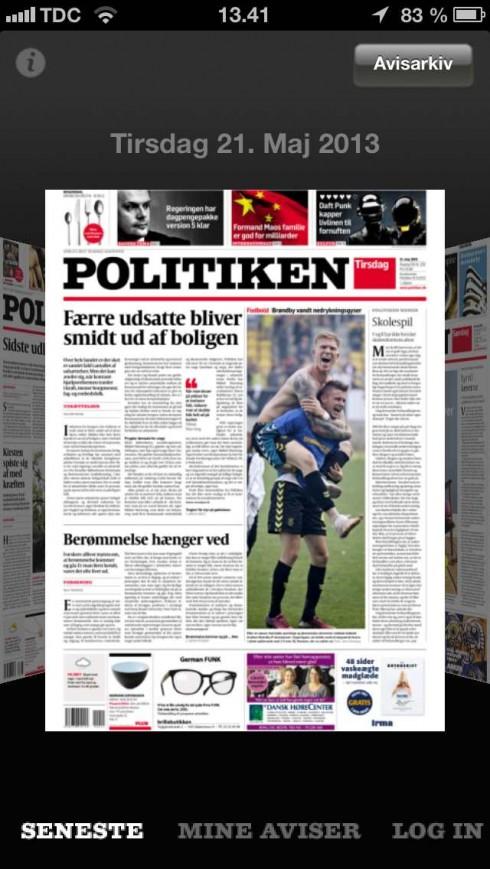 Yesterday we showed you how the Danish daily, Berlingske, puts pdf pages of its printed edition on the tablet around 10 pm each night, allowing readers to read the paper before they go to sleep.
They are not the only ones doing that in Denmark (and I am sure others are already doing it around the world—let me know).
After that blog post, I immediately heard from Kaare Sørensen, a
journalist for the newspaper Jyllands-Posten, also of Denmark, who informed me that Politiken also publishes its print edition as pdfs around 11 pm, allowing people to read tomorrow's newspaper before they go to bed.
Kaare adds: "For all of us with kids (and busy mornings) it's a great thing."
TheMarioBlog post #1265