Historical Romance/ Adult
by Julia Quinn
(Bridgertons #6)
Published July 2004
368 pages
This review doesn't contain spoilers!
Blurb:

After years as London's most notorious rake, Michael Stirling took one look at Francesca Bridgerton and fell in love so fast and hard that it was a wonder he was able to remain standing.

Unfortunately, she was the one woman he could never have…

Read the first chapter here.

About the title:
When He Was Wicked- The PERFECT title fot this book. Michael was so wiked…*dreams*

What I expected:
A romance about finding love again.
What it was:
A romance about really finding love for the first time.
My Reactions:
Awwwwwwnnn! They're perfect! *little hearts*

My Thoughts :
I don't have much to say about this story. It's so touching, so beautifu, SEXY and wicked! One of my favorite books EVER.

MUST BE READ: You simply HAVE to.
TO BE READ: You simply HAVE to.
NOT TO BE READ: You simply HAVE to.
Worth buying? YES, YES, YES! OH YES!

Cover Art: 4/5
Plot: 5/5
Setting: 5/5
Writing: 5/5
Dialogue: 5/5
Originality of Plot: 5/5
Characters Development: 5/5
Ending: 5/5
Pacing: 4/5
Likelihood to Recommend: 5/5
Analytical Ratings: 48/50- I can't live without you!


SEXUAL CONTENT – I see fireworks!

SPOILERS AHEAD – Extras:
My Selection of Quotes (From Goodreads):
"In every life there is a turning point. A moment so tremendous, so sharp and clear that one feels as if one's been hit in the chest, all the breath knocked out, and one knows, absolutely knows without the merest hint of a shadow of a doubt that one's life will never be the same."

"Tell me something wicked."

"It was the one dream he'd never permitted himself to consider."

"Oh, God, Francesca,Now there's a good one.Why?Why? Why?" He gave each one a different tenor, as if he were testing out the word, asking it to
different people.
"Why?" he asked again, this time with increased volume
as he turned around to face her.
"Why? It's
because I love you, damn me to hell. Because I've always loved you. Because I loved you when you
were with John, and I loved you when I was in India, and God only knows I don't deserve you, but I
love you, anyway."
Francesca sagged against the door.
"How's that for a witty little joke?" he mocked. "I loveyou. I loveyou, my cousin's wife. I loveyou, the
one woman I can never have. I loveyou, Francesca Bridger-ton Stirling."

"Did you wonder?" he whispered. "Did you leave me and wonder what I hadn't told you?" He leaned in, just so she'd feel his lips move whisper-light against her ear.
"Did you want to know what I did when I was wicked? Do you want me to tell you?" he murmured. He felt her jerk slightly in surprise, and he chuckled. "Not about them, Francesca. You. Only you."
This is a compilation of the material avaliable on JQ's Site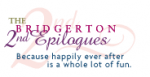 2nd Epilogue for When He Was Wicked

Do the best things really come to those who wait?
Three years have passed since Francesca's and Michael's marriage, and they are still childless. And Francesca wonders–can a woman be truly and completely happy when a little piece of her heart remains empty? But just when she makes peace with her fate, something unexpected occurs…
(Note from JQ: People always ask me which of my books is my favorite. I don't know that I have a single favorite, but this story would definitely be tied for the top position. Writing it felt like pure magic.)


When He Was Wicked takes place at the same time as both Romancing Mr. Bridgerton and To Sir Phillip, With Love. This turned out to be a major pain, but I'd mentioned Francesca just enough in both of those books that I had to set the book then. (Note to self: plan things out better next time you write a series!) This is why neither Colin nor Eloise is married at the beginning of Part 2. (Part 1 takes place four years earlier.)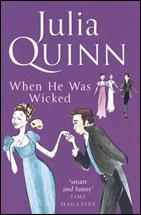 Did you notice that one of the major scenes is set at Violet Bridgerton's birthday party? Those of you who have read Romancing Mr. Bridgerton know what Lady Danbury is going to do next when she says, "This party needs livening up."

One of my favorite scenes in this book is when Violet and Francesca talk about widowhood. Readers have long asked to learn more about Violet, and I realized that I wanted to learn more, too.

There was no working title for this book. Even my computer files still just say, "Francesca Folder."
The UK Cover
Julia Quinn Answers:
Why are Colin and Eloise unmarried during so much of When He Was Wicked?

Part II of  When He Was Wicked (Book 6 in the Bridgerton series) takes place concurrently with Romancing Mr. Bridgerton (Book 4) and To Sir Phillip, With Love (Book 5).  Therefore, even though When He Was Wicked comes later in the series, it jumps back a little in time at the beginning.
Do Francesca and Michael ever have children?
Read When He Was Wicked: The 2nd Epilogue for your answer! And as an aside, I have to say that this short piece might be my favorite thing I've ever written.

Music that inspired Julia Quinn's writing, music that reminds her of her books: "I didn't always realize it when I was writing them, but each of my books has a soundtrack".
When He Was Wicked"Tell Her This" by Del Amitri
Such a beautiful, sad (and yet hopeful) song. I listened to this one a lot while I was writing this book, and it always put me in the right mood.

"SexyBack" by Justin Timberlake
Okay, I know this song wasn't remotely out while I was writing this book, but When He Was Wicked is unquestionably my sexiest book, and even though I kind of don't get the whole Justin Timberlake thing, I LOVE this song.

"Cut Me Down" by Lloyd Cole and the Commotions
Such an underappreciated band. This song feels like Michael to me.

"Don't Tell Me" by Madonna
And this song feels like Francesca, especially: "Tell me love isn't true. It's just something that we do."


When He Was Wicked spent four weeks on the New York Times bestseller list, making its debut at #5.
Five weeks on the USA Today bestseller list, peaking at #9.
Four weeks as a Publishers Weekly bestseller, two of them at #7.
Selected by Amazon.com as one of the ten best romance novels of 2004.
#1  on the Waldenbooks Mass Market bestseller list.
 A  Main Selection of the Rhapsody Book Club, and a Featured Alternate Selection of the Doubleday Book Club.
Available in large print and as an e-book.
Have you read this book before? What did you think?