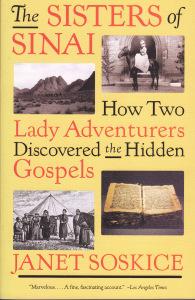 Once I met with a group of writers and intellectuals in the Pacific northwest to discuss ancient—indeed, dead—languages and their cultures. I'd never before been accorded "rock star" status for what, for me, seemed a natural progression. I had spent my youth learning archaic languages and reading documents that few people had heard about and even fewer cared about. It was a delight, therefore, to read Janet Soskice's The Sisters of Sinai: How Two Lady Adventurers Discovered the Hidden Gospels. I have to admit having never knowingly heard of Agnes and Margaret Smith, also known as Mrs. Agnes Lewis and Mrs. Margaret Gibson, nineteenth-century Scottish twins who chose to use their inheritance in finding, reading, and preserving ancient documents. To appreciate the importance of this avocation, as Soskice points out, in 1881 when a new translation of the Gospels went on sale based on recent manuscript finds, Oxford University Press sold a million copies on the first day of sale and carts carrying the Bibles caused traffic jams in London. Today a doctorate in those ancient languages and five bucks might get you a cup of coffee.
What makes this story so intriguing, admittedly, is that here were two women in a men's world, accomplishing great scholarship when the University of Cambridge refused to grant women degrees. (The twin sisters lived in Cambridge.) It is with some sense of familiarity that I read how, after discovering and photographing the Syriac palimpsest which turned out to be perhaps the earliest complete copy of the Gospels known at the time, the sisters could not even get Cambridge professors to look at their photographs. Professors, as we all know, are too busy to bother with amateurs like the rest of us. As soon as one of the more promising Cambridge scholars almost accidentally viewed one of the pictures, the men stepped in eagerly claiming the discovery for themselves. The manuscript was in Saint Catherine's Convent in the Sinai peninsula, a journey not easy to make, even today. Agnes had discovered the palimpsest there on a journey to discover ancient manuscripts. But she was a woman in a man's Cambridge.
We can congratulate ourselves on many things in academia today. In many fields a woman stands a better chance than a man in landing a teaching job. But we still have far to go. Salaries for women continue to lag behind those of men for doing the same work in general. Healthcare issues that effect primarily women are decided on by legislatures that consist mostly of men. In many parts of the world, women are, by default, treated as the property of men. Two Scottish sisters managed to help upset the world, in their quiet way, at the turn of the twentieth century. They did it by acts of scholarship. Genteel, proper, and very Presbyterian. If only we could say that in the century since then we had reached equality, we might have done something of which we could truly be proud.